Charts might not lie, but as Bank of America Corp (NYSE:BAC) shares can attest, they can at least paint a complex picture. Right now, the truth as it pertains to BAC stock lies somewhere in the middle ground — the same place a profitable trade setup resides.
It was only a couple weeks ago that I last wrote about Bank of America. And not too surprisingly, much of that narrative has been discarded … at least for now.
At the time, BofA faced an increasingly bearish situation fundamentally thanks to POTUS impeachment chatter and its potential to wreack havoc on favorable legislative changes for Bank of America and other financial stocks. However, a revenue warning from Bank of America and June's weaker-than-expected employment data also had bullish investors backpedaling on BAC stock to the point where bullish Warren Buffett looked less than head-and-shoulders above the rest.
Now, however, a more benign narrative may be taking hold in Bank of America.
Impeachment talk is, at the least, starting to simmer down, minimizing its impact on market algorithms. Market participants also appear less interested (or maybe more pessimistic) about the rate environment. While the Federal Reserve nudged interest rates higher last week, a flatter yield curve persists. The situation could work to counter the positive impact that higher rates are supposed to have on BAC stock.
Bottom line: If you want to invest in BofA, it's not a simple decision, and one increasingly fraught with concerns and worries.
Bank of America Chart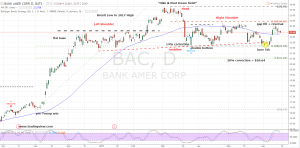 Click to Enlarge When I last discussed BAC stock, I wrote that "charts don't lie per se, but technical about-faces happen often enough, and sometimes it doesn't take long to acknowledge that type situation."
At other times, however, conditions just become more complex. In my opinion, that's what's happening to Bank of America shares right now.
Bank on June 5, BAC shares breached their neckline and hinted at a larger correction out of the head-and-shoulders topping pattern. Subsequently, shares began to rally in earnest.
At the time, I discussed the possibility of using the 50-day simple moving average as a pattern breaker and technical reason to get long. It worked rather smoothly for a couple sessions, but continued price action hints that longevity is at serious risk.
The growing concern is that BAC stock is filling a bearish price gap, stochastics are overbought, and shares are reversing lower with the right shoulder still intact. I'm of the increasing mind that BofA is carving out a more complex variety of the classic topping pattern.
Let's check out the trade idea.