I've said it before and I'll say it again, I may not know anything about the financial intricacies of the massive, foreign enterprise Alibaba Group Holding Ltd (NYSE:BABA), but I do know price action and options strategies.
Considering the most recent findings off and on the BABA stock chart, it's time for investors to consider a bullish spread combination. Let me explain.
Tuesday has to feel a bit like a Rodney Dangerfield moment for analysts at Raymond James. The firm raised its above market price target on BABA stock from $160 to $190. And with shares of CEO Jack Ma's Chinese-based technology giant at $137, the expected return is a hefty 39%. Nice! But wait there's more!
The call also reiterated a "strong buy" on shares noting support from Alibaba's recent analyst day. Among other items, higher sales growth of 45% to 49% is expected. For their part, Raymond James is growing more confident in the company's cloud business and BABA stock's stronger margins. Nice, again! But unfortunately there's more to tell.
At the end of the day, there was very little respect, much like for our deceased friend Rodney, for the bullish revision. After a brief gap bid in the early going and despite the Nasdaq Composite holding favor with bulls, the price tag of $137 actually represented a loss on the day of -1.50% in BABA stock. No respect, I tell ya!
So, where's this leave BABA stock, besides at $137? In our estimation, in favorable position for a modified fence strategy based on solid prospects off the chart, some appreciation for Tuesday's analyst dismissal, as well as a bit of respect for BABA's price chart.
BABA Stock Weekly Chart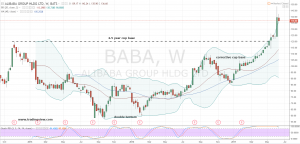 Click to Enlarge As the weekly chart of BABA stock continues to reflect, 2017 has been a very nice extension of 2016's bullish trend change from a corrective double bottom pattern.
Shares of Alibaba are up roughly 55% after bursting higher last week and following a somewhat volatile breakout from a 2.5-year cup-shaped base in May.
Currently, the rally may have gotten ahead of itself. This view is supported by Tuesday's upgrade reaction, which all things considered, is disappointing.
Moreover, that may also be a byproduct of BABA stock's large price spike through the upper Bollinger Band and overbought stochastics with a crossover signal.
Looking forward, the expectation is some combination of time or price consolidation in BABA stock is likely. However, the anticipation is the counter-trend action will be modest and another powerful leg higher is forthcoming based on the substantial pattern breakout.