As they say, the trend is your friend and nowhere is that more evident, both off and on the price chart, than in Microsoft Corporation (NASDAQ:MSFT). But for investors it also pays to get long MSFT stock with less risk when the price is right using a fully-hedged collar position. Let me explain.


It's been just shy of one month when I last discussed MSFT stock. The message was optimistic and emphasized smartly buying Microsoft on a pullback without waiting for the next potential catalyst.
Off the price chart, MSFT stock has continued to deliver for investors. The company offered a solid earnings confessional last week spearheaded by sustained strength in its cloud computing business and a growth market that's been central to Microsoft's successful reboot.
And on the price chart, the overall strong business climate for Microsoft has been matched by price action that's paid off nicely with MSFT stock's bullish trend continuing to build for investors.
Microsoft Stock Weekly Chart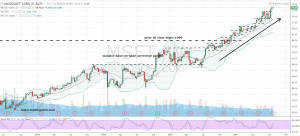 Click to Enlarge When I last wrote about Microsoft in late June, shares were pulling back within their latest tight multi-week basing pattern. It was our opinion, the counter-trend action was friendly and offered investors a lower risk entry into MSFT stock.
The observation proved right. Moreover, the opportunistic price action is part of a much friendlier Microsoft trend that's seen a marked change of technical character since shares of MSFT broke out in the second half of 2016 to fresh all-time-highs after more than 17 years.
Looking forward, there's little reason evidence on the price chart to suggest MSFT stock's bullish trend won't continue.
There are macro reasons to think otherwise. However, on the price chart a more consistent and steady angular ascent, cooperative stochastics condition and solid, but far from excessive gains since breaking out to all-time-highs — bode well for Microsoft's rally.
MSFT Stock Collar Strategy
Given the overall bullish view for MSFT stock, appreciating downside protection and recognizing a stable price trend with lesser risk for larger upside price gaps, a collar spread is a preferred strategy.
Reviewing Microsoft's options and shares at $73.60, the Sept $70 put/$77.50 call combination is priced for $73.93. What's the additional 33 cents of premium offer investors wanting to get long MSFT stock?
First and foremost, the collar offers guaranteed protection in the event a friendly price trend turns less so. With this particular spread risk in MSFT stock is contained to $3.93 or 5.3% through September expiration courtesy of the insurance provided by the purchased put.
With August having had its share of volatility in recent years and September notorious for its riskier price behavior, the protection offered by the collar is a nice feature to consider. Further, if a larger correction was to occur, this investor is in much better financial and mental shape to consider buying on weakness if the MSFT stock decline is viewed opportunistically as a chance to buy on weakness.
And on the upside? If left unadjusted and MSFT stock rallies, profits on this collar position are initially capped at just under 5% as the $77.50 call has been sold. For a holding period of under two months the upside return is decent enough. What's more, adjustments and rolling the spread "out and up" mean the investor can also ride and profit further if Microsoft shares continue to rally.
Investment accounts under Christopher Tyler's management do not currently own positions in any securities mentioned in this article. The information offered is based upon Christopher Tyler's observations and strictly intended for educational purposes only; the use of which is the responsibility of the individual. For additional market insights and related musings, follow Chris on Twitter @Options_CAT and StockTwits.