The politically charged environment took stocks for a ride yesterday, posting their worst one-day move (according to the S&P 500 Index) in more than three months. The sharp decline has some traders looking for cover, which may have a ripple effect on the markets.
Today's three big stock charts will look at the technical picture for the SPDR S&P 500 ETF Trust (NYSEARCA:SPY), Deere & Company (NYSE:DE) and Facebook Inc (NASDAQ:FB) as these three charts have implications on the next tradable move for the majority of stocks.
SPDR S&P 500 ETF Trust (SPY)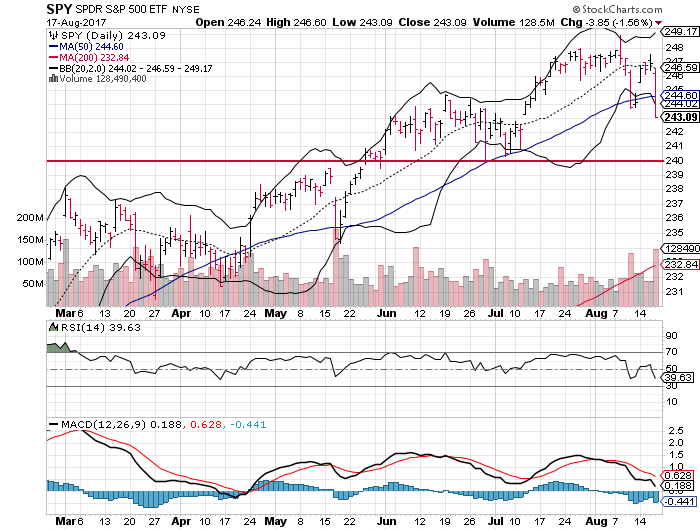 The market has been teasing traders with the notion that there was a correction in the making as seasonality and a few other factors have been tugging stocks lower. Yesterday's drop in prices may be the tipping point for the broad market S&P 500 that puts the market on the defensive for the next four to six weeks. A look at the SPY charts will show why:
From a breadth perspective, the percentage of companies in the S&P 500 that are trading above their respective 50-day moving average dropped below 50% more than a week ago. This identifies a weakening of the market's breadth that typically precedes a dramatic shift lower for the market.
Yesterday, SPY shares made their most dramatic move below the 50-day moving average since April. It will be critical to see the shares move back above this trendline, currently at $244.60 for the market to have a chance of maintaining a trading range environment, at-best.
The SPDR S&P 500 ETF has seen two breaks below its lower Bollinger Band in the last week. This normally happens just before a volatility sell-off that often follows within a week of the second break.
We expect to see a "relief" rally from Thursday's selling on Friday, but traders are more likely to return to the market on Monday in a selling mood, targeting a move to $239 on SPY.
Deere & Company (DE)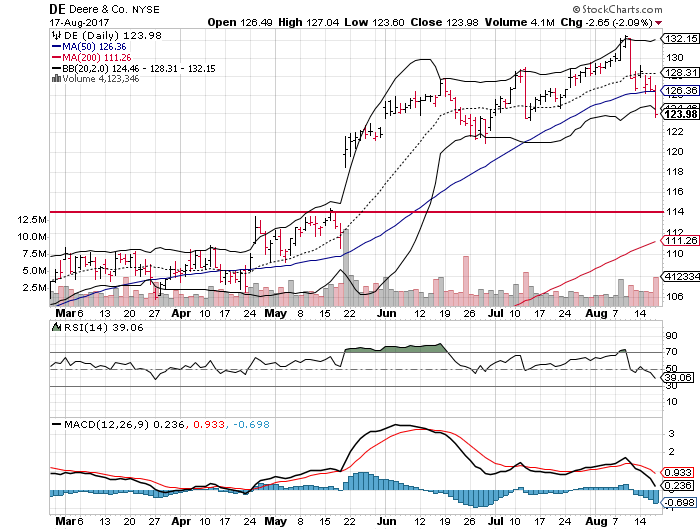 The machinery manufacturer came out with earnings ahead of the open today and the results weren't what traders wanted to see. DE beat earnings-per-share estimates while missing their revenue target. Yesterday, Deere stock made a preemptive move that indicates a shift in the stock that the bulls won't like.
Deere & Company shares shaved through their lower Bollinger Band on Thursday, indicating that traders were already getting out of the stock ahead of the earnings report. This morning's move will worsen, but there's an upside.
DE stock had been "pre-sold" ahead of earnings, indicating that the market was "selling the rumor" on Deere & Company. This means the stock is likely to see a short-term bounce after some selling.
Chart support lies at $114 for DE stock. At this price point, the stock will have also triggered a technically oversold signal that will lure technical "value" buyers into the mix. We will expect a short-term opportunity for bullish traders at that price level.
Facebook Inc (FB)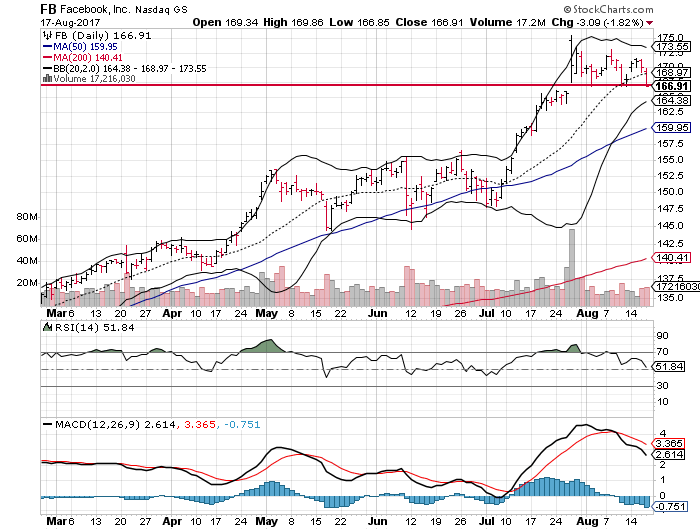 We've been referring to FB as one of the "canary in the coalmine" stocks as it has been a relative strength leader.
Given this, it's time to be concerned when the leadership starts to breakdown as Facebook appears to be threatening to do.
FB shares have been consolidating in a range for the last three weeks and trying to maintain a price above $167, which the stock has established as the bottom of this range. Yesterday's selling cracked that price. Failure to move back into the range today will draw more selling.
It is normal for Facebook shares to trade in a range after hitting a technically overbought reading of its RSI, as it did a few weeks ago. In this case though, the momentum as indicated by the stock's MACD is more aggressively deteriorating.
We're likely to see FB shares decline to support at their 50-day moving average, currently at $160. From there, a technical test that will determine how the next 5-10% move in the stock will happen and we'll be sure to alert you on the outlook from there.
As of this writing, Johnson Research Group did not hold a position in any of the aforementioned securities.