The technology sector continues to see more selling than other groups as investors are taking profits from this group of performance-leading stocks. As we mentioned yesterday, a growing number of companies in the technology group are beginning to show signs that the short- to intermediate-term outlooks are worsening. In other words, it's time to start avoiding a growing list of stocks.
Today's three big stock charts takes a look at the technical analysis of Advanced Micro Devices, Inc. (NASDAQ:AMD), Facebook Inc (NASDAQ:FB) and AT&T Inc. (NYSE:T) as each are preparing to dig lower on their charts as their technical pictures worsen.
Advanced Micro Devices, Inc. (AMD)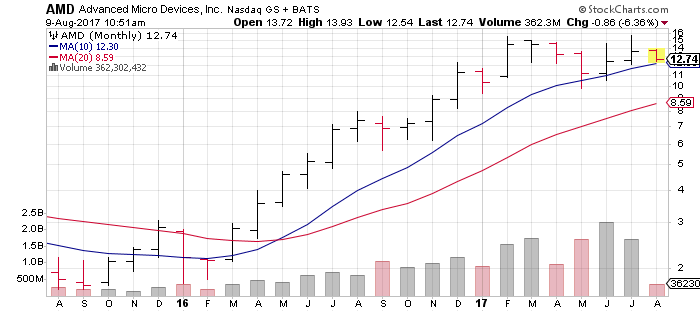 We talked about Advanced Micro Devices last week as the stock was starting to show signs that the intermediate-term technicals were degrading. Today, AMD stock breaks below its 50-day moving average, a trigger that will get the chart watchers hitting the sell button.
As mentioned, Advanced Micro Devices shares are crashing through their 50-day moving average on today's selling. This trendline has supported the stock for only a short period as Advanced Micro Devices had been stuck in an intermediate-term bearish trend.
AMD did not hit an overbought signal from the stock's RSI, indicating that the current selling is not triggered by profit-taking, but just by investors migrating away from a relative laggard name.
The 200-day moving average is set to act as some support for the stock at $11.75; however, Advanced Micro Devices shares are currently in the process of testing their 10-month moving average. This trendline has held AMD stock from extended selling over the last three months; however, a move below this long-term support will put the stock on the bear's list.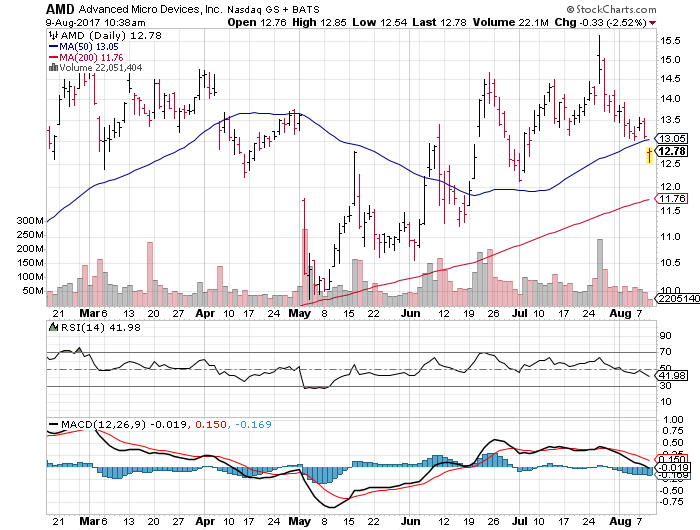 Facebook Inc (FB)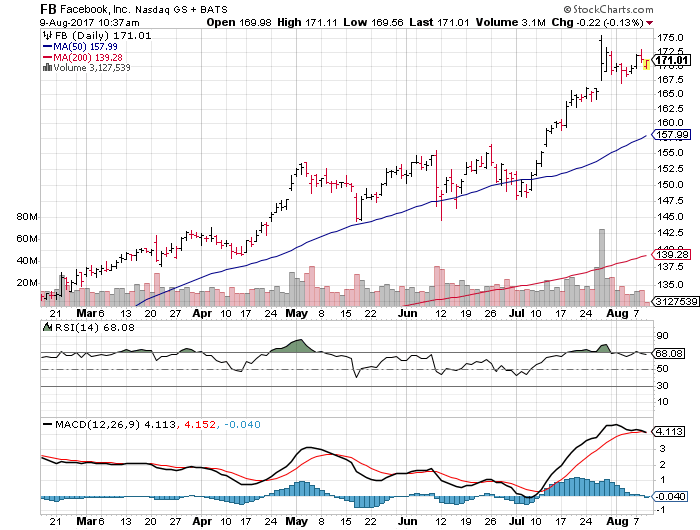 How can Facebook turn up on a list of stocks to be wary of? Although FB shares have been one of the stronger performers in the group, it looks like the profit-takers are ready to start cashing out.
Since Facebook is so widely watched, a correction in this stock will spread to the rest of the market.
We keep warning about FB because the stock is clearly prepping for a correction as the stock remains in technically overbought territory. The last similar overbought readings resulted in an 8% correction in the price of Facebook stock.
The MACD indicator on Facebook is transitioning into a weaker signal, indicating that the stock is losing momentum. From here, the traders will pick up on the decline and likely start selling the recent strength.
The technicals suggest that FB shares could fall as far as $158, which would represent a similar decline to the May overbought signal that occurred after the company's earnings report. This would be a carbon copy move according to our charts.