Tesla Inc (NASDAQ:TSLA) has something for everyone these days. But if you're bullish on TSLA stock, I think your best purchase is a trade that helps you generate profits while steering mostly clear of bearish hazards.
If you're enthusiastic about Tesla, Tuesday marked another noteworthy milestone for the EV manufacturer as the company's Tesla's Model S and Model X beat the incredibly pricey $530,000 Lamborghini Aventador in a quarter-mile track sprint.
I think Tesla cultists have reason to pop a little champagne right now. The accomplishment is all the more impressive given that the Model X is an SUV … and an electric one nonetheless.
But bulls aren't fully in the clear. While Tesla's recent earnings report was impressive, losses still abound for the automobile upstart. Also, making good on the new Model 3 deliverables will be a challenge as the roll-out is Tesla's first mainstream vehicle on the market.
Another worry? There's Tesla's recently issued bonds being used to help fund the Model 3 and which are trading modestly underwater. Some see the weakness as an indication that yield-hungry investors have gotten ahead of themselves. Ultimately, there are questions whether 3% over comparable Treasuries for Tesla's below-investment-grade debt is an accident waiting to happen.
As I said, TSLA stock has a little something for bears and bulls alike. Personally, I'm happy to give the bulls the benefit of the doubt as long as I can opt into extra safety features.
Tesla Daily Chart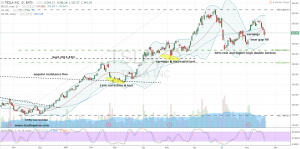 Click to Enlarge Earlier this month, I noted that Tesla stock could stall in the near-term, but new highs should ultimately prevail. Since then, shares have come under technical pressure, making good on the short-term promise.
TSLA's price action has formed a lower high pattern and broken the 50-day simple moving average. It's certainly not the most inviting technical feedback, but don't be fooled into thinking this means it's the end of the road for the bulls.
The big picture still suggests there's durable support for Tesla's uptrend. And given Tesla's volatility, that could mean buying shares possibly as low as $280 — at the 50% retracement level — without worrying too much about whether the stock's best days are in the rear-view.
Let's look at the trade.
How to Trade TSLA Stock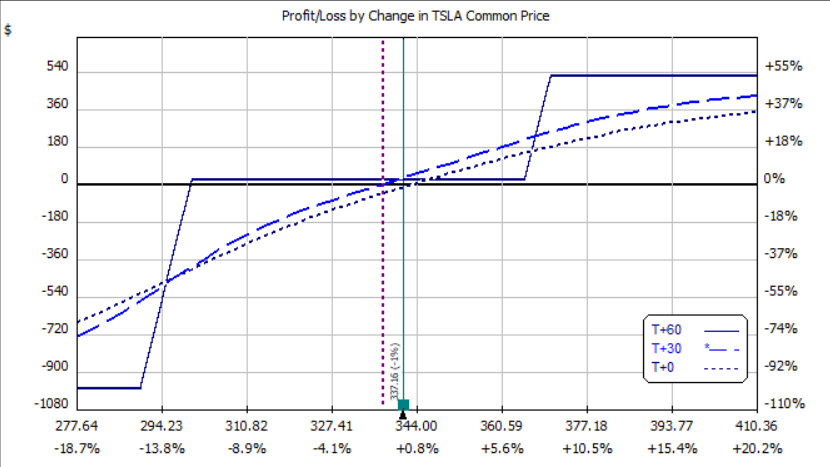 I favor a bullish modified fence, which will reduce and limit options and dollar risk while allowing us to capture attractive profits. Tesla traded at $341.35 as of this writing. I suggest selling the Oct $300/$290 put spread and buying the Oct $365/$370 call spread for even money.
If TSLA stock trades between $300 and $365 at expiration, both spreads go out worthless and the trader walks away unscathed for the effort. That's definitely nice on a move lower, but less so if Tesla is trading above today's $341.35. However, if shares rally during the spread's life, profits can accrue within the inside strikes because the position is long deltas.
Above $370, or roughly 8.5% higher, the position offers a max payout of $5 as the bull call spread expands to its max width.
On the downside, if Tesla stock falls another 15% and below $290, you only risk about 3% of shares' current price. That's a small loss for such a volatile name, keeping you from looking like a crash-test dummy.
Investment accounts under Christopher Tyler's management do not currently own positions in any securities mentioned in this article. The information offered is based upon Christopher Tyler's observations and strictly intended for educational purposes only; the use of which is the responsibility of the individual. For additional market insights and related musings, follow Chris on Twitter @Options_CAT and StockTwits and feel free to click here to learn more about how to design better positions using options!