U.S. equities moved lower on Tuesday for the first time since late July, ending a 10-day winning streak for the Dow Jones Industrial Average and reminding investors that, indeed, stock prices can do down. Volatility remains non-existent, however, with the S&P 500 Index recording its 14th straight day without a 0.3% up or down move.
In the end, the Dow Jones lost 0.2%, the S&P 500 gave back 0.2%, the Nasdaq Composite dropped 0.2% and the Russell 2000 finished 0.3% in the red. Elsewhere, Treasury bonds declined, the dollar weakened, gold gave back 0.2% and oil finished 0.4% lower.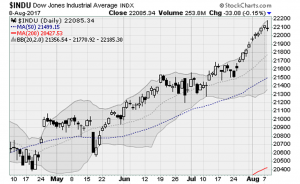 Click to Enlarge Breadth was negative with 1.7 decliners for every advancing issue on the NYSE. Volume was at 95% of the NYSE's 30-day average. Defensive utility stocks were the leaders, up 0.3%, while materials were the laggards, down 0.9%.
Michael Kors Holding Ltd (NYSE:KORS) surged 21.5% after reporting a big quarterly earnings beat on strong revenues driven by same-store sales growth in North America and Europe. LendingClub Corp (NYSE:LC) gained 18.1% on strong earnings. Avis Budget Group Inc. (NASDAQ:CAR) fell 9.9% as operating earnings missed by 20% amid pressure on pricing. Analysts highlighted unfavorable gap between pricing and vehicle residual values.
Conclusion
While the Dow broke its winning streak, the market's ongoing listlessness goes on. Before the open, Deutsche Bank's Jim Reid noted that the S&P 500 has moved less than 0.3% in either direction for 13 consecutive days. That's the first time a run that long has happened in data going back to 1927. The second longest streak was 10 days, which happened twice: in 1961 and 1966.
That count is now 14 days.
Put a differently, it's been 74 trading days since the S&P 500 increased by more than one percent in any one day. If this persists another six days, it'll break the prior record set between November 2006 and March 2007 — the end-of-days for the last bull market.
Bank of America Merrill Lynch is pointing out the oddities to clients as well, highlighting the fact the Dow Jones Industrial Average recorded its lowest one-month trading range since 1900.
There's just no other way to say it: We are truly in an unprecedented environment. And many are ill equipped to absorb market losses right now.
Jason Goepfert at SentimenTrader notes that investors' "loss cushion" has never been lower, referring to aggregate cash levels held by six different populations of investors.
The allocation of holdings in cash is the lowest in more than 35 years, according to his data, with only February 2000 showing a similar dynamic to now.
Check out Serge Berger's Trade of the Day for Aug. 9.
Today's Trading Landscape
To see a list of the companies reporting earnings today, click here.
For a list of this week's economic reports due out, click here.
Tell us what you think about this article! Drop us an email at editor@investorplace.com, chat with us on Twitter at @InvestorPlace or comment on the post on Facebook. Read more about our comments policy here.
Anthony Mirhaydari is founder of the Edge (ETFs) and Edge Pro (Options) investment advisory newsletters. Free two- and four-week trial offers have been extended to InvestorPlace readers.