Conditions on the price chart don't look good for Advanced Micro Devices, Inc. (NASDAQ:AMD) near-term. But for investors willing to buy smartly, a butterfly spread on AMD stock is a multipurpose strategy to consider. Let me explain.
Since I last wrote about AMD, the stock has done a little of this, a little of that and a bit more of each on the price chart. In fact, the zig-zagging action puts shares, for all intents and purposes, right where I left them.
That's the good news, as well as the fact a proffered bullish strategy on Advanced Micro Devices has retained the bulk of its value. But in our opinion, that's also as good as it gets in the short term for AMD stock.
Bottom line, I'm still bullish on longer-term AMD's prospects. Nevertheless, in respecting the changing landscape of the market and price action, I'm also willing to acknowledge Advanced Micro is close to having a big problem on its hands in the coming days and weeks ahead.
AMD Stock Daily Chart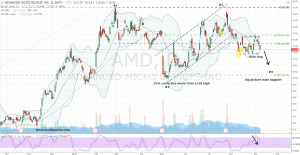 Click to Enlarge
Historically, buying on price weakness in an otherwise good company is a sound way to build massive profits over time. I discussed that last month. I also posed the question of whether that could be the case for AMD stock. I believe the potential is certainly there, but it's increasingly apparent near-term pain for bullish investors is growing.
Over the last few weeks, shares of Advanced Micro Devices have gone from an oversold position that has failed to improve its position for bulls. In fact, while AMD stock price is virtually unchanged for the period, the volatility has manifested itself into a bearish flag set against the 50-day simple moving average.
With two rally attempts unable to break above the well-watched institutional resistance line and the flag pattern following a larger channel breakdown from the annotated "#3" July intermediate high; the action in AMD stock doesn't look good shorter-term for shareholders.
A breakdown of the bear flag is backed by a bearish stochastics signal. If it occurs, this sets the stage for a move down towards a test of the May low and 38% retracement level near $10 a share in Advanced Micro Devices.
If our forecast proves mostly right, the decline in AMD stock would certainly pinch existing shareholders. At the same time, I can't help but be optimistic the challenge would offer longer-term support and lead to the development of a massive high-level double-bottom opportunity for bullish investors.
The Trade on AMD Stock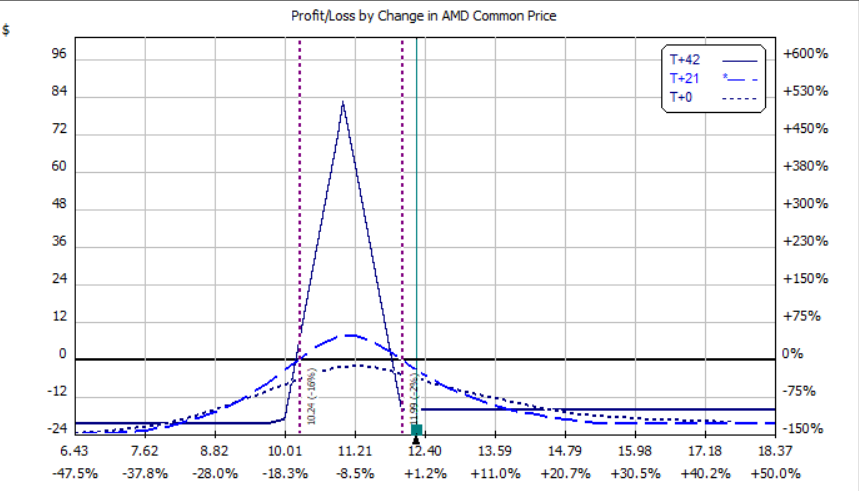 So, what's the plan of attack on AMD stock, given our expectation for a fairly sizable decline to occur, but also harboring a longer-term bullish view for shares?
In reviewing Advanced Micro Devices' options board, a bearishly positioned long put butterfly looks interesting. Specifically, with shares at $12.55 the Oct $12/$11/$10 put combination for 17 cents is favored.
What does this butterfly spread offer AMD traders? For a fraction of the risk associated with shorting AMD stock, this combination offers a profit range from $10.18 to $11.82. Further, a max payout 83 cents and return of nearly 500% is possible if shares continue to weaken and finish at $11 on expiration.
Truthfully, capturing the full profit potential isn't likely, but it could always happen. More feasible, a very attractive trading range that offers some type of payout all the way down to a test of key support in AMD stock is a very nice feature.
Lastly, if shares remain above $12, the trader will be out the 17 cents at expiration as the spread collapses in value. Having said that, if AMD firms up technically to the point where the trader becomes interested in buying shares prior to expiration, the butterfly does hold some decent hedge value to assist in that decision.
Investment accounts under Christopher Tyler's management currently own positions in AMD stock and / or AMD derivatives, but no other securities mentioned in this article. The information offered is based upon Christopher Tyler's observations and strictly intended for educational purposes only; the use of which is the responsibility of the individual. For additional market insights and related musings, follow Chris on Twitter @Options_CAT and StockTwits and feel free to click here to learn more about how to design better positions using options!