Nvidia Corporation (NASDAQ:NVDA) is once again looking terrific off and on the price chart for momentum traders. But for bulls already positioned or for those on the sidelines now looking to hop on board, a NVDA call spread is a stronger way to play a favorable re-engaged price trend with less risk. Let me explain.
Nvidia's bullish secular story, built on data center dominance, artificial intelligence and deep learning, gaming, autonomous autos, cryptocurrency mining and other growth markets I'm certain to have missed, is back! Not that its business prospects were ever in question. But now shares are once again ready to benefit from a revival on the NVDA stock chart.
Sure, I could complicate things and go into greater detail on the nuts and bolts behind Nvidia's enviable market position. Sometimes though, and in this instance, it's enough to respect the chart and to steal a quote from TheStreet's James Cramer, repeat the mantra "It's time to unleash Nvidia!"
NVDA Weekly Chart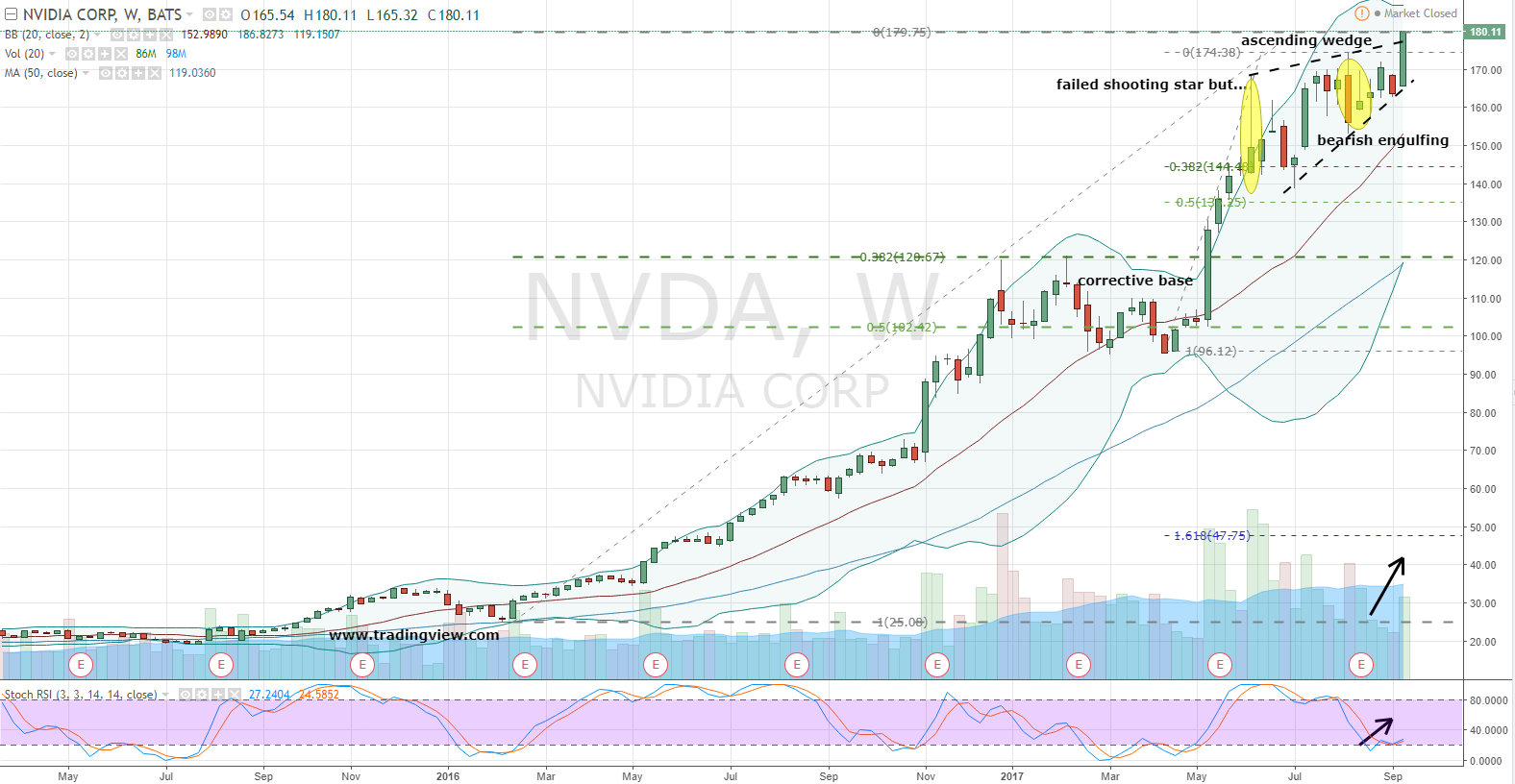 Looking at the weekly chart of NVDA stock, it's our observation that bulls have regained firm control of shares and that momentum, absent of late, is likely to reestablish itself in the coming weeks.
Backing our view are three failed bearish patterns over the last three months, punctuated by last week's bullish denial and bear-breaking breakout of NVDA stock from a bearish rising wedge pattern.
A solid increase in volume and bullish stochastics signal from oversold territory further support our revised and increasingly optimistic outlook for NVDA. As well, the failed bearish patterns should support bullish momentum as sidelined investors interested in NVDA and bearish shorts are now forced to chase shares higher.
NVDA Stock Bullish Call Spread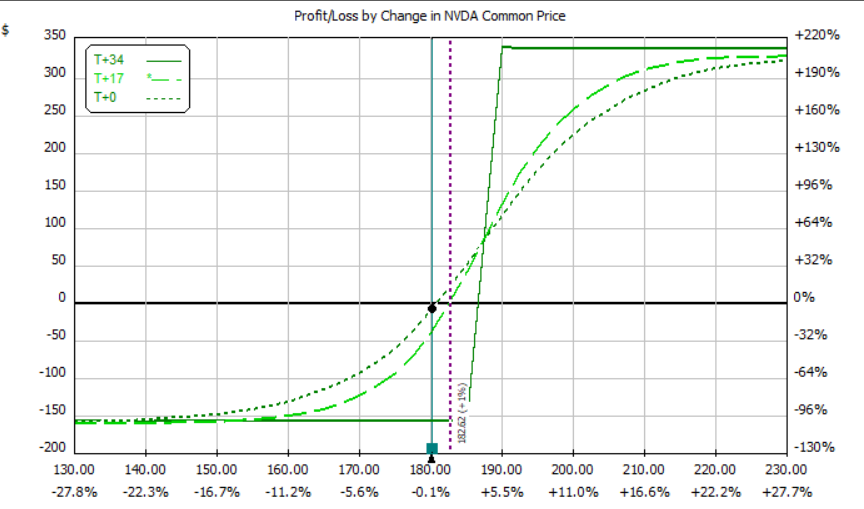 Last month and under more mixed technical conditions, I proffered a modified bullish fence as a defensive way to position long in NVDA stock using an Oct $185/$190 bull call spread combined with the Oct $135/$125 bull put spread.
The strategy has worked out quite well. The fence has gone from a small credit of 15 cents to a nice size profit of $1.65 with the spread priced for $1.50 in the open market.
Now and with momentum expected to follow through in NVDA, I'm less open to buying on weakness and simply want the prior trend to reassert its power. My concern is any future price weakness might indicate something more ominous, given the technical work that has been accomplished by bulls.
With that in mind and after reviewing the NVDA options board, Oct $185/$190 bull call spread is one position favored by this strategist.
For Nvidia traders who may have established the former modified fence, this would mean a simple adjustment of buying back the well out-of-the-money put spread for less than 5 cents and riding the call spread for a slightly smaller credit of 10 cents. Nice.
And for other bulls maybe sitting on the sidelines? The risk is greater of course. But at less than 1% of NVDA stock risk and a favorable momentum set up; $1.80 paid for a possible max payout of $3.20 if shares can reclaim what NVDA does better than most any stock these days, sounds pretty reasonable as well.
Investment accounts under Christopher Tyler's management do not currently own positions in any securities mentioned in this article. The information offered is based upon Christopher Tyler's observations and strictly intended for educational purposes only; the use of which is the responsibility of the individual. . For additional market insights and related musings, follow Chris on Twitter @Options_CAT and StockTwits and feel free to click here to learn more about how to design better positions using options!