The bears have had their way with Twitter Inc (NYSE:TWTR) of late. But if you believe comebacks are possible, a long call strategy on TWTR stock looks like the right type of offensive play for bullish investors in lieu of owning shares. Let me explain.
It has been nearly a month since I last wrote about TWTR stock. And to be quite frank, there's little to tweet about as far as actual, fresh breaking news on Twitter the company.
In fact, if I may be so bold, probably the most fascinating thing about Twitter these days is the latest random show of support from the latest POTUS tweetstorm that's good for water cooler talk and disbelief.
Coming in a close second is the occasional, tiring and mostly stale commentary from bears who persist in voicing their views on why shares are going lower. At this point, that's maybe worth 140 characters. And if one looks at the TWTR stock chart, those opinions look to be valued even less.
TWTR Stock Daily Price Chart


Click to Enlarge
In looking at the daily chart of TWTR stock, my annotations make the point that shares have been through the ringer and not too kind for most long-term bullish investors. But amid the many false starts and painful carpet pulls, Twitter has established a supportive base.
After an initial downtrend breakout last summer and subsequent year-long double bottom, TWTR stock broke above the downtrend channel and has successfully tested that line for resistance twice. The most recent occurrence was about one month ago and in our view, this becomes key support.
Now and with TWTR stock's Bollinger Band pinched and opening up and shares set up near the earnings gap, as well as aligned with the early May downtrend breakout point — Twitter is making a solid technical case for higher prices.
TWTR Stock Long Call Strategy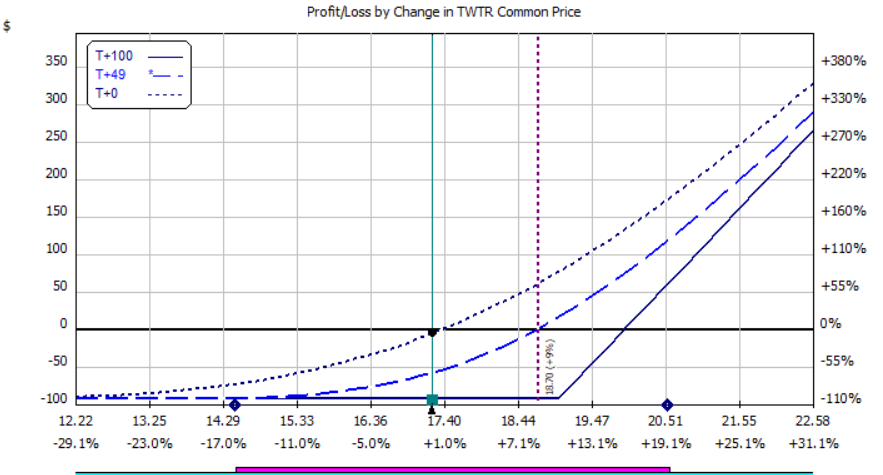 Reviewing Twitter's calls and puts for ideas and with TWTR stock at $17.12, the Dec $19 call is priced for 90 cents and looks attractively priced for the situation.
Risk in owning the call is limited to a tad over 5% of owning Twitter shares outright. It's slightly more than I typically like to pay for out-of-the-money options, but with plenty of time on the calendar and premiums trading at historically cheap levels; support for this play is definitely offered.
While risk is limited with the long call strategy I would personally look to use a money stop of 50%. Technically, this action would be slightly premature as it would precede an actual breakdown, but sufficient weak in our estimation as to warrant exiting.
Likewise, in the event TWTR stock begins to fill the price gap with a rally, establishing a low-priced vertical spread or selling some of the position to reduce the cost basis is a good policy to put into action just as things are looking like they're just getting started.
Investment accounts under Christopher Tyler's management do not currently own positions in any securities mentioned in this article. The information offered is based upon Christopher Tyler's observations and strictly intended for educational purposes only; the use of which is the responsibility of the individual. For additional market insights and related musings, follow Chris on Twitter @Options_CAT and StockTwits and feel free to click here to learn more about how to design better positions using options!