This morning's markets are moving higher despite disappointing news on the earnings front. While the broad market is moving higher, the scene at the stock level is more mixed in results to the earnings season. This, of course, is why we focus so much attention on the technicals as an indication of what to buy, hold or sell.
Today's three big stock charts will take a look at the technicals for Verizon Communications Inc. (NYSE:VZ), General Electric Company (NYSE:GE) and Procter & Gamble Co (NYSE:PG). These three companies have just released their earnings on the market to mixed results, but are generating clear trade signals.
Verizon Communications Inc (VZ)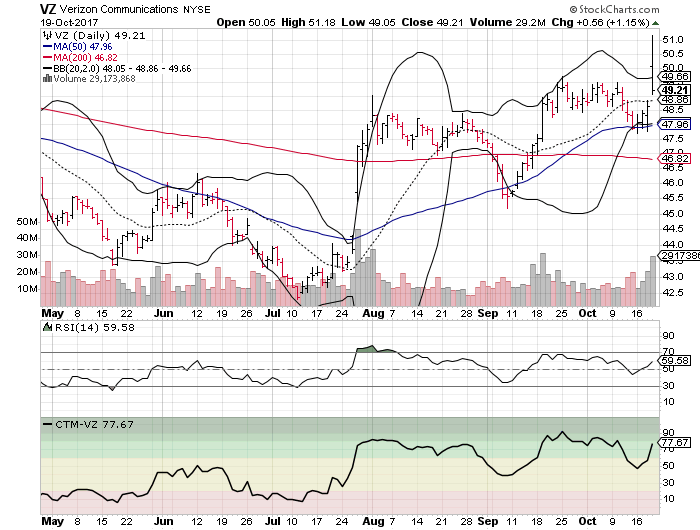 Verizon hit The Street with a good earnings report, only to see the stock's rally squelched by some technical resistance yesterday. Despite VZ stock's pullback from highs, the technical picture for it is clearing-up and generating a bullish signal for traders.
Yesterday's strong rally in Verizon stock was stopped cold by the top Bollinger Band for the stock as traders took the opportunity to cash in some profits. The current width of the Bollinger Bands suggests that a volatility move is coming, and based on the latest earnings news we should see this move the stock higher.
VZ shares were also halted at chart resistance at $49.50. Normally we would see resistance at $50 because of the round number aspect of the price; however, $49.50 represents the stock's highs from September and October.
A move above $50 is going to trigger the volatility rally to the upside as traders will move back in on the recent earnings strength.
General Electric Company (GE)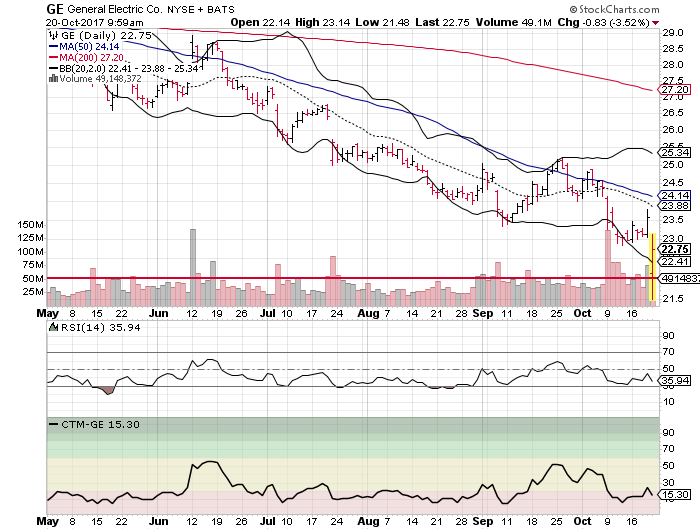 General Electric dropped a bomb on the market today by missing its lowered earnings guidance numbers as the company continues to struggle with the transition of management and its product lines.
While acquisitions are adding to the company's earnings, the rest of the report was much worse than expected, meaning that the trend is likely to remain unfriendly for GE investors.
General Electric shares are tanking on this morning's earnings report as the company fell well short of expectations. Shares have been trading in a bear market since April when they crossed below their 20-month moving average. Don't fight the trend here.
Shares of GE recently bounced from an oversold signal from their RSI and rallied into the earnings report. This represented a "buy the rumor" situation that is now turning into "sell the news."
The $22-level is key for General Electric historically and represents round number support. We're seeing this price being defended this morning with some technical buying. Any fade in that support will result in another 5-10% move lower for GE stock.