It's not "game over" at Activision Blizzard, Inc. (NASDAQ:ATVI). But playing against the bears in today's market demands a better game strategy in ATVI stock than a simple buy and hold decision for bullish investors. Let me explain.


For fans of ATVI stock, it has been a disappointing month, but not for a lack of delivering solid earnings. In early November, the gaming publisher easily topped analyst views with better-than-forecast profit and sales growth, while also issuing upwardly revised full-year guidance.
Ultimately, demographics and technology continue to support a bullish secular trend for the industry and ATVI stock. Specifically, Activision is enjoying huge growth drivers ranging from emerging international markets like China and India, on-demand download technology, esports gaming and continuing to build its mainstream media presence with television and film versions of its most popular franchises.
Nevertheless, while all the factors above bode well for the company's continued long-term success, items like lower monthly average users this past quarter and some concern that Activision's Overwatch esports league won't be an overnight success, do appear to be weighing in on shares.
ATVI Stock Weekly Chart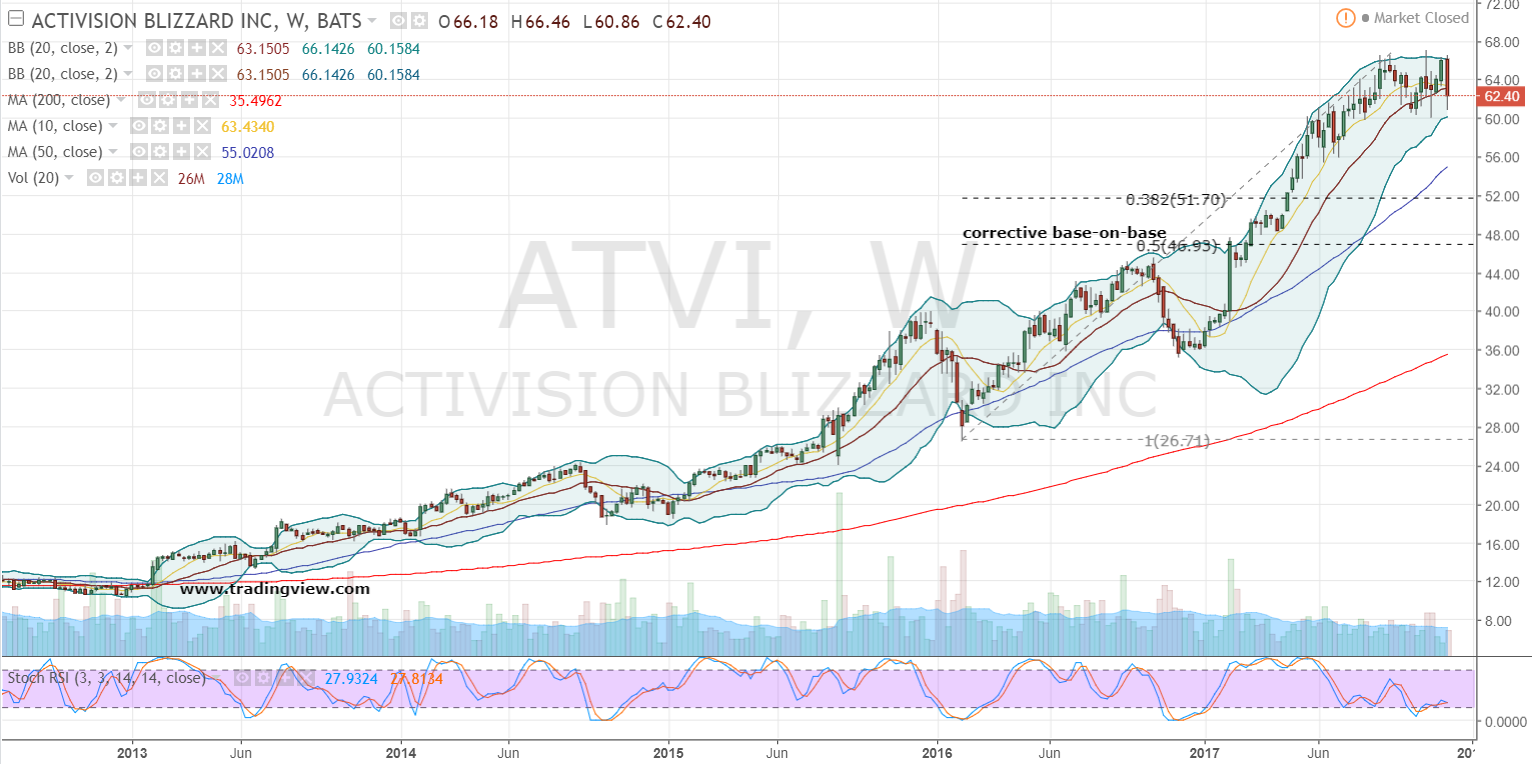 As the longer-term chart of ATVI stock depicts, it has been a nice run for shareholders. In fact, a buy-and-hold strategy has netted upwards of 500% over the past four years.
Personally, I'd be hard-pressed to think a similar repeat is possible. What I do believe is the longer-term trend will remain bullish and buying on corrective-type weakness will lead to good returns for ATVI shareholders over time.
Currently, the failure of Activision shares to break out from a several-week base following earnings in early November has led to a bearish engulfing candlestick. It could very well be the start of the type of correction noted above. And as also stressed, I'd personally rather be a buyer on weakness. However, I'm also in favor of designing a better strategy to get long ATVI today with less risk and without the headache of trying to time shares.
Activision Modified Bullish Fence
One way to position for shorter-term weakness, but also not miss out on a continued rally in the event our technical forecast is wrong, is to look past timing a stock purchase and instead buy a modified bullish fence using ATVI options.
This limited-risk strategy allows bullish traders the opportunity to buy Activision stock at a discount, while also being positioned for a rally. This is accomplished by purchasing an out-of-the-money bull call spread and financing all or part of the cost with the sale of a bullish out-of-the-money put vertical.
Reviewing ATVI options, one favored combination is buying the Feb $67.50/$72.50 call spread and selling the Feb $55/$50 put spread. With Activision stock at $62.40, the combination is priced for a cost of 25 cents.
The selection is based on the desire to be positioned long ATVI if shares stage a breakout above the recent high of $67.03 sometime in the next three months and have that right for the low cost of initial debit.
The real risk with this spread is a slower, grind-like move over the life of the combination. Ultimately, the 25-cent debit is lost if shares remain below $67.50 as the call spread would be worthless at expiration.
On the downside and if Activision does begin to move into a meaningful correction, the trader is in position to get long shares for a worst-case scenario price of $55.25 based on the cost of the combination and the sold $55 strike put. That's nearly 12% below the current price.
Lastly, as the trader is hedged with the $50 put, the opportunity to buy stock at a much lower price is possible if ATVI stock fell below the price of the vertical. Net, net and in our view, that's not "game over," but "game on" for longer-term bulls.
Investment accounts under Christopher Tyler's management do not currently own positions in any securities mentioned in this article. The information offered is based upon Christopher Tyler's observations and strictly intended for educational purposes only; the use of which is the responsibility of the individual. . For additional market insights and related musings, follow Chris on Twitter @Options_CAT and StockTwits and feel free to click here to learn more about how to design better positions using options!