After bouncing around near $5 through the third quarter, Fitbit Inc (NYSE:FIT) is trying to find some momentum to close out the year. Things were going great, with FIT stock price climbing to its highest levels since January. But last Friday, Fitbit took a tumble from $7.20 to $6.20 and, at last check, was trading at $5.98 on Tuesday.
What do we make of FIT stock now? The fall certainly wasn't a positive, particularly as FIT stock had finally broken through resistance. But, surprisingly, a nice trade is developing.
Here's the thing with FIT stock though: it's a good trade, but not necessarily a great investment.
What's the Market Like for Fitbit?
I like to think of smartwatches and fitness trackers like I do smartphones: most companies aren't profitable. A few — mainly Apple Inc. (NASDAQ:AAPL) — turn a handsome profit, but most players don't. The Apple Watch carries a high price tag and what many would expect to be attractive margins. The new Apple Watch is great too, boasting cellular connectivity and wireless charging.
There's no reason to doubt that the Apple Watch — or the iPhone, for that matter — will be in high demand this holiday season. I would also expect Fitbit demand to be high too. Combined with the "New Year's resolution" season, Fitbit sales should sizzle in the fourth quarter.
Despite analysts calling for $590 million in sales this quarter for Fitbit, they also expect a penny per share loss. While this is a big improvement from last year's 56-cent loss per share in the same quarter, it's still discouraging given that almost 40% of the company's sales will come in Q4.
While analysts expect a year-over-year (YoY) increase for this quarter's sales, its total YoY sales are forecast to fall almost 25%. Analysts expect 2017 losses to more than double from 2016 on a per-share basis. Worse yet, another loss is forecast for 2018.
What About a Turnaround?
Is it possible for Fitbit to turn its woes around? Of course. I'm far from a fitness tracker expert. But in my view, Fitbit can't rely on hardware sales. If it does, things might never get much better than they are now.
With the exception of Apple, just about every consumer hardware manufacturer is working with razor-thin margins. But what's one catalyst every investors always talks about with Apple? Services!
Investors love seeing the huge growth in Apple Services because the margins are so high. Even though the total revenue is minute when measured against iPhone sales, the bottom line is fat — and that's what counts. In other words, if Fitbit can start turning a profit on its devices, that's great. But if it can find a way to leverage higher margin software services with its devices — now we've got a money maker.
Fitbit has surprisingly solid gross margins, measuring in near 35%. For comparison purposes, AAPL has about 38% gross margin. However Apple boasts incredibly strong operating and profit margins, whereas FIT does not.
The company needs to reign in spending, which continues to grow at a much faster rate than revenue. From 2014 to 2016, revenue grew a whopping 191%. However, SG&A costs and R&D costs grew 318% and 492%, respectively. Admittedly, a company has to stay ahead of the competitive curve by researching and experimenting. But operating expenses grew almost 300% during that time frame, which was just too much for FIT stock to bear.
Trading FIT Stock Price
Okay, so the fundamental picture isn't so great, but what do the technicals say?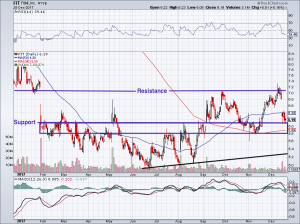 Click to Enlarge
Fortunately, it's a good tune for bulls. In October, the 50-day moving average crossed the 200-day moving average, a bullish development known as a "golden cross".
Further, the FIT stock price is now above its 200-day moving average. Until last week, it was above both key moving averages. Despite this setback, though, there are still positives developing.
There's a purple rectangle highlighting a major level of support, roughly between $5.85 and $6.15. This level was previous resistance and is current support. Should we lose it, FIT stock price will be in trouble. There is one last line of additional support down near $5.50 (black line). But should this level fail, I wouldn't want to be long FIT stock.
For now, though, over $6, FIT stock is fine on the long side for a trade. At least back toward $7 resistance. It's not yet a long-term hold, though.
Bret Kenwell is the manager and author of Future Blue Chips and is on Twitter @BretKenwell. As of this writing, Bret Kenwell did not hold a position in any of the aforementioned securities.