U.S. equities dribbled lifelessly lower on Wednesday — with tax reform, government shutdowns, and geopolitics dampening spirits. All the action was over in bitcoin, where prices pushed past the $13,000 level for the first time on a surge of speculative excitement.
In the end, the Dow Jones Industrial Average lost 0.2%, the S&P 500 lost a fraction, the Nasdaq Composite gained 0.2% and the Russell 2000 lost 0.5%. Treasury bonds were stronger, the dollar was mostly higher, gold was little changed and oil fell 2.9% on poor inventory data.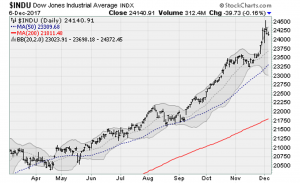 Click to Enlarge Breadth was negative, with decliners outpacing advancers by a 1.4 to 1 ratio while volume was a little light, at 94% of the NYSE's 30-day average. Technology stocks led the way with a 0.8% gain while energy was the laggard, down 1.3%.
AeroVironment, Inc. (NASDAQ:AVAV) gained 25.9% after beating quarterly earnings on an increase in revenue from unmanned drone systems with a funded sales backlog growing nearly 50% quarter over quarter.
On the tax reform front, the Senate joined the House in sending their legislation to committee where differences can be ironed out and a final agreement found. Details are fluctuating slightly, with the latest that the GOP could trim the corporate tax rate cut to 22% from 20% for a savings of around $200 billion.
All eyes are on Thursday, which is a critical day for the budget funding debate to avoid a shutdown on Friday. Democrats continue to want to get concessions on immigration issues while budget hawks in the GOP are scoffing at the idea of a two-week extension — preferring not to rush a solution just before Christmas
Conclusion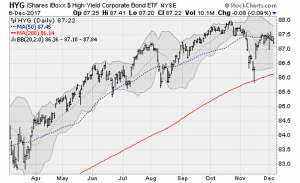 Click to Enlarge For now, market machinations will continue to largely reflect tax reform changes. Tech stocks are leading the way right now because of a realization the corporate AMT was "accidentally" left at 20% in the Senate bill — something that would de facto result in higher-than-expected tax rates for many companies.
Outside of this and bitcoin, investors will need to remember the upcoming Federal Reserve policy meeting later this month. Another rate hike is expected. And updated projections could reveal an aggressive rate hike pace in 2018. All could destabilize the high-yield corporate bond market — a recent site of market stress.
Check out Serge Berger's Trade of the Day for Dec. 7.
Today's Trading Landscape
To see a list of the companies reporting earnings today, click here.
For a list of this week's economic reports due out, click here.
Tell us what you think about this article! Drop us an email at editor@investorplace.com, chat with us on Twitter at @InvestorPlace or comment on the post on Facebook. Read more about our comments policy here.
Anthony Mirhaydari is the founder of the Edge (ETFs) and Edge Pro (Options) investment advisory newsletters. Free two- and four-week trial offers have been extended to InvestorPlace readers.