There's continues to be "ho-ho-hope" for Target Corporation (NYSE:TGT) investors as Wall Street moves through the holiday shopping season. But if you're going to buy the seasonal narrative in TGT stock, this strategist still suggests purchasing a gift from the options market that keeps on giving.
Let me explain.
Target stock roared higher to kick off the trading week with a jolly-good gain of 5.13%. Behind the move, more than a few bulls would be quick to point to Washington D.C. and the increasingly likely gift of a tax reform package.
If the bill passes, it's sure to delight companies such as Target with lower corporate income tax rates — and maybe extra spending money for its retail shopping base as well.
Monday's good tidings follows a solid couple of weeks for TGT stock backed by strong holiday sales and somewhat ironically, on the heels of shares being slammed by roughly 10% on a disappointing holiday forecast in mid-November.
Last month's proverbial piece of coal was offered up within Target's otherwise much jollier earnings package featuring better-than-feared profits, an upwardly-revised full-year outlook and increased proof the company's restructuring and sales strategy overhaul is working.
Investors' initial reaction to the earnings report was sufficient to break some believable chart supports in TGT stock. But at the end of the day or maybe starting the next session, it's also true Wall Street can be a very forgiving place when it comes to shopping from the discount rack and making up new and more cheerful seasonal narratives.
TGT Daily Stock Chart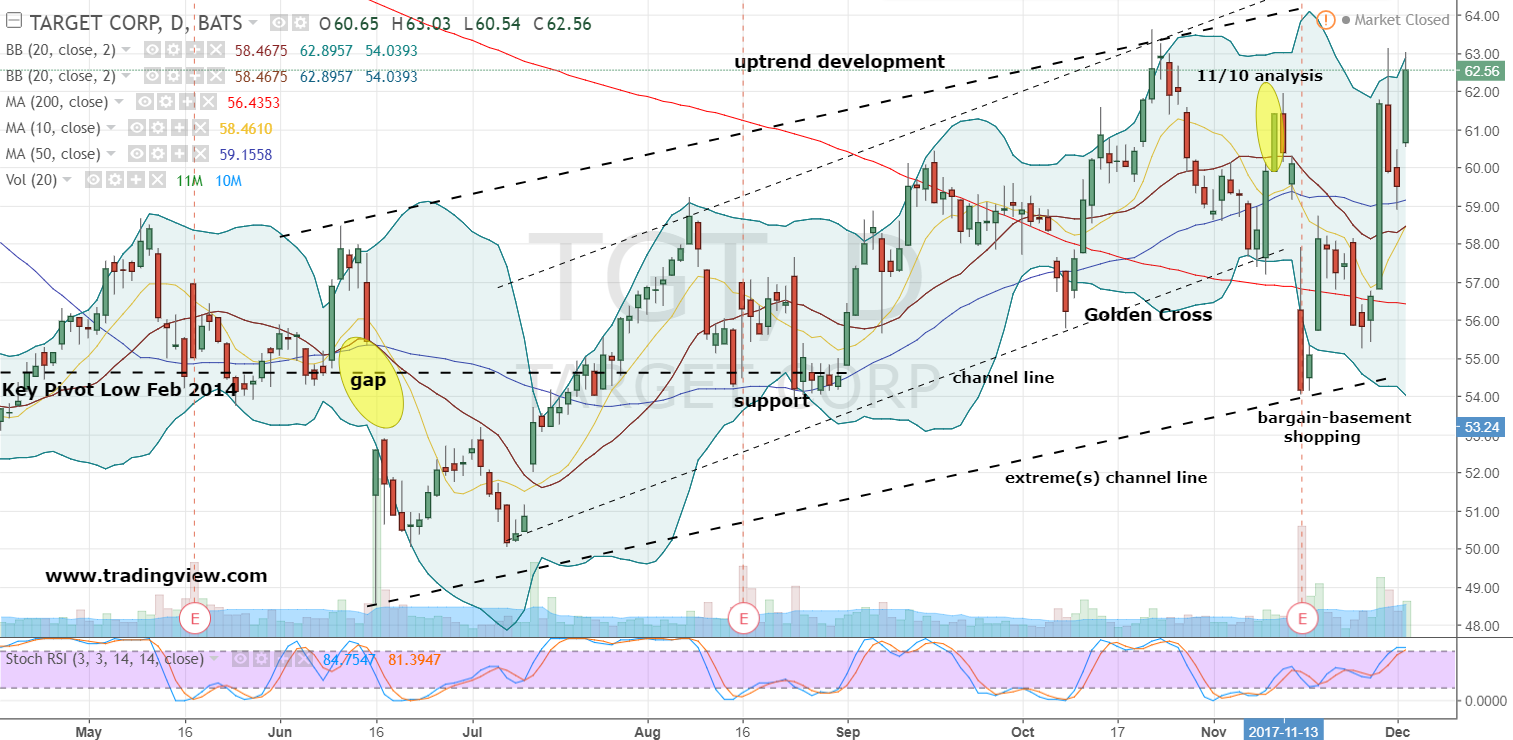 A brief Grinch-like and naughty earnings reaction, which broke channel support line last month, has been all for naught following investors' decision to go bargain-basement shopping in TGT stock over the past couple weeks.
Looking forward, a now-developed and slightly wider up-channel appears to have upside potential towards $65 before resistance may summon some profit-taking. Time will tell of course. And while there are no guarantees the Grinch won't make another appearance, like-minded bulls can look to TGT stock's options for stronger outcomes without relying too heavily on 'ho-ho-hope.'
TGT Stock Long Moderately Bullish Spread
In our last discussion of TGT stock in front of earnings, a moderately bullish Dec $62.50 / $65 / $67.50 call butterfly was proffered for 45 cents. The strategy was and remains a low-and-limited risk way to play TGT stock within a trading range.
It's not, though, for traders who believe in a runaway sleigh ride to the upside in shares in the short-term.
Priced at 60 cents, this long butterfly offers traders some type of profit in a range from $63.10 to $66.90 with shares at $62.56. If TGT lands squarely on the bulls-eye of $65 at expiration the profit would max out at $1.90. That's a bit more than 300% and obviously, a very nice gift in a strategy that's already given once by allowing some traders to get through earnings safely.
Disclosure: Investment accounts under Christopher Tyler's management do not currently own positions in any of the securities or their derivatives mentioned in this article. The information offered is based upon Christopher Tyler's observations and strictly intended for educational purposes only; the use of which is the responsibility of the individual. For additional market insights and related musings, follow Chris on Twitter @Options_CAT and StockTwits.