This year has been a rocky ride for Rite Aid Corporation (NYSE:RAD), with the RAD stock price down 75% in 2017. At the beginning of the year, there was hope that Walgreens Boots Alliance Inc (NASDAQ:WBA) would pull off the deal to buy Rite Aid. Even in June, there was reason to believe that WBA and RAD would prevail over the Justice Department.
But then the deal fell through. Walgreens quickly worked out another agreement with Rite Aid and regulators gave their stamp of approval in September. Getting a look at Rite Aid's financials now that the deal is done — which includes 1,932 locations for $4.375 billion — will be interesting. Rite Aid plans to reports third quarter results on Jan. 3.
Unfortunately, we may not get a great look at what RAD is set to become until either its fiscal fourth quarter results or perhaps even its first quarter results are in. It will take time to reorganize and get its business plan straight.
However, investors will be looking to hear a good story from management during the conference call. They'll want to know what the plan is to cut debt, curtail costs and boost sales.
With RAD stock near $2 — while up from its 52-week low of $1.38 — it's safe to say expectations are low.
Trading RAD Stock
RAD stock can easily be a buy, if just one thing happens. At current levels, I would not be a buyer. While it's promising that Rite Aid is trading above its 50-day moving average, I need a stronger catalyst. Specifically, bulls need to see RAD stock break out and close above $2.20. If it can do that, then investors have a very good risk/reward.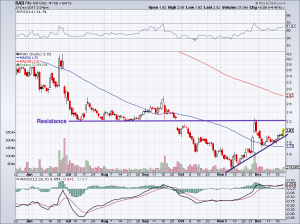 Click to Enlarge
Why? The reasoning is simple. $2.20 was previous support, but then RAD stock gapped below that level in late September. In late November, it filled that gap by running to about $2.30, but failed to close above $2.20. RAD stock was able to pull back into uptrend support (black line) and gather itself from there. Now peeking over $2, a run back to $2.20 is in the cards.
If we get a close above $2.20, the trade becomes simple. Over this level, RAD is a long; below it's a no-touch. From there we could target the 200-day moving average at $2.82, roughly 25% upside from the breakout level. If $2.20 rejects RAD stock again, look for uptrend support or $1.80 to come into play. If those fail as support, RAD could retest its recent lows.
The Bottom Line on RAD
If you're the kind of investor who likes to uncover great businesses and undervalued assets, RAD stock isn't the one for you. It carries a boatload of debt, with more than $7.1 billion in long-term obligations. This dwarfs its cash position of just $239 million and market cap of $2.1 billion.
Sales should decline slightly this year and then decline a bunch after that because of the deal with Walgreens. There is a big mess investors will have to sort through at some point in 2018. While investor expectations are low, there's the possibility that RAD stock could fall on the next quarterly report if there isn't enough clarity from management.
That said, while the fundamental picture isn't too bright, there's a very solid trade setup in RAD stock. Assuming shares can push through resistance, it's worth a stab on the long side. One thing to note is that you may not prefer to carry RAD stock through earnings. Doing so could open up a lot more risk to the trade.
Bret Kenwell is the manager and author of Future Blue Chips and is on Twitter @BretKenwell. As of this writing, Bret Kenwell did not hold a position in any of the aforementioned securities.