It may not be time to sell Facebook Inc (NASDAQ:FB), but completely discarding or discounting the news surrounding FB stock is equally foolhardy. For investors wanting to position today, one well-liked way around this catch-22 is using a limited-risk, bullishly placed butterfly strategy. Let me explain.
A surprise announcement this past Friday by Facebook to reintroduce a user experience aimed at increased connectedness to friends and family, rather than a platform for product ads, public content and news was taken as an immediate threat by Wall Street.
Given Facebook's noble redirection, one which puts company ad revenues at risk, FB stock slid by nearly 4% on the session while giving bears fresh technical ammunition on the price chart.
But is this really a tipping point or end of what's been a very friendly trend for investors? Could be. As InvestorPlace's Dana Blankenhorn recently wrote, VC Roger McNamee, an influential and early Facebook investor, believes the company is in trouble and it runs beyond Friday's headline news.
Then again maybe the trouble isn't here just yet.
FB Stock Weekly Chart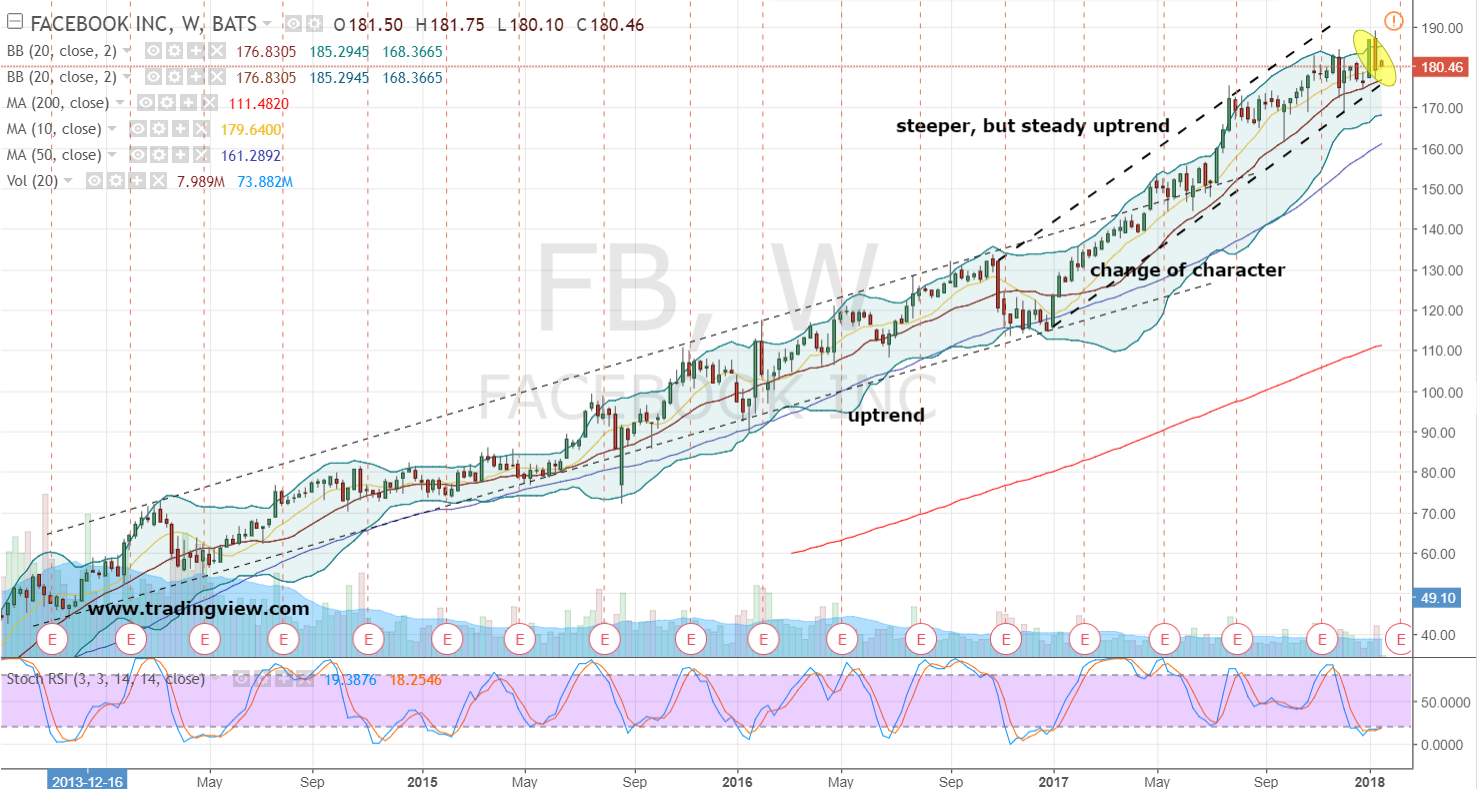 It's been a very good year for FB stock investors. Despite Friday's drama shares are still up nearly 60% since January 2017. As well and more importantly, Facebook is still maintaining a 'steeper, but steady uptrend' which took hold of the price chart at the beginning of last year.
Now for the bad news. At some point, longstanding and friendly relationships like the one bulls have enjoyed with FB stock are always at risk of technical trouble in the form of a more meaningful correction. Without fanning the flames of panic, the highlighted area on the Facebook chart does show last week's price action setting up a bearish engulfing reversal candlestick—and potentially the start of that process.
Bottom-line, it's been a long while since FB stock has experienced a larger time and/or price-based correction and last week's topping pattern could be the trigger for just that sort of cycle to begin. But if bullish investors wish to give the existing trend the benefit of the doubt and buy near support with well-calculated and defined risk, a long butterfly using Facebook's options market is a friendly strategy to consider.
FB Moderately Bullish Butterfly
Given our view, FB stock could be at risk of a larger correction, but shares still narrowly holding onto its steeper uptrend, I like approaching shares using a bullishly-placed long call butterfly. This strategy offers traders a very low-cost way to position and profit within a nice bullish trading range, if FB can resume its rally.
If Facebook shares end up collapsing and breaking the uptrend channel, the trader's negligible loss compared to long stock keeps them in much stronger position to consider buying actual stock at a much steeper discount to today's price.
The biggest caveat with using a long butterfly in this capacity is being comfortable with the risk of an overly-bullish reaction in FB stock. If shares climb above the butterfly's highest wing, the debit will be lost at expiration. And with earnings looming, the potential for a larger move is present.
Having said that, for like-minded bulls that see contained upside, this play can be very attractive while offering a solid risk-to-reward profile. Reviewing FB stock's options, one such combination that's favored is the February $190/$195/$200 call butterfly.
Priced for 50 cents with shares of Facebook at $180, risk is limited to roughly 0.30% of owning FB stock through the earnings cycle. The bullishly placed butterfly offers a profit range from $190.50 to $199.50 with a max gain of $4.50 if shares can rally by approximately 8% and finish at $195 on expiration.
Investment accounts under Christopher Tyler's management do not currently own positions in any securities mentioned in this article. The information offered is based upon Christopher Tyler's observations and strictly intended for educational purposes only; the use of which is the responsibility of the individual. For additional market insights and related musings, follow Chris on Twitter @Options_CAT and StockTwits.