For contrarian-minded traders looking for serious growth at a massive discount, Momo Inc (ADR) (NASDAQ:MOMO) is trying to 'flag' down investors to get their attention. But instead of buying Momo stock, a modified spread looks well-suited for bullish positioning no matter what Wall Street's next move is.
Let me explain.
We all know the saying, "life isn't fair." That appears particularly applicable to China-based social media upstart Momo. The one-time online dating portal has morphed over the last couple years into a legitimate and much more diverse entertainment platform for its subscribers — and it has done so with the type of growth that worthy of making a bull blush.
Nevertheless, Wall Street doesn't appear impressed or is at the very least, incredibly skeptical. Momo stock has quite simply gotten hammered in the aftermath of its last two earnings reports despite producing massive growth numbers and easily topping forecasts.
Blame it on whomever or whatever you want or quite simply, appreciate the market for it's sometimes and often nearsighted ways — then look to position smartly in the options market before Wall Street invariably re-calibrates its blinders.
MOMO Stock Daily Price Chart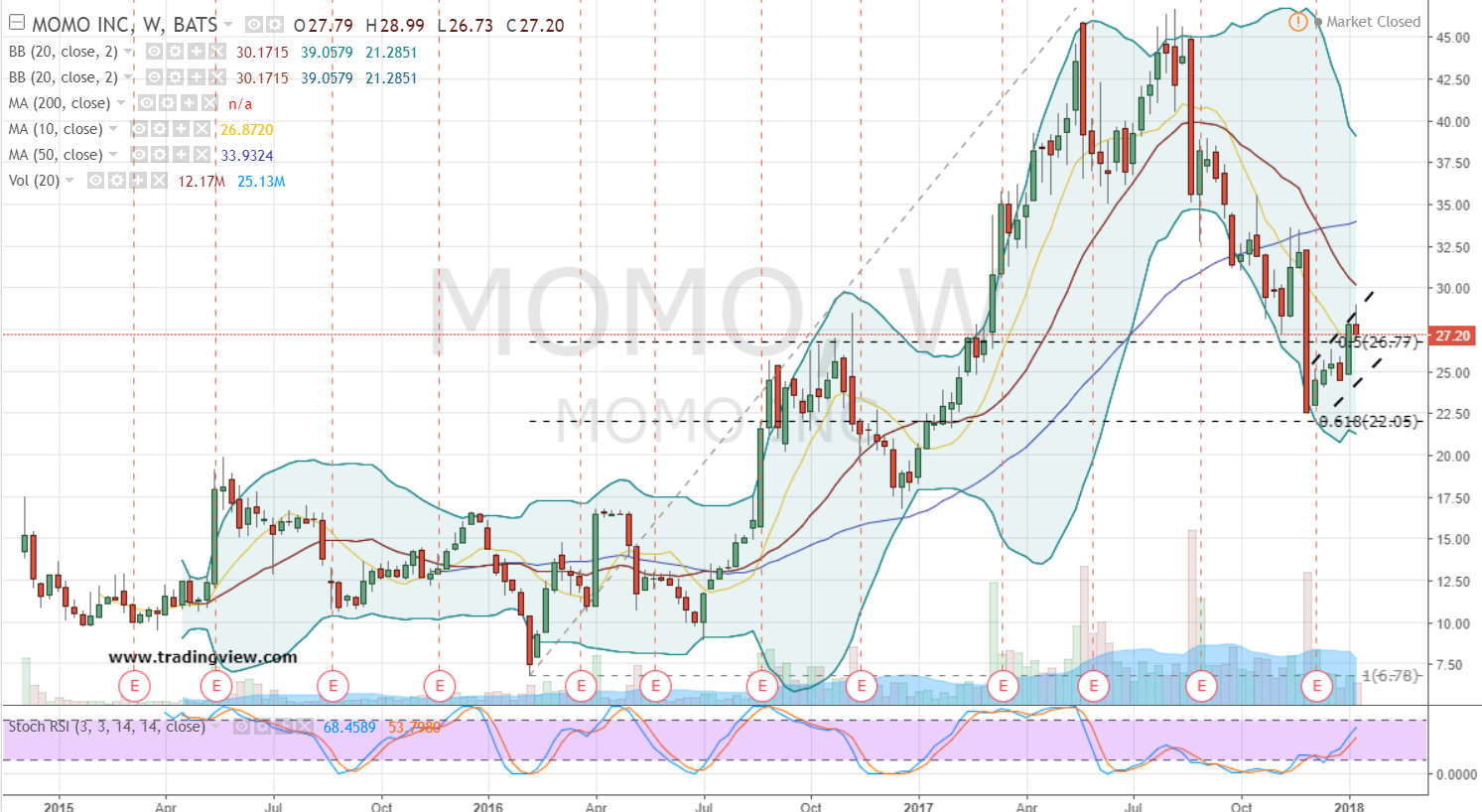 It has been all downhill for MOMO stock on the price chart lately despite a 12-month gain in shares of nearly 30%. And for the buy-and-hold crowd, a dizzying corrective decline of 52% from Momo's August all-time-high to recent post-earnings low has been technically damaging in unwinding the stock's prior uptrend and bullish momentum.
And it may not be over either.
Looking at the Momo stock chart, it's easy enough to appreciate that a weekly bearish flag is developing. It's the type of pattern worthy of striking technical fear into bulls and instilling confidence into bears. But if we can put on our contrarian headgear, it's typically when conditions look their worst — and I believe MOMO qualifies in this context, that the end is actually near in a good sort of way for bulls.
Personally, it's our view last month's successful test of the 62% retracement level is an intermediate low in Momo stock. I'd go on to state if there is a break of flag support, I'm confident the ominous price action will wind up being a trap for bears. But in case we're wrong and growth at a discount gets even cheaper, using Momo stock's options have us covered.
Momo Stock Modified Bullish Spread
Given that investors will likely change their collective tune and bid Momo stock higher, but I'm also willing to be a buyer if Wall Street gets silly and takes shares down, I like using a modified fence combination as an effective way to position.
Reviewing the options board, it may require late February's earnings release to act as a driver in Momo stock; one favored spread package of this type is buying the April $35 / $40 bull call vertical and selling the April $22.50 / $20 put vertical for a credit of 5 cents.
This bullish strategy limits and reduces risk by purchasing a call vertical and selling a put vertical in the same contract month to finance the position. The primary objective is for the call spread to go fully in-the-money. This allows the trader to capture the max profit of the combo. That would work out to a massive gain of $5.05 if Momo stock is above $40 at expiration in April.
Additionally, for like-minded investors willing to buy shares on weakness, if MOMO shares crash lower, this strategy sets up the opportunity to begin building a stock position for no worse than $22.45 and a retest of the recent post-earnings low.
That's a full 18% below the current price of $27.20! What's more, the purchase could be even lower if Momo stock falls aggressively through the stationed $20 put strike. Some might say, "careful what you wish for." I'd counter by saying, "thank you for your consideration."
Disclosure: Investment accounts under Christopher Tyler's management do not currently own positions in any securities mentioned in this article. The information offered is based upon Christopher Tyler's observations and strictly intended for educational purposes only; the use of which is the responsibility of the individual. . For additional market insights and related musings, follow Chris on Twitter @Options_CAT and StockTwits.