U.S. equities are surging Wednesday after a relatively mixed Consumer Price Index report. Nervousness is high, however, after the February jobs report revealed a surprising rise in wages.
While the overall CPI was slightly ahead of expectations, the core measure that removes the effect of food and fuel prices remains tepid at a 1.8% annual rate. That bolstered confidence on Wall Street that inflation wasn't a clear and present danger, lifting some of the pressure on Federal Reserve rate hike expectations.
At least, that's the message coming from stocks as the CBEO Volatility Index, or "fear gauge," melts down from its recent highs pushing prices higher. Bonds are a little less excited, with prices on the decline pushing yields higher.
Still, the moves are positive for the "risk parity" funds that have been under pressure lately, those that rely on equity and fixed-income prices moving in opposite directions … as they are now. That's what is causing the VIX to melt from its recent highs, creating new opportunities for short-term traders. Here are three ways to profit:
ETFs to Buy: ProShares Short VIX Short-Term Futures (SVXY)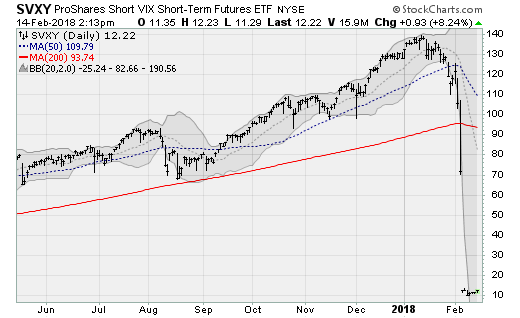 Let's be clear: ProShares Short VIX Short-Term Futures (NYSEARCA:SVXY) is an extremely high-risk position in the wake of the similar Credit Suisse AG Velocity Shares Daily Inverse VIX (NASDAQ:XIV) fund blowing up last week after a 115% daily rise in the VIX.
Since these funds give 1x short exposure, any more over 100% risks a complete wipeout (remember, a typical short-side trade is limited by a 100% gain potential offset by an unlimited loss potential).
But with markets calming amid a short-covering rally and the VIX falling as February contracts expire, the SVXY looks set for a strong rebound as fear subsides ahead of another market downturn likely later this year as rates keep pushing higher.
ETFs to Buy: ProShares UltraPro QQQ (TQQQ)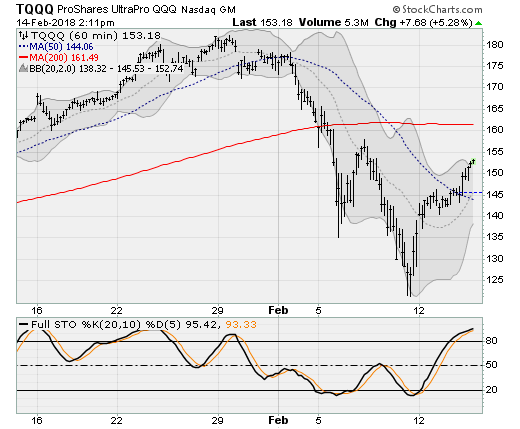 The ProShares UltraPro QQQ ETF (NASDAQ:TQQQ) gives 2x daily exposure to the moves of the Nasdaq 100.
With stocks set for a multi-week rebound out of its recent lows, watch for big-cap tech stocks (the "FANGs") like Facebook Inc (NASDAQ:FB) and Amazon.com, Inc. (NASDAQ:AMZN) to lead the way higher.
Not only did these stocks hold up remarkably well in the downturn, but investors are eager to buy the dip at a discounted price. Tech sector leadership should lead to relative strength for the TQQQ on the way up.
ETFs to Buy: Direxion Daily Small Cap Bull 3x Shares (TNA)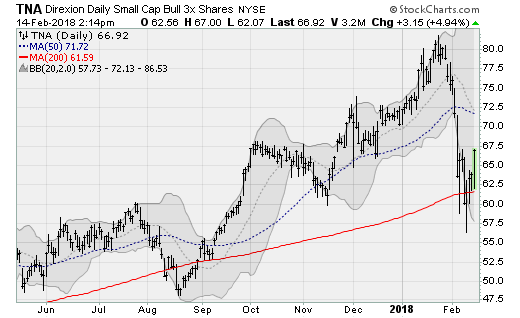 The Direxion Small-Cap Bull 3X Shares ETF (NYSEARCA:TNA) gives 3x daily exposure to the Russell 2000 Small-Cap Index and is thus only appropriate for advanced traders.
Small caps were hit hard, down more than 11% from its mid-January high into the low set last week. But they now look poised to lead the rebound here with the Russell's parabolic stop-and-return indicator flashing a buy signal ahead of what is likely to be, at the least, a 50% retracement of the selloff.
Target a move to the 1,550 region — which translates into a 10%-plus gain for the TNA from current levels.
Anthony Mirhaydari is the founder of the Edge (ETFs) and Edge Pro (Options) investment advisory newsletters. Free two- and four-week trial offers have been extended to InvestorPlace readers.