Are you searching for the next big breakout? Then your search may be over courtesy of China-based Baidu Inc (ADR) (NASDAQ:BIDU). And for bullish investors keen on reducing and limiting risk, a modified long butterfly call spread on Baidu stock looks well-suited for the occasion. Let me explain.
Off and on the price chart, Baidu stock has continued to improve its position as a company worthy of more than just investors' eyeballs. Most recently, the internet search and technology outfit delivered solid results showing robust growth that topped Street views and reaffirmed BIDU's successful and broadening reach into key markets such as mobile, artificial intelligence and autonomous vehicles.
Will the good times continue? Our view remains optimistic. Furthermore, and similar to days past, the big picture on the Baidu stock chart is backing that view in a very big way.
Baidu Stock Weekly Chart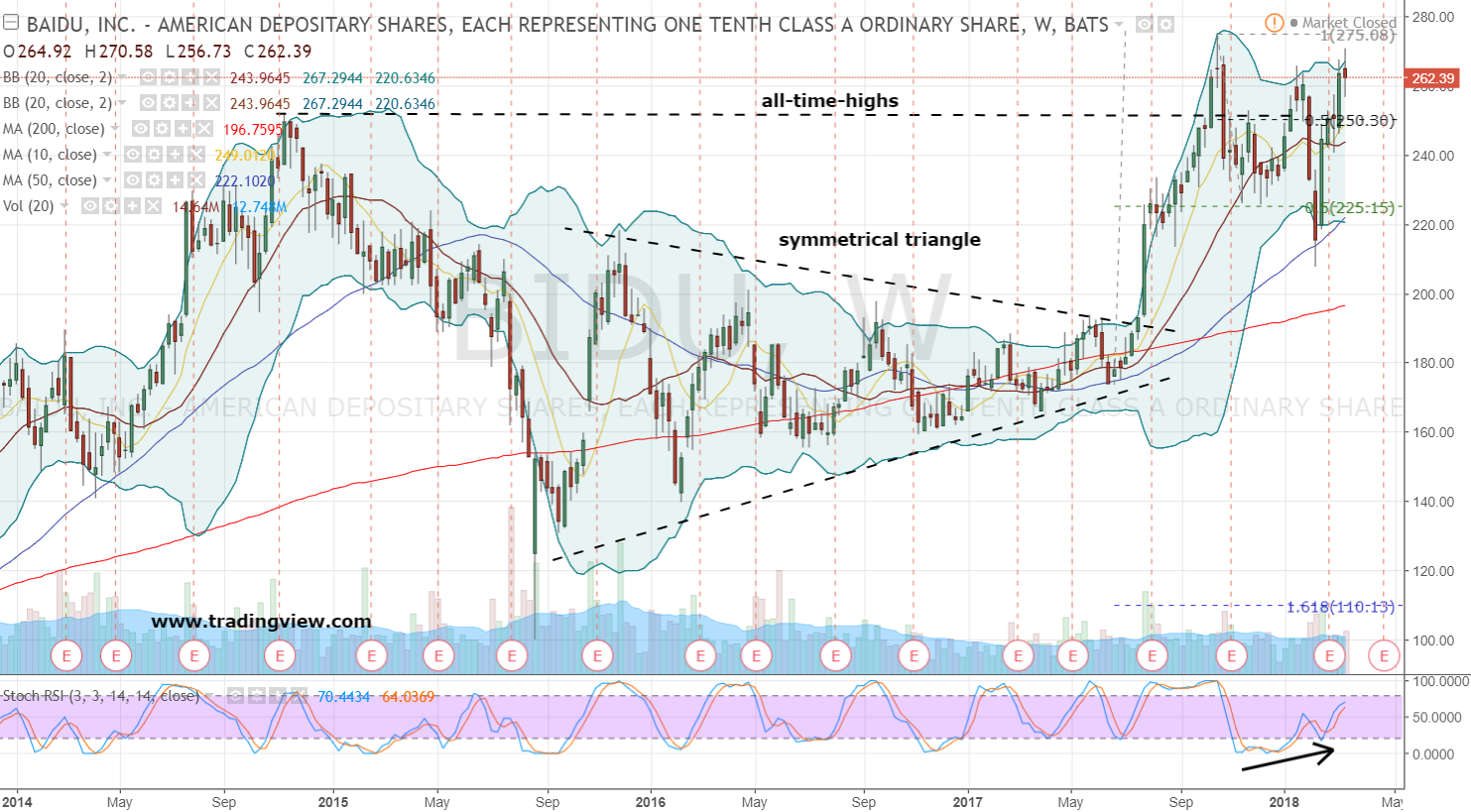 Technically speaking, Baidu stock is back in position for bullish investors. Since breaking out and bursting higher to new all-time-highs last year out of a large symmetrical triangle pattern, shares of BIDU have been consolidating those gains around the prior high. There's certainly nothing wrong with that.
Now, and after five months, the stock appears to be putting together the final touches of a corrective "W" shaped base. It's our assertion that the price pattern will propel Baidu to fresh and meaningful highs. Of course, without any guarantees on the price chart, the options market can assist bulls with securing a limited and reduced risk strategy.
Baidu Modified Long Butterfly Spread
One spread combination favored for this type situation (and where I'd like to see pattern followthrough while staying away from increased downside exposure in the event our technical hypothesis fails) is a bullish modified butterfly combination.
By positioning in Baidu stock with an out-of-the-money call butterfly and a tighter bear call spread, this bullish trader enjoys the benefits of limited and reduced risk. Even better, this combination eliminates the potential headache of BIDU shares overshooting the spread and resulting in a loss as would occur with a regular butterfly.
Reviewing Baidu's options market, the long June $280/$310/$320 call butterfly combination is attractive. With shares at $262.39, the spread is priced for $5.50, or just over 2% of the risk assumed with holding BIDU shares.
Despite the fairly insignificant downside risk, especially as the spread's life has an earnings cycle in it, there is a max profit of $24.50 if Baidu stock rallies to $310 into June expiration.
That's nice. In a more realistic and sometimes overly optimistic world, if shares continue to rally through $320, as mentioned, this trader is not at a loss. In fact, with a profit of $14.50, this butterfly is more than twice as nice with a return in excess of 260% over the initial investment.
Investment accounts under Christopher Tyler's management currently own positions in Baidu stock and BIDU derivatives. The information offered is based upon Christopher Tyler's observations and strictly intended for educational purposes only; the use of which is the responsibility of the individual. For additional market insights and related musings, follow Chris on Twitter @Options_CAT and StockTwits.