Demand by investors for General Motors Company (NYSE:GM) has throttled shares generally higher in recent days. But if you're going to take a spin in GM stock, a two-step approach that begins with a vertical call spread is a good option to buy into. Let me explain.
Two weeks ago, news of Japan's SoftBank Group Corp injecting a $2.25 billion investment into General Motors' autonomous-driving unit — aptly named Cruise — shifted GM stock higher by nearly 13%.
The partnership with SoftBank's $100 billion Vision Fund, which has made a series of aggressive bets in the so-called mobility arena, values the Cruise unit at $11.5 billion. And for today's investors, the move validates General Motors original purchase of the business two years ago for $1 billion in the face of criticism the company was overpaying.
Now, after GM stock clawed its way higher the past several sessions and closed in on October's all-time-high, all eyes turn to the company's 2017 sustainability report. It released on Tuesday, and highlights include GM's commitment to ramped-up mass production for the autonomous market, as well as boosting its all-electric offerings and intentions to deliver on a vision of an "all-electric, emissions-free" future.
Vroom, vroom, sputter, sputter??
GM Stock Weekly Chart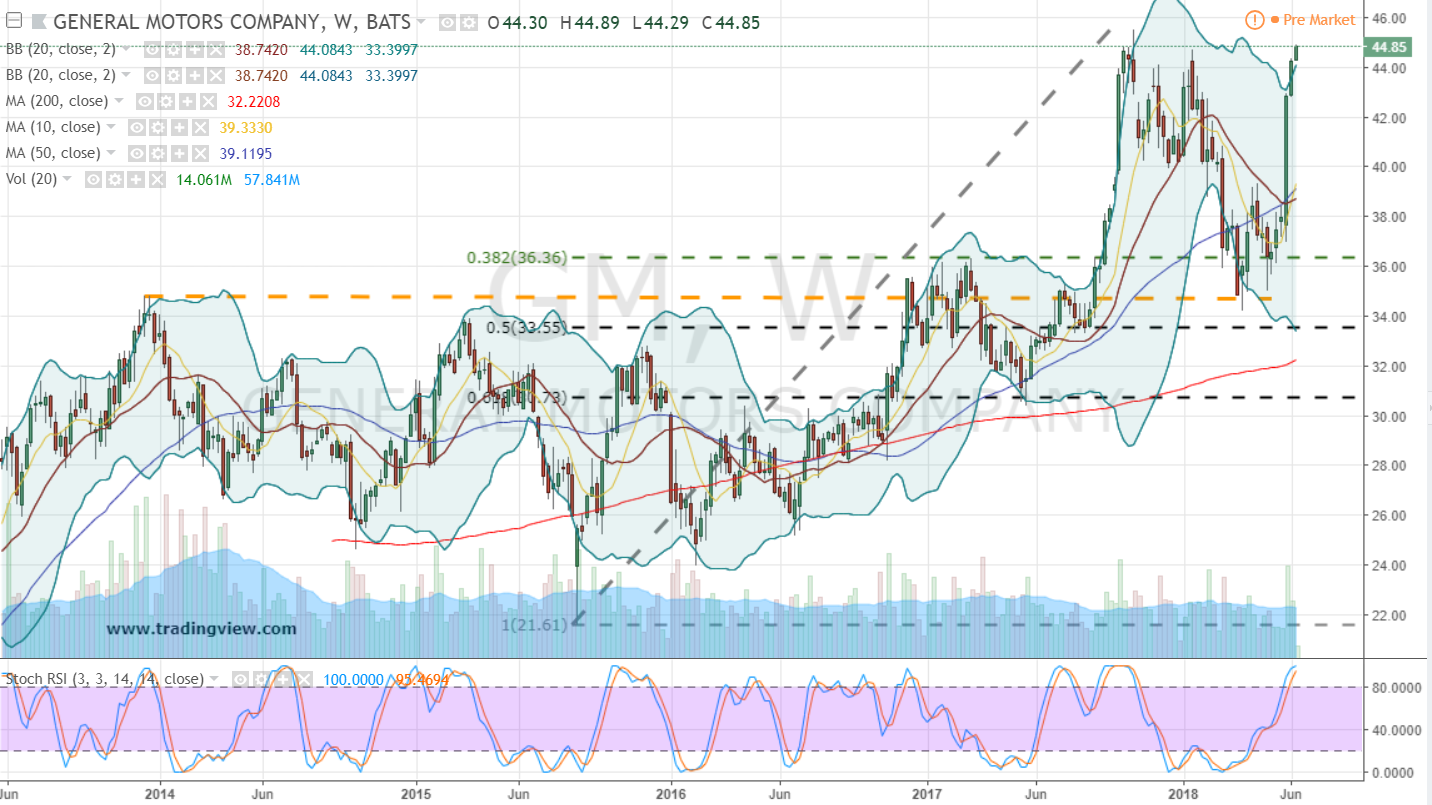 Reviewing GM stock's weekly chart and as noted above, shares are currently testing the prior highs. The eight-month corrective base is very constructive from both a duration and price perspective, but near-term shares are at risk of being overbought.
Looking forward, the expectation is that some backing and filling of GM is likely to occur before a breakout from the base to new highs. Ultimately, I'd like to see some of the enthusiasm for shares neutralize and put GM stock in a stronger position for creating a durable breakout.
A pause of this type would set itself up as a double-top on the price chart, but one I suspect would become a short-lived bear trap.
GM Stock Long Vertical Initiation Strategy
Given the outlook that GM will motor on in months ahead — but not without increased risk of temporary pressure near-term — a slightly out-of-the-money bull call spread to initiate a position makes sense. One that's favored right now is the Aug $47/$49 call combination for 38 cents or better.
Bottom line, the big picture where higher prices in GM stock are eventually expected trumps the current worries of an overbought condition. As such, having some kind of long delta exposure makes sense in the event shares fail to back and fill to our liking.
In our view that's especially true with exposure limited to around 1% of the risk associated with owning GM stock.
At the same time and with the vertical's risk well-defined, if GM does proceed to move lower in the coming days, adjusting the position by selling a bull put spread makes sense. This two-step approach during a decline in shares would establish a very-well-priced modified fence spread combination.
Together, this allows for either buying shares down the road at an attractive discount or potentially enjoying big profits if investors decide once more to throttle shares higher through late July's earnings catalyst.
Investment accounts under Christopher Tyler's management do not currently own positions in any securities mentioned in this article. The information offered is based upon Christopher Tyler's observations and strictly intended for educational purposes only; the use of which is the responsibility of the individual. For additional market insights and related musings, follow Chris on Twitter @Options_CAT and StockTwits.