Wall Street has more than cozied up with Facebook, Inc. (NASDAQ:FB) the last several weeks, but if you're going to like the superficially friendly price trend it's time to consider a bull call vertical spread to keep that relationship from falling apart. Let me explain:
This spring's anxiety over the Cambridge Analytica breach of nearly 50 million Facebook users personal information was, however, worthy of being a sensationalism-driven panic judging by FB stock's muscular climb to pre-scandal levels and challenging its all-time-highs.
Now and in Cambridge's place, furrowed brows and concern have been replaced by mostly happy-go-lucky ear-to-ear smiles and fattened investment accounts for investors that ignored or bought into the bearish narrative of FB stock.
The latest good tidings for Facebook investors is an annual internet trend report from revered analyst Mary Meeker of the storied VC outfit Kleiner Perkins Caufield & Byers.
The widely-read forecast features Facebook in a favorable light among tech giants Alphabet Inc (NASDAQ:GOOGL) and Amazon.com, Inc. (NASDAQ:AMZN) due to its massive sales growth and oodles of cash generated by its businesses.
FB Stock Weekly Chart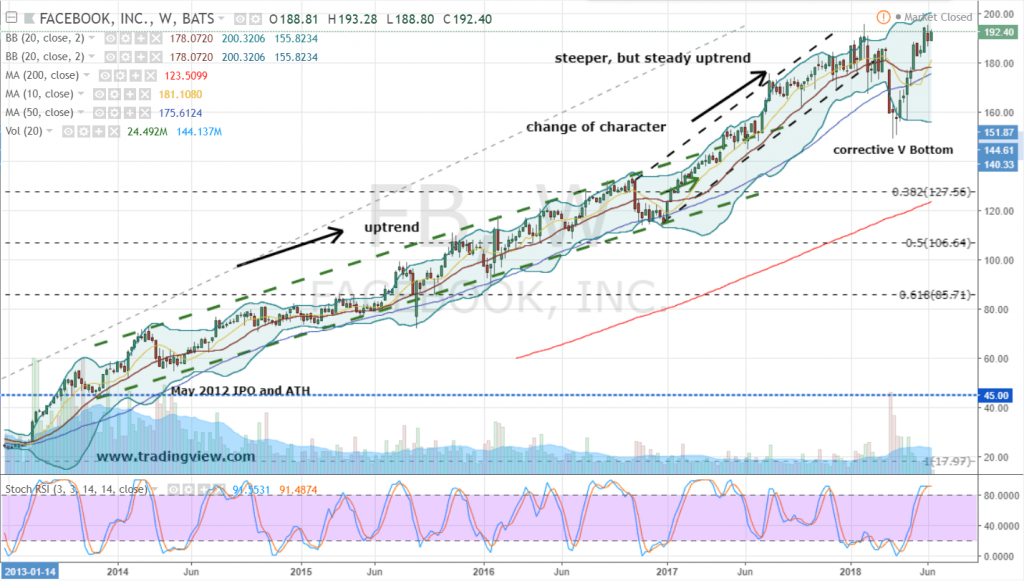 Roughly two-and-one-half months ago, I wrote about FB stock's sketchy technical position. Facebook shares were nudging below key support from a steeper, but steady uptrend and looked at risk of an imminent correction.
The outlook was spot-on and very profitable but it was also short-lived compared to the bearish options strategy which went firmly in-the-money for a couple of weeks but is now set to expire this Friday very much away from the current price action in FB stock and worth $0.00.
For today's investors, the reversal of fortune has established a tenuous 'V' bottom that's morphed into a double-top pattern with a concerning overbought stochastics set-up. More optimistically, a cup with handle pattern admired for its ability to produce higher stock prices, can also be appreciated as having taken shape in FB stock over the same period.
Net, net all I can say is pick your friends on the price chart wisely. But if the choice is bullish, remember to keep those enemies even more in mind when positioning.
Facebook Bull Call Spread Strategy
For investors inclined to see higher prices, but appreciate the near-term risks facing FB stock and are willing to buy on possible weakness in shares, buying a slightly out-of-the-money bull call spread makes sense. One that is favored at the moment is the Aug $200/$205 call combination for $1.75 with Facebook at $192.40.
With earnings in late July, a bullish reaction could easily vault shares through the vertical by the time expiration in August rolls around. Were that to occur, an unadjusted profit of $3.25 would be captured. On the downside, the reduced and limited risk position keeps downside exposure down to less than 1% of Facebook's stock.
Considering what's been addressed, I'm personally agreeable with the risk-reward offered from this spread.
If FB does take a step or two back on the price chart? Well, for investors predisposed to buying on weakness, selling a bull put spread at stronger prices and establishing a modified fence is a strategy well-liked by this trader — and when others aren't liking shares nearly as much.
Investment accounts under Christopher Tyler's management do not currently own positions in any securities mentioned in this article. The information offered is based upon Christopher Tyler's observations and strictly intended for educational purposes only; the use of which is the responsibility of the individual. For additional market insights and related musings, follow Chris on Twitter @Options_CAT and StockTwits.