We are on the precipice of the Artificial intelligence (AI) era. Whether you like it not, the future is coming. So are you wondering which stocks you should be tracking now to get an investing edge on this major trend? Luckily RBC Capital Markets is here to help. Its just-released report looks out to the year 2025 and imagines which companies will be winners of the Great AI Race.
The firm writes: "To date, AI is still solving fairly basic tasks. But the ingredients are there for AI to accomplish something much more substantial. We believe the application of AI will have very broad implications across a wide swath of industries (Internet, Autos, Banking, Software, Macro Economy, Health Care, and Utilities, to name a few) over the next 5-10 years."
Here I dial down into seven of the most promising of these artificial intelligence stocks. I used TipRanks market data to source the stocks in the report that have a "strong buy" analyst consensus. This is based on all the stock's ratings over the last three months. That means that these stocks are also promising investing opportunities right now — you don't have to wait until 2025 to make an investment! Let's take a closer look:
Amazon (AMZN)
Amazon (NASDAQ:AMZN) is basically applying AI and machine learning to just about every part of its business. In fact, Amazon is estimated to spend 80% more than Alphabet on AI-related jobs! (At $228M vs $125M in 2017 according to Paysa). And as RBC Capital sees it, all this hard work is paying off.
"Overall, while it is still relatively early in the AI lifecycle, leaders are emerging quickly and we believe Amazon is one of them" says RBC Capital.
Here's why: AI is primarily a prediction technology that gets better as more, relevant data and information is fed to the system. Not only does Amazon have the resources (~$30B in cash) to invest in AI stocks, but it also has the scale and the ability to generate large volumes of data.
In other words, Amazon's global scale gives it a huge advantage in improving its own position using AI. This is through 1) retail sales growth; 2) Amazon Web Services (AWS) cloud sales growth; and 3) reduction in operating costs.
From a Street perspective, Amazon is currently a "strong buy" among artificial intelligence stocks, with juicy upside potential of 33%. Interested in AMZN stock? Get a free AMZN Stock Research Report.
PaloAlto Networks (PANW)


AI is a pretty disruptive force when it comes to the world of cyber security.
And one key company taking advantage of that fact is Palo Alto Networks (NYSE:PANW). "Within our software universe, we would highlight Palo Alto as a likely winner in the category [Security and AI/ machine learning]" says RBC Capital.
Notably, PANW's WildFire uses machine learning to identify potential risks even if they have not been seen before. This groundbreaking product pulls thousands of features from each file comparing them to data of known threats to discover new malware and exploits.
RBC sums up "WildFire provides excellent visibility into the past and current threat landscape."
Plus new AI developments are on the horizon for Palo Alto. The company has just snapped up Evident.io for $300M and RedLock for $173M. Combing the tech from these two acquisitions, PANW plans to launch a product in 2019 that takes AI to multi-cloud security analytics by correlating disparate data sets.
This is an artificial intelligence stock with a "strong buy" Street consensus and 45% upside potential. Get the PANW Stock Research Report.
Salesforce (CRM)
Are you ready for Salesforce's (NYSE:CRM) Einstein? Thanks to several savvy AI acquisitions, Salesforce has created Salesforce Einstein. The equation: Customer data + AI + the Salesforce platform = World's smartest CRM.
This has multiple applications. By capturing data from various channels, Einstein can:
1. Guide sales (by providing insights like high lead scores, crafting emails, etc),
2. Assist service agents (prompts),
3. Empower marketers (enhancing predictive journeys), and
4. Improve commerce (personalized recommendations).
And the confidence on Einstein is echoed by other firms. Here's one takeaway from Rosenblatt's Marshall Senk (Track Record & Ratings) last month following CRM's Dreamforce conference:
"Among large multi-cloud customers we met with, we continue to see significant opportunity for seat expansion, driven in large part by adoption of Einstein and the push into vertical markets."
He's particularly excited about Einstein Voice, a new feature which allows users to communicate with the platform via voice commands, similar to how Alexa is used in the home.
Out of 29 analysts polled, an impressive 27 are bullish on CRM right now. That's with a price target of $176 (33% upside potential). Get the CRM Stock Research Report.
Nvidia (NVDA)
Chip stock Nvidia (NASDAQ:NVDA) has a crucial asset when it comes to the AI race. This is the company's Cuda Software aka its secret sauce that lies underneath the whole ecosystem.
For the uninitiated, Cuda stands for Compute Unified Device Architecture, and is a parallel computing platform and programming model developed by Nvidia for GPUs. With CUDA, developers are able to dramatically speed up computing applications.
"While there are no guarantees of a winner in the AI stocks race, we think Nvidia is well ahead of its peers and is continuing to gain traction due primarily to the value of Cuda software" cheers RBC Capital.
It estimates that there are currently over one million engineers working with Cuda. Also note that Cuda is used for not just Data Center but self-driving vehicles and gaming. This gives the company an "in" to all three key platforms.
Right now this "strong buy" artificial intelligence stock has stacked up 21 buy ratings in the last three months, vs six hold ratings. This is with a $286 price target (41% upside potential). Get the NVDA Stock Research Report.
Alphabet (GOOG, GOOGL)
If gasoline was the most important factor to the automobile industry, then information is likely the most important factor in the AI stocks race.
Alphabet (NASDAQ:GOOG, NASDAQ:GOOGL) has access to the largest data from search and the largest computing power. This places the company in prime position for AI gold.
AI enables Google to develop new ways to organize the world's information and make it universally accessible and useful. This includes using your voice to ask the Google Assistant for information, to translate the Web from one language to another, to see better YouTube recommendations and to search for people and events in Google Photos.
Plus Google is creating many of the tools AI researchers are using to develop applications. For example, its second generation TPU (Tensor Processing Unit) is a custom- built processor specifically built for machine learning.
And now is a good time to snap up this artificial intelligence stock: Out of 30 polled analysts, 27 are bullish on GOOGL. Even with shares over $1,000 these analysts still see upside potential of over 26%. Get the GOOGL Stock Research Report.
ServiceNow (NOW)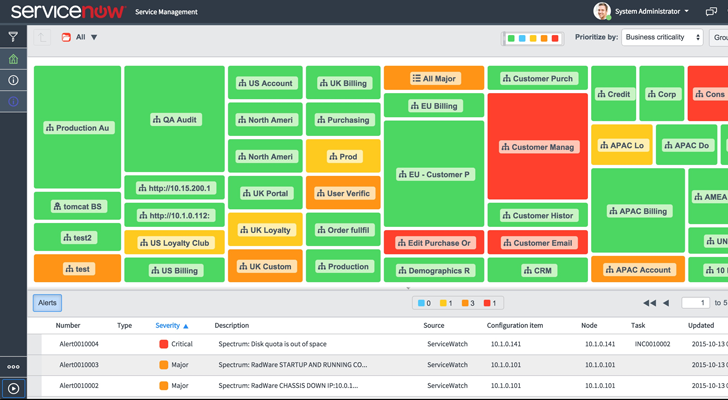 Shares in ServiceNow (NYSE:NOW) have surged over 200% in the last five years. So what could happen by 2025? Well the firm sees its Intelligent Automation Engine as "ushering in a new era of workplace productivity." It wants to bring machine learning to your everyday work.
This essentially translates into using machine learning to accurately categorize and route tasks, prevent future issues and precisely predict performance metrics. Plus ServiceNow utilizes AI and ML techniques to increase automation and alert accuracy making sure that IT workers can focus on real problems and help avoid "alert fatigue."
"This level of automation helps to make the most of human capital being able to process more tasks while ensuring the highest priority tasks are addressed promptly" says RBC Capital.
In total, eight out of nine polled analysts are bullish on this "strong buy" AI stock right now. And with an average analyst price target of $218, upside potential stands at 29%. Get the NOW Stock Research Report.
Microsoft (MSFT)
This list wouldn't be complete without Microsoft (NASDAQ:MSFT). Like GOOGL and AMZN, MSFT benefits from 1) massive amounts of raw compute power; 2) large data sets; and 3) ability to hire the smartest data scientists on the planet.
"We believe Microsoft is in an enviable position vs other public cloud competitors as their customers can also leverage AI and ML capabilities on premise, something [Amazon's] AWS and [Google's] GCP can't deliver natively" points out RBC Capital.
It picks Microsoft as the Number 1 AI company in the public cloud space thanks to the company's rapidly growing Azure cloud platform.
Alongside AI tools and infrastructure, AI-based Azure services include everything from Azure Bot Service specifically for bot development and Azure Machine Learning services that provides a preset library of algorithms to quickly create and deploy models all from the cloud.
Meanwhile, Microsoft's AI School gives developers the tools they need to start building and implementing the tech into their own solutions.
Also in this artificial intelligence stock's favor is its very bullish outlook from the Street in general. With a "strong buy" consensus, 21 out of 22 analysts rate Microsoft a "buy." Its average analyst price target is currently at $124. Get the MSFT Stock Research Report.
TipRanks.com offers exclusive insights for investors by focusing on the moves of experts: Analysts, Insiders, Bloggers, Hedge Fund Managers and more. See what the experts are saying about your stocks now at TipRanks.com. As of this writing, Harriet Lefton did not hold a position in any of the aforementioned securities.