More than a few investors would say going long Snap Inc (NYSE:SNAP) is a snap decision without sound judgement. Still, for traders willing to trade SNAP stock for quick contrarian profits, now is the time to fade bearish sentiment in favor of a low-risk, high-reward entry on the price chart. Let me explain.
Let me just say, and not for the first time either, I'm no fan of Snapchat. And these days it appears that demographic is growing, much to the chagrin of SNAP stock. The social media stock took it on the chin in late October following its latest quarterly earnings disappointment.
The last SNAP report all but confirmed its young base is already onto the next big, big thing — whatever that might be. Additionally, while SNAP stock still has cash on hand and no debt, the company does have a spending problem relative to cash coming in from its operating activities. It's not a great combination and the Street has noticed.
From CNBC's James Cramer, to literally every recent write-up at InvestorPlace to SNAP's short interest of 11%, Wall Street is pretty negative on Snap's long-term prospects. Again, I get it. But I also understand from a trading point of view that a supportive price chart suggests what's been a 'house of pain' for Snap investors is now a "buy, buy, buy!" for shorter-term traders.
SNAP Stock Weekly Price Chart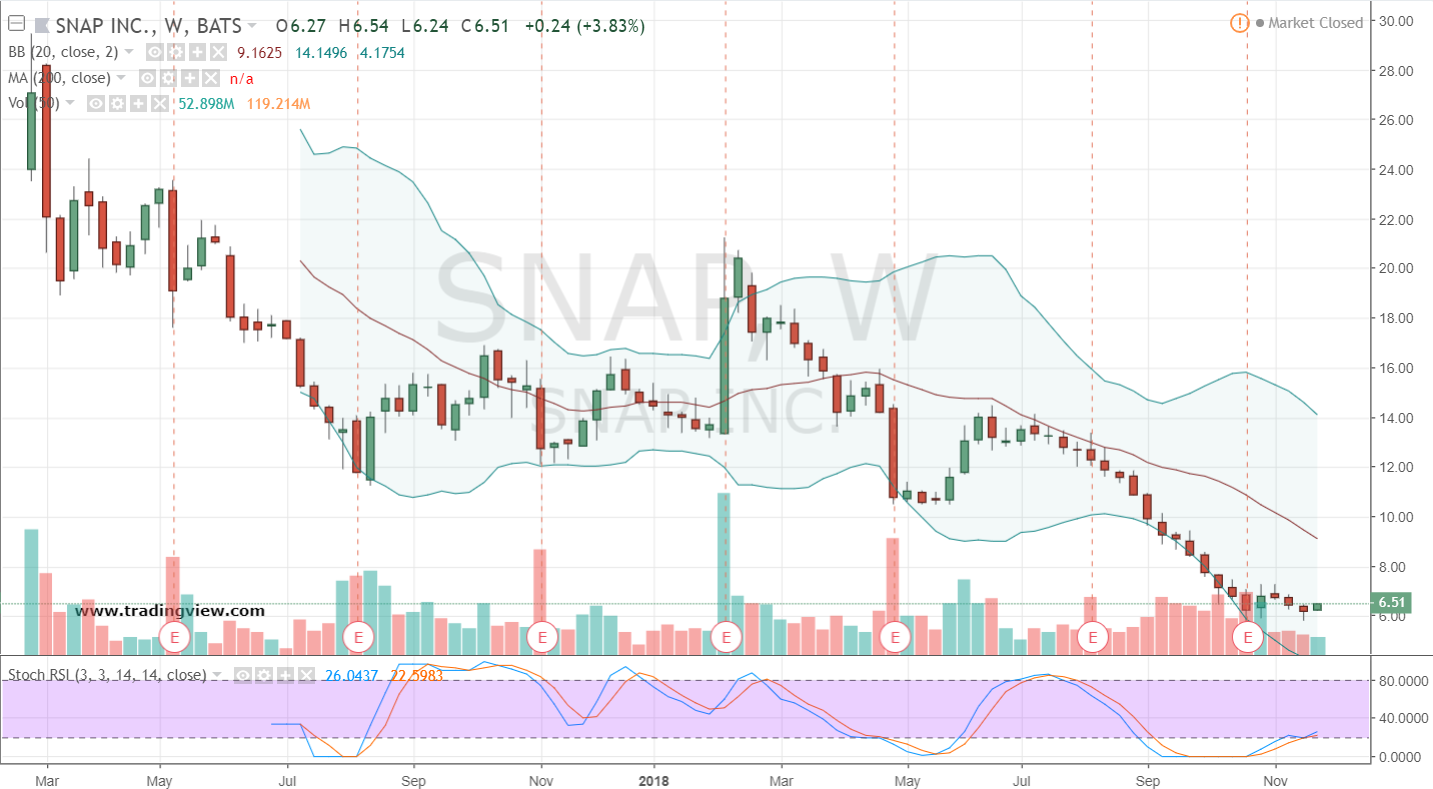 As mentioned nobody is denying the fact SNAP stock has been a house of pain for investors approaching shares as a buy and hold strategy. But as also noted above, there comes a time when the short-term situation favors fading Snap's long-term downtrend in favor of a tradable rally. That time is now.
In the immediate aftermath of its earnings disappointment shares of SNAP plunged to another all-time-low. But since that day nearly six weeks ago, Snap has actually managed to establish a higher-low double bottom pattern with a fairly supportive stochastics set-up despite all the negativity surrounding the company.
Overall, the short-term looks bullish for SNAP stock. I see a quick counter-rally up to $7.25 – $7.50 as an initial price target. This area loosely holds the highs of SNAP's recent attempts at bottoming since mid-October.
Now with shares of Snap confirming the bottoming pattern with a move above $6.48 and the high of the formation's second hammer pivot low — it's time to trade SNAP long for a quick "KAA-CHING!" of the register before another shorting opportunity unveils itself.
Trading SNAP Stock
For traders agreeable with this logic, SNAP is in position to be purchased today. For money management, I'd personally use a stop below $6.07 rather than the absolute lows from $5.77 – $5.80.
The 'early' exiting strategy is based on the belief the double bottom should work quickly at this point or it's not going to work at all. Thus the preference is to exit prior to getting sucked in and hoping some other kind of bottom might develop and help out a position that's not working.
Alternatively and for the same 44 cents of risk, traders that prefer to guarantee their exposure won't increase due to an unwanted price gap in SNAP stock, the Weeklys' January 4 $6.50 call for 44 cents is a favored play using Snap's options.
Disclosure: Investment accounts under Christopher Tyler's management do not currently own positions in any securities mentioned in this article. The information offered is based upon Christopher Tyler's observations and strictly intended for educational purposes only; the use of which is the responsibility of the individual. For additional options-based strategies, related musings or to ask a question, you can find and follow Chris on Twitter @Options_CAT and StockTwits.