The other day I saw a delivery truck that looked slightly larger than Electrameccanica Vehicles' (NASDAQ:SOLO) SOLO electric vehicle. I tried to run after it to see the name on the back but couldn't catch it. If you own SOLO stock, that truck could be the driver of a much higher share price.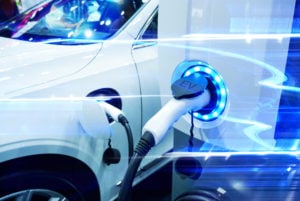 Here's why.
What Was the Mystery Truck?
I honestly couldn't tell you the truck badge. It might be Daihatsu, but I'd be lying if I didn't say that was a guess based on a quick Google search. This thing was tiny. Much tinier than a Ford (NYSE:F) Transit or Dodge Sprinter.
And while Electrameccanica wants to focus on the city commuter crowd, I'm more interested in the potential of converting the SOLO to a downtown delivery truck. That's because as more municipalities focus on greening their cities, vehicles that are carbon neutral are going to get preferred treatment over fossil-fuel gas guzzlers.
I could see cities giving EV delivery trucks below a certain size a break on parking fees, etc., as voters in those municipalities demand less time on the roads for large delivery trucks such as Class 8 heavy-duty tractor-trailers.
A possible idea would be to only allow delivery vehicles below a certain size during the day, permitting larger delivery trucks once much of the traffic has cleared out, perhaps after 11 p.m.
How long is the SOLO?
Approximately 3.04 meters or 119.7 inches. That's 19 inches shorter than a Fiat 500 and 55% shorter than my Jeep Cherokee. So, it's tiny.
I looked up the length of a Daihatsu Hijet Cargo van and it came in at 133.7 inches or about 12% longer than the SOLO. In terms of width, the SOLO is 57.5 inches wide compared to 58.1 inches for the Daihatsu.
Unless I'm missing something, the two vehicles are almost identical in size. The only difference being that Daihatsu's vehicle has a commercial purpose.
Imagine what it would be like on an electric engine, mileage galore, and plenty of savings for the companies using them.
If Electrameccanica is to be a home run, it has to come up with a SOLO for commercial purposes. That's where the real money is.
News to Push SOLO Stock Higher
As I write this, SOLO is up more than 11% on the day and trading in double digits, well above $2.62, where it was trading when I last wrote about its stock on Oct. 22.
At the time, I said it was a risky bet under $5. It's up 311% in the month since. I guess I was wrong — apparently in a big way.
So, what's happened in the month since to drive its share price through the roof? Two things.
First, the company announced on Oct. 29 that it would open six retail locations in November in the western U.S. With locations such as San Diego and Walnut Creek, outside San Francisco, it brings the total locations to 10. More importantly, its initial shipment of vehicles has arrived in North America. It will use these for marketing.
"Consistent with our roll out strategy, the first wave off the line will be used specifically for high ROI activities, including marketing, retail distribution, customer test drives and fleet demonstrations. We are continuing with our planned, methodical ramp up in production to ensure quality and consistency," Chief Executive Officer Paul Rivera stated.
"While we have encountered certain hurdles through this growth process, our team is hard at work making select supply chain and technical improvements. We have extended our customer delivery schedule into early 2021."
Proof In the Pudding
While the proof will be in the pudding, real live vehicles definitely help the sales process.
Secondly, on Nov. 10, Electrameccanica reported third-quarter results. Its highlights for the quarter included the fact that it revealed initial drawings for a utility and fleet version of the SOLO.
"Revealed initial concepts for the utility and fleet version of the SOLO EV, which is expected to become available in early 2021," its Q3 2020 press release stated.
"These modified vehicles are being developed based on direct input from potential commercial and fleet partners and will be equipped with a stylish and functional cargo "cap," offering additional capacity and versatility to suit a variety of different single-occupant commercial and utility fleet applications."
Electrameccanica actually released the initial renderings in September. The so-called functional cargo cap is very tiny. I doubt you could fit a large meal delivery in it. I'll want to see something more substantial on this front before recommending SOLO stock.
Nonetheless, management is pushing in the right direction.
The Bottom Line
The company lost 8.8 million CAD in 2020, up from 3.3 million CAD a year earlier. With more than 100 million CAD in cash on its balance sheet, that loss doesn't appear to be a problem.
However, when you consider that it's used 22 million CAD in free cash flow in the last 12 months with zero vehicle production except the first ones being used for marketing, the cash is going to disappear in a hurry.
Which means it's going to need a lot more debt and equity raises to keep the lights on. At that point, it becomes a lot tougher to justify a speculative play on SOLO.
For this reason, I won't recommend its stock at this point, but that doesn't mean you shouldn't invest. Clearly, I was wrong about the latest run in its share price.
On the date of publication, Will Ashworth did not have (either directly or indirectly) any positions in the securities mentioned in this article.
Will Ashworth has written about investments full-time since 2008. Publications where he's appeared include InvestorPlace, The Motley Fool Canada, Investopedia, Kiplinger, and several others in both the U.S. and Canada. He particularly enjoys creating model portfolios that stand the test of time. He lives in Halifax, Nova Scotia. At the time of this writing Will Ashworth did not hold a position in any of the aforementioned securities.