For a variety of reasons, Election Day 2020 won't soon be forgotten, but moving beyond that, Nov. 3, 2020 was an excellent day at the ballot box for vices, including gambling and marijuana. That brought plenty of cheer for sports betting stocks.
Oregon took things even further, voting to decriminalize possession of a variety of narcotics previously labeled "hard core," but let's focus on gambling. As was the case with cannabis propositions, gambling-related ballot initiatives went undefeated on Election Day, including Colorado voting to eliminate caps on table game wagers and Virginia becoming the 26th state to permit commercial casinos.
Additionally, three states – Louisiana, Maryland and South Dakota – signed off on sports betting, pushing the number of states where that activity is permitted but not yet operational to six. There are 19 states plus Washington, D.C. where sports betting is live and legal. Of course, there are ways for investors to capitalize on this trend.
"We can learn lessons British betting firm of Ladbrokes which has been established in 1886. It was in decline due to the economic hardship caused by WWII," said Dr. Surya Chelikani, associate finance professor at Quinnipiac University. "The company experienced impressive growth after the Betting and Gaming Act of 1961. Their success was largely due to establishing chains of easily accessible small betting shops. The stocks of U.S. gambling firms that operate chains of betting shops rather than large luxurious casinos would likely see growth."
Here are some of the sports betting stocks investors can wager on for long-term industry growth.
DraftKings (DKNG)
For the time being, DraftKings is the lone pure-play, publicly traded name in the sports betting stocks arena. That status goes a long way toward explaining why analysts and investors are largely enthusiastic about this name.
Year-to-date, DKNG stock is higher by almost 3t57%, a period including its time spent the umbrella of a special purpose acquisition company (SPAC) prior to its April debut as a standalone public entity.
Like so many emerging growth companies, DraftKings isn't yet profitable and there's debate as to when its money-losing ways will cease. Some analysts believe that will happen in 2022. Others push out that projection to 2024. Either way, in addition to valuation, the most frequent knock on DraftKings, and its rivals for that matter, are high customer acquisition costs, which weigh on the ability to become profitable over the near-term.
What that means is that over the near- to medium-term, DraftKings is a scale story or a bet on increased legalization of online casinos and sports wagering. Each new revenue-hungry state that hops aboard these trains is a potential new market for DraftKings. That's relevant because the company typically holds one of the top two spots in each of the 10 states in which it offers online sports betting.
With California, Florida and Texas unlikely to approve sports betting anytime soon, one of the larger catalysts for DraftKings will be New York finally allowing online betting, a proposition that's very much up in the air.
Flutter Entertainment (PDYPY)
I'm juxtaposing DraftKings and Flutter in this piece for a simple reason. Even if you haven't heard of Flutter, you've probably heard of its FanDuel unit, which is the most direct competitor to DraftKings. Flutter also owns FOX Bet so although its an Irish company, it has significant exposure to the fast-growing U.S. market.
Here's why Flutter is a name for American investors to keep an eye on. Last week, the company said it is paying $4.17 billion to buy 37.2% of FanDuel it didn't previously own, thereby boosting its stake in that business to 95%.
Not only was that 37.2% percentage acquired at a discount to what a comparable percentage of DraftKings is worth, the transaction is stoking chatter that Flutter will spin-off FanDuel and FOX Bet to unlock shareholder value. If that happens, that new company could easily command a higher valuation than DraftKings because it commands a bigger percentage of the U.S. online betting market.
Caesars Entertainment (CZR)
Many investors usually think of Caesars Entertainment as a casino operator, but its iGaming and sports wagering footprints are growing.
Prior to being acquired by Eldorado Resorts earlier this year, Caesars had a decent sportsbook business and a small, but growing iGaming unit. When Eldorado entered the equation, scale was created with the buyer bringing to the table a long-standing sportsbook partnership with William Hill (OTCMKTS:WIMHY) that included Eldorado owning and thereby "new Caesars" owning 20% of the British bookmaker.
After Caesars CEO Tom Reeg said during the summer that the internet casino business is rising and will deliver stout revenue growth in 2021, analysts floated the idea of Caesars and William Hill forming a joint venture in which the companies could spin out 20% to public investors.
That was a fine idea, but Caesars is going even further. It's buying William Hill outright for $3.69 billion in a deal that will create a U.S. sports betting powerhouse. That price point is a coup for the buyer because it will likely sell William Hill's European business right away for at least $2 billion.
Penn National Gaming (PENN)
Entering this year, Penn National Gaming was a regional gaming operator, but it has been tilting toward more exciting avenues. Realizing that younger demographics, such as millennials and Gen Z, like technology but aren't necessarily enthusiastic about land-based casinos, Penn is boosting its iGaming and sports wagering profiles.
Much of the latter boils down to its 36% stake in Barstool Sports, the brash sports media blog that serves as the brand for Penn's online sports betting platform. The gaming paid $163 million in cash and stock for that slice of Barstool, a price that initially gave investors some pause. But the move is paying off as PENN stock is higher by 129% over the past six months and hit an all-time high on Dec. 8.
All that with Barstool Sportsbook currently being live in just one state: Pennsylvania. Michigan will soon be added to that list following a more extensive rollout in 2021. Penn executives previously said iGaming and sports betting will "materially" contribute to next year's top and bottom line growth, meaning 2021 brings plenty of opportunity and tests for this hot gaming name.
Roundhill Sports Betting & iGaming ETF (BETZ)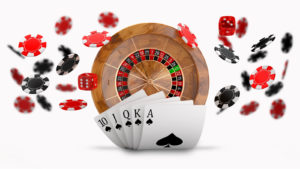 As its name implies, the Roundhill Sports Betting & iGaming ETF is an exchange traded fund, making it an ideal way for investors to tap into the growth on internet casinos and sports betting stocks without the need for stock picking.
BETZ, which tracks the Roundhill Sports Betting & iGaming Index, debuted in June and is proving it's one of this year's better-timed rookie ETFs. It has $172 million in assets under management. That's an impressive haul for a thematic fund sponsored by an independent issuer.
What makes BETZ relevant isn't just easing the stock picking burden or that the ETF is home to sportsbook operators and iGaming platform companies. The fund also features exposure to the infrastructure and technology that the likes of Caesars and Penn rely on to power their online concepts.
BETZ allocates 26.7% of its weight to technology stocks and on a separate note, three SPACs with announced deals are on the ETF's roster.
At the time of publication, Todd Shriber owns shares of DKNG and PENN.
Todd Shriber has been an InvestorPlace contributor since 2014.