It's hard to believe that Calgary-based cannabis producer Sundial Growers (NASDAQ:SNDL), which will have to do a reverse stock split if it wants SNDL stock to remain listed on the Nasdaq, was one of the top 10 most heavily traded securities in the U.S. markets in the first four days of 2021.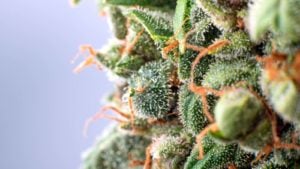 Very much a penny stock — it hasn't traded above $1 since June 2020 — the company's 1.11 billion shares outstanding gives it a market capitalization of approximately $755 million.
Based on trailing 12-month sales of 69 CAD million ($54 million), it's currently valued at 14 times sales. And no, it doesn't make money, not by a longshot.
Frankly, I'm perplexed why so many people are interested in Sundial stock. Of course, it's easy to be so heavily traded when you have over a billion shares outstanding.
In my last article about Sundial in December, I recommended speculative investors consider WeCommerce (OTCMKTS:WECMF) instead. It's up a couple of bucks in the month since. My opinion hasn't changed. It's a much better long-term bet than SNDL.
Now, if you want a cannabis play that isn't quite as speculative but should provide some decent upside, I came upon Power REIT (NYSEAMERICAN:PW) recently.
Here's why I think it's interesting.
It Trades at 50 Times the Value of SNDL Stock
Power REIT owns real estate related to transportation, solar energy, and cannabis cultivation.
It recently announced that it had purchased a 4.3-acre parcel of land in Colorado that it will lease to The Apotheke, one of only a few minorities- and women-owned cannabis businesses in Colorado.
The Apotheke is owned by Viviana Fernandez, an experienced cannabis grower and dispensary operator.
"I am excited to expand my operations and shift my operating focus to Crowley County because I believe greenhouses are the future for cannabis cultivation, and this was a perfect union between us and Power REIT, which is focused on greenhouse facilities," Fernandez stated in the Jan. 14 press release.
"As we move forward on our growth trajectory, we are confident that Power REIT will provide a long-term real estate solution that will serve our expansion needs. We hope to quickly grow this facility beyond this initial phase – we certainly have big plans for this property in the future."
Terms of the deal call for Power REIT to fund a 21,548 square foot greenhouse and processing facility on the property. Fernandez has signed a 20-year triple net lease. Her company is responsible for all expenses of the property, including property taxes.
The annual rent? $342,000, adding 9 cents a share to its core funds from operations (FFO) for the year.
Just the Latest Cannabis Property
Take a look at Power REIT's latest 10-Q; you'll see that as of the end of October 2020, it owned 10 cannabis properties generating $3.6 million in annual rent and valued at $19.2 million.
This doesn't include the purchase mentioned in the previous section or the 2.11-acre parcel purchase announced in December. Add the rent of both — $342,000 plus $252,000 — and the annual rent on its 12 properties is $4.2 million.
As I said, it also owns solar farmland — 501 acres spread over seven properties in California and Massachusetts — and 112 miles of railroad leased to Norfolk Southern (NYSE:NSC) for 99 years.
These generate almost $2 million in annual rate and value the properties at $20.8 billion. Overall, Power REITs annual rent is $6.2 million, including the December and January acquisitions.
As its January 2021 presentation states, the REIT focuses on non-traditional asset classes, including the cultivation of cannabis and food production. It currently has an acquisition pipeline of more than $100 million in real estate.
In first-quarter 2019, it had a core FFO of 14 cents. In Q1 2021, it expects that to be more than four times the amount or 61 cents.
In 2020, PW stock generated a total return of 197% for shareholders. Since it implemented its new business strategy in July 2019, it's seriously outperformed its REIT peers.
The Bottom Line
As I always like to preach to readers, you always have options. From where I sit, while Power REIT holds some risk — cannabis properties flame out — it can't be as risky as Sundial Growers.
If you're looking for a cannabis play with a little more risk and a nice 4.2% yield to compensate you for taking this risk, I recommend taking a closer look.
You know what they say about the road less traveled.
On the date of publication, Will Ashworth did not have (either directly or indirectly) any positions in the securities mentioned in this article.
Will Ashworth has written about investments full-time since 2008. Publications where he's appeared include InvestorPlace, The Motley Fool Canada, Investopedia, Kiplinger, and several others in both the U.S. and Canada. He particularly enjoys creating model portfolios that stand the test of time. He lives in Halifax, Nova Scotia. At the time of this writing Will Ashworth did not hold a position in any of the aforementioned securities.