Reddit penny stocks continue to be of interest to investors not afraid of a little risk in their lives. While penny stocks can be incredibly volatile, those with guts of steel seek them out in hopes of capturing quick profits.
Reddit continues to be a haven for retail investors looking to pump and dump shares of penny stocks. Members of the internet forum can come together and purchase up large numbers of these shares to send the price higher before running with the profits. That makes them a danger to the average investors and only for those who aren't worried about potential losses when those day traders eventually jump ship.
Keeping all of that in mind, here are the top 10 Reddit penny stocks catching the eyes of investors on the r/PennyStocks subreddit and how they are performing as of Monday afternoon.
1. Hall of Fame Resort & Entertainment (NASDAQ:HOFV) — Up 30.8%


2. Zomedica (NYSEAMERICAN:ZOM) — Down 6.5%


3. BioNano Genomics (NASDAQ:BNGO) — Up .8%


4. Citius Pharmaceuticals (NASDAQ:CTXR) — Down 1.8%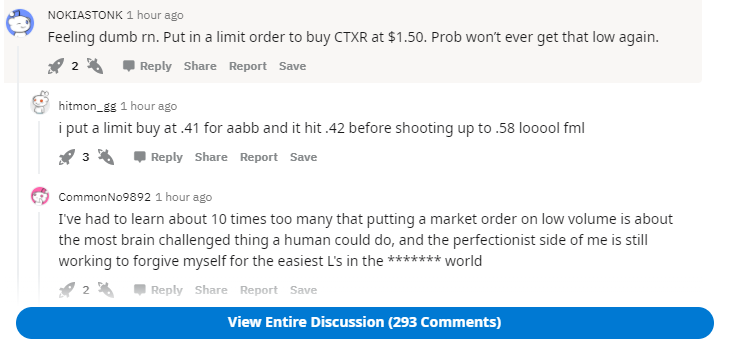 5. Ideanomics (NASDAQ:IDEX) — Up 2%


6. Neos Therapeutics (NASDAQ:NEOS) — No longer trading.


7. Denison Mines (NYSEAMERICAN:DNN) — Up 2.9%


8. Marker Therapeutics (NASDAQ:MRKR) — Up 21.9%


9. Atari SA (OTCMKTS:PONGF) — Up 21.8%


10. Aytu Bioscience (NASDAQ:AYTU) — Down 13%


The Reddit Penny Stocks discussions have been gaining traction with risky investors of late. Some of the other recent trades include HUMBL (OTCMKTS:TSNPD), Allied Esports Entertainment (NASDAQ:AESE), and 180 Life Sciences (NASDAQ:ATNF). Investors that want to catch up more on this news can can look into the following content from InvestorPlace.com below.
More Reddit Penny Stock News
With only the rarest exceptions, InvestorPlace does not publish commentary about companies that have a market cap of less than $100 million or trade less than 100,000 shares each day. That's because these "penny stocks" are frequently the playground for scam artists and market manipulators. If we ever do publish commentary on a low-volume stock that may be affected by our commentary, we demand that InvestorPlace.com's writers disclose this fact and warn readers of the risks. Read More: Penny Stocks — How to Profit Without Getting Scammed
On the date of publication, William White did not have (either directly or indirectly) any positions in the securities mentioned in this article.