It's been a weird and choppy week. FAANG stocks are still sluggish, while high-growth names are getting crushed. Yet, reopening trades and rotation plays are apparently keeping the indices near the highs. Let's look at a few top stock trades for next week.
Top Stock Trades for Monday No. 1: ARK Innovation ETF (ARKK)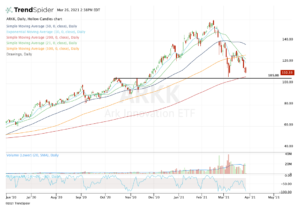 Click to EnlargeIs selling at Ark creating problems for Ark Innovation ETF (NYSEARCA:ARKK) and its top holdings? It feels that way with many growth stocks getting hammered on Friday.
Shares are cracking below Thursday's low as it now has more downside levels in play. Specifically, those marks come into play near the March low, the 200-day moving average and $105.
Should those levels break, sub-$100 is possible. Worth noting is that a 40% decline from the highs would land ARKK near $95 a share.
On the upside, ARKK needs to reclaim the $120 level and the 10-day moving average. Above that could put the 100-day moving average on the table.
Top Stock Trades for Monday No. 2: Skillz (SKLZ)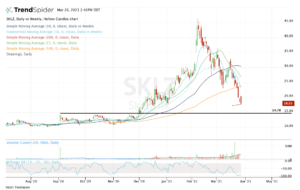 Click to EnlargeSkillz (NYSE:SKLZ) had become a favorite among traders, and that's no surprise given its meteoric rise.
However, the stock has gotten caught up in a fierce decline. Working on its ninth straight daily decline, shares are pulling back right down into the newly established 200-day moving average.
A break of the 200-day could put the $14.70 to $15 area in play.
On the upside, I'm looking for a move back over $20 and preferably up to the 100-day moving average.
Top Stock Trades for Monday No. 3: FuboTV (FUBO)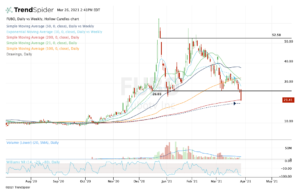 Click to Enlarge
FuboTV (NYSE:FUBO) is also getting whacked on the day, down about 15% at the time of this writing.
Breaking the $26 mark with today's move, I want to see if the 200-day moving average can buoy this stock. Just below that is the 50-week moving average. Like others on this list, FUBO was a favorite at one point.
Now out of favor, let's see if we can get a bounce going. Back over $26 would be impressive and would put $30-plus in play, followed by the 100-day moving average.
These setups are not complicated, but they require patience (for the big dips) and discipline (if support fails).
Top Trades for Monday No. 4: FarFetch (FTCH)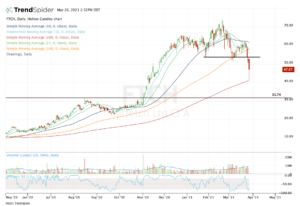 Click to EnlargeFarFetch (NYSE:FTCH) is a really interesting one. Shares started off the day under pressure, broke down in midday trading, then plunged in the afternoon.
That plunge sent shares right to the 200-day moving average where it received a huge bounce. Now let's see if that bounce can stick.
If not, bulls will likely look to test their luck at the 200-day moving average once again.
If it does stick, look for a move back over $50, then $53.50. I don't know why FTCH is under so much pressure, but if it really breaks down, there's always that gap-fill near $38 to watch, followed by the key breakout level at $32.
I don't think $32 is in the cards, but if it is, growth buyers should be tripping over themselves to get it.
Top Trades for Monday No. 5: Baidu (BIDU)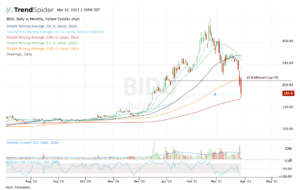 Click to EnlargeI looked at Baidu (NASDAQ:BIDU) on Thursday as it dipped down to the 100-day moving average and said, "it's not generating much of a bounce so far … Use caution with this one as well. It's tough in tech right now and Baidu isn't an exception to that observation."
Of course, I didn't think shares would fall another 10% on Friday.
With Friday's fall, shares are declining into the 200-day, 50-week and 10-month moving averages. I think this is a better risk/reward zone than Thursday and gives investors a low to shoot against if they are able to get in at a good price.
Back over $200 puts $213 in play, followed by the 100-day moving average.
On the date of publication, Bret Kenwell held a long position in FTCH.
Bret Kenwell is the manager and author of Future Blue Chips and is on Twitter @BretKenwell.