QuantumScape (NYSE:QS). It has many seeing a mystical and so-called Jesus battery. And its flock of believers is impressive. But as far as an investment in QS stock today is concerned, can shares be resurrected?
Let's look at what's happening off and on the price chart of QuantumScape, then offer a risk-adjusted determination aligned with those findings.
Late last year, shares of QuantumScape did the closest thing to walking on water as you'll get on Wall Street. From late October into Christmas week, the stock raced from a low of $11.25 to a heavenly high of $132.73. This generated a brief, but stunning return of 1,080%. And the fervent belief in QS stock wasn't without cause either.
Backed by the likes of auto giant Volkswagen (OTCMKTS:VWAGY) and Microsoft's (NASDAQ:MSFT) philanthropic front man Bill Gates, the Silicon-Valley EV play's solid state quantum lithium-metal battery technology has many investors seeing the potential holy grail for the electric vehicle market.
In a nutshell, QuantumScape's battery engineering has a composition which maintains significantly higher energy density than today's lithium-ion batteries. For the layman, QS is attempting to take batteries toward the promised land of storage capacity, charging performance, reliability and safety, as well as cost efficiency.
If QS' vision is realized, the technology could make EV's truly mainstream, believers out of the most ardent naysayers and the key to running over the fossil fuel, petrol-driven competition. And in December during QS stock's impressive rally, the secretive startup put on display it's $300 million and 10 years in-the-making "secret sauce" that's hoping to make this elusive technology real.
Impressive But Incomplete
While the grand reveal was impressive, it wasn't everything investors had been pining for. The presentation was based on individual cells rather than real-world conditions which demand hundreds of stacked batteries. And it strongly suggested the scaling and commercialization of QuantumScape's technology remains parked far beyond your driveway.
In the presentation's aftermath and investors' animal spirits waking up to a multi-year endeavor for QS, and one with no guarantees today's technology gaps can be overcome, shares systematically began to sink rather than walk on water. Over the course of several sessions, profit-taking turned outright ugly as QS stock plunged 64%.
Since then, QuantumScape has announced its one step closer to the Holy Grail. It's now built its first multilayer battery cell comprised of four layers rather than a single layer. Stacked and hundreds, anyone? Bueller? Yeah, still not quite there.
Today, toss in 2021's more hostile, multiple-crushing investing environment for growth stocks and most recently, QuantumScape's announced secondary capital raising plans – and as one other well-followed man once said, "it is what it is" for why QS shares remain where they are right here, right now.
QS Stock Weekly Price Chart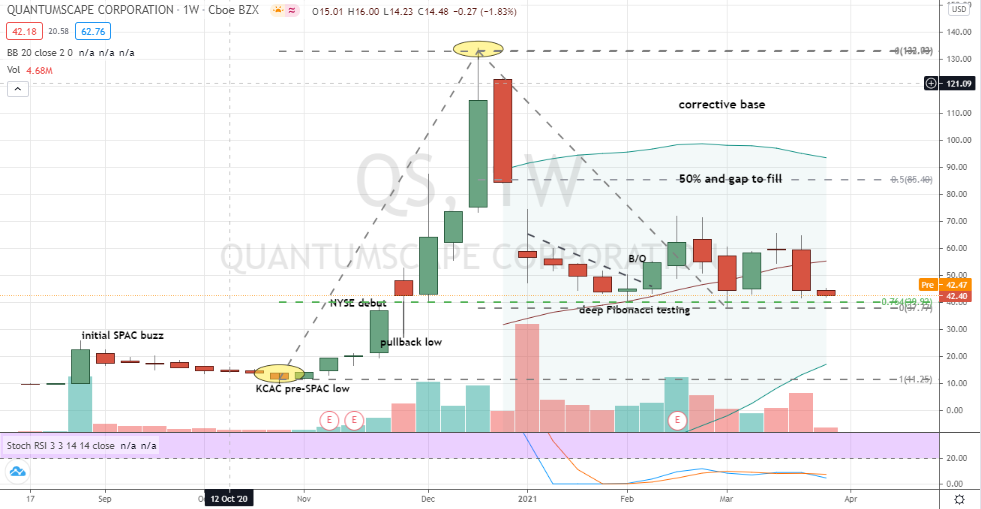 Source:
Charts by TradingView
When stock volatility becomes a two-way street, but ultimately a bullish investor is convinced of the light at the other side of the tunnel, a fully-hedged stock collar can get that person there more safely and possibly more profitably.
The defined risk attributes and flexibility of this spread strategy offers real world trading results bulls can only dream about when a stock's erratic gyrations are consistently large enough.
A collar strategy makes this possible. Adjustments to accumulate on stock weakness and profitably reduce exposure on significant upswings are fully realized when a collar is used intentionally and dynamically over time. Will QuantumScape's shares be resurrected one day? I'm hopeful they will.
Bottom-line though, with today's uncertainties facing QS and its easily visible, steep non-linear price volatility, it's time to manufacture more surefire profits using a collar.
On the date of publication, Chris Tyler did not have (either directly or indirectly) any positions in any of the securities mentioned in this article.
The information offered is based upon Christopher Tyler's observations and strictly intended for educational purposes only; the use of which is the responsibility of the individual. For additional market insights and related musings, follow Chris on Twitter @Options_CAT and StockTwits.