A new line of product from Canopy Growth (NYSE:CGC) was introduced to some fanfare Tuesday. But with bulls sampling CGC stock also getting smoked in recent weeks, is now a good time to buy shares? Let's look at what's happening off and on the price chart of Canopy, then offer a risk-adjusted determination aligned with those findings.
It's been a tough month for CGC. At its worst, the stock took a fairly substantial hit of 44%. And even today, shares remain 38% off their 52-week high set in the immediate aftermath of February's earnings release. It's a lot to be sure. But it would also be hard to feel too sorry for Canopy's shareholders.
On the back of investor optimism tied to further state-level and even federal legalization of weed under the Biden administration, shares of Canada's largest marijuana producer are up 40% in 2021. That compares quite favorably to the 3.4% gain in the broad-based, large-cap S&P 500. And since bottoming nearly a year ago as Covid-19 cratered risk assets everywhere, CGC is up nearly 300%.
Buzz Thrill
This past weekend Virginia became the 16th state, as well as the District of Columbia, to approve recreational use of marijuana. However, the state's decision did come with a start date of 2024. Still, that's good, right? There's additional good news for CGC investors to be more than just upbeat about.
On Tuesday Canopy Growth announced a a new line of CBD-infused beverages in the United States is now available for retail consumption. Quatreau can be purchased on Canopy's website alongside other products ranging from gummies to pet-based products to help Fido chill.
Quatreau offers consumers a choice of four flavor combinations: Passion Fruit Guava, Cucumber Mint, Blueberry Acai and Ginger Lime.
The product launch follows CGC's Quatreau rollout in Canada last year which has proven the country's most popular ready-to-drink CBD option. Each can contains 20 milligrams of the relaxing agent, but doesn't contain THC, the psychoactive compound found in cannabis and the root of the U.S.' broader legal anxieties with legalization.
CGC Stock Weekly Price Chart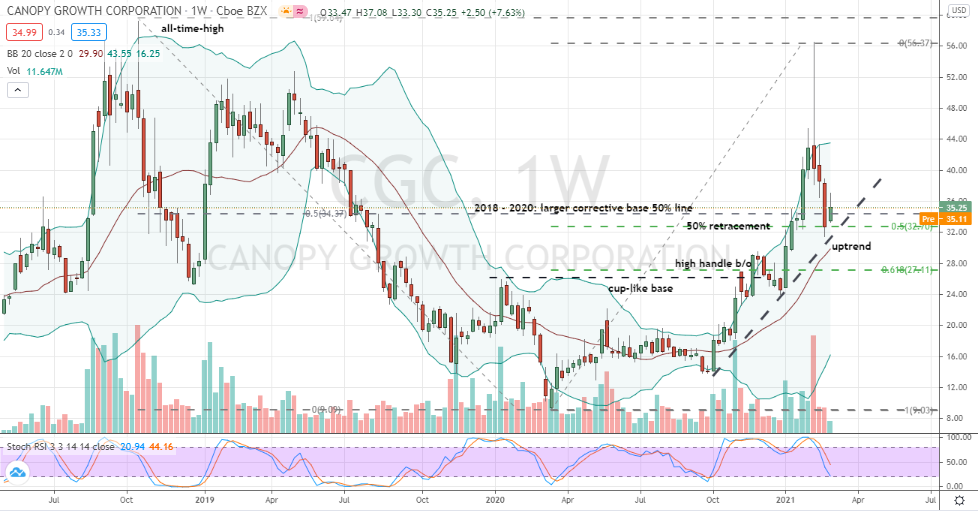 Source:
Charts by TradingView
All stocks correct. Often those declines lead to corrections of 30% for a thematic growth stock of CGC's caliber. That kind of common challenge is when the broader market is rallying confidently. Of course, that hasn't been the case on Wall Street in recent days.
The past week has shown signs of a risk-off and more stressful investing environment. Investors only need to look at the VIX's historically fearful spike above 30% to appreciate what's occurred. And Canopy's slightly larger 44% drop at last week's low is a sure outcome of that more pervasive pressure.
The good news is elevated bearish sentiment as indicated by the VIX typically results in a much stronger opportunity to buy than to sell. And coupled with CGC stock's weekly price chart, a well-placed buy decision does appear to be taking shape.
Today, shares are in a testing position of its 50% retracement level tied to the rally of the past year. The stock is also stationed near CGC's 50% Fibonacci level formed during its two-plus year decline from Canopy's 2018 all-time high, as well as uptrend support developed over the past five months.
The one caveat right now is CGC's stochastics remains out of position. The indicator pointing down with no signs yet of flattening and ideally bullishly crossing over. However, that could change quickly over the next few sessions. And coupled with a risk-defined and adjustable collar position on CGC stock, that's worth monitoring for a nearby purchase.
On the date of publication, Chris Tyler does not hold, directly or indirectly, positions in any securities mentioned in this article.
Chris Tyler is a former floor-based, derivatives market maker on the American and Pacific exchanges. The information offered is based on his professional experience but strictly intended for educational purposes only. Any use of this information is 100% the responsibility of the individual. For additional market insights and related musings, follow Chris on Twitter @Options_CAT and StockTwits.