It cannot be understated how greatly the entire market was affected by 2020. Every industry saw radical changes, and while numerous companies saw their performance worsen drastically, we've begun to see recovery and the possibility for new highs. Manufacturing stocks represent a chance to be part of this growth.
Last year, the market rallied as tech stocks were getting bid up as investors realized how important they have become in our daily lives. The telecom infrastructure allowed us to do many consumer and business operations remotely. For months we lived almost entirely by digital connections. It's possible you wrote off manufacturing as an irrelevant, bygone industry.
But while that was happening, there was another rally that began that was looking forward to the return to normalcy and the physical economy. All the money that was poured into stimulus packages was keeping the economy alive until the pandemic waned.
We saw that happen and now the markets are rotating back into manufacturing stocks, the stocks that drive the physical economy. And economic recovery is no longer a hope, but a reality.
The seven best manufacturing stocks I highlight below are your best choices to ride this recovery not just in the U.S., but around the world:
Manufacturing Stocks: AGCO Corp (AGCO)
While the name might not be familiar, its sector is. AGCO was formed in 1990 from an agricultural equipment maker — tractors, combines, sprayers, tillers, etc. — that then went on to purchase other agricultural brands around the world.
AGCO is headquartered in Georgia, but its brands are known around the globe. Yet it's very focused, unlike many of its rivals. That makes it a strong play when countries are trying to produce food as efficiently as possible for as many people as possible. That's why AGCO has a $10 billion market cap while other more recognizable manufacturing stocks have bigger market caps and valuations.
The stock is up 33% year to date, but it's still cheap and has plenty more growth ahead.
Portfolio Grader grade: A
Carrier Global (CARR)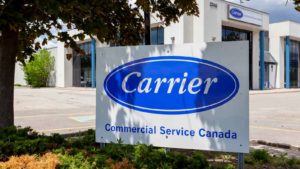 If you live anywhere where it gets uncomfortably hot in the summer, then you know Carrier. It's one of the largest HVAC companies in the world.
It has its origins in 1902, when Willis Carrier invented modern air conditioning technology. In 1979, it was purchased by a big industrial conglomerate. Carrier made up a large portion of its environmental controls division.
But that arrangement started to unwind about five years ago and eventually CARR was spun off in 2018.
With a torrid home sales market, increasing distribution of goods (CARR also provides refrigeration/HVAC units for trucks and warehouses), and low interest rates for home improvements, CARR is well positioned among manufacturing stocks for growth.
The stock is up 22% year to date, delivers a 1% dividend and trades at a P/E (price to earnings ratio) that's about half the S&P 500's average.
Portfolio Grader grade: A
Manufacturing Stocks: Caterpillar (CAT)
With a $134 billion market cap, CAT is the biggest manufacturing stock on this list. It is certainly one of the first stocks investors think of when the physical economy begins to grow.
And givens its extensive global network, anywhere construction is going on, CAT is likely there. With massive stimulus packages being passed around the world and central banks determined to keep interest rates low as long as possible, that means growing capital spending from the consumer to corporate to governmental levels. CAT will be a big beneficiary.
Given its brand awareness among manufacturing stocks, it's no surprise CAT stock is up 34% year to date, while still delivering a 1.7% dividend. This just the beginning of a long upcycle.
Portfolio Grader grade: A
Deere & Co (DE)
One of the other manufacturing stocks that people immediately think of is DE and its iconic green and gold farm, forestry, and construction equipment. It also has a financing arm, which is very helpful as farmers (and consumers) look to upgrade equipment while rates are low.
Also, government subsidies for farmers and infrastructure stimulus will help get new equipment into the hands of farmers and organizations that have been waiting for an opportunity to buy smarter, more productive equipment.
Having been around since 1837, DE has seen pretty much every economic boom and bust anyone can imagine, yet still continues to thrive.
The stock is up 33% year to date and has a 1% dividend. But it's still a pretty cheap stock with plenty of headroom moving into the new growing season with crop prices rising.
Portfolio Grader grade: A
Manufacturing Stocks: CNH Industrial (CNHI)
Sometimes referred to as "the Italian version of the Kennedys," the Agnelli family have their hands in companies specializing in everything from luxury cars to soccer teams.
CNHI is another company that the Agnellis have a controlling stake in. It was founded in 1866 and is a U.S.-Italian company with headquarters in London. It operates brands like Case, New Holland, and Iveco. While it's a unique play on European growth, it also sells this equipment in the U.S. and around the world.
It's a broadly diversified manufacturing stock with a $24 billion market cap. The stock is up 38% year to date, and the company's guidance suggests further growth to come, so this is a good time to get in.
Portfolio Grader grade: A
Generac (GNRC)
Many of the companies here represent the front end of the manufacturing process. GNRC represents the back end. It has been making power generation equipment from its Waukesha, Wisconsin factory since 1959.
Basically, GNRC builds generators for construction, consumer, and industrial uses. When the wildfires broke out in California and powerlines were melting, GNRC was in the news as people were buying up generators like candy. And with the aging US electrical grid, many people are looking for alternatives to help keep the lights on when the grid goes down, especially in the summer heat.
Also, with more renewable energy coming online, GNRC equipment allows owners to store excess energy in batteries so that it's possible to go almost completely off the grid. All these audiences make this a very timely manufacturing stock.
Its popularity comes with a premium. The stock is up 41% year to date and it trades at a current P/E of 46. But it's a twist on traditional manufacturing stocks and is certainly a "green" stock choice as well.
Portfolio Grader grade: A
Manufacturing Stocks: Johnson Controls (JCI)
The current company is headquartered in Ireland for tax purposes, but JCI got its start in Wisconsin in 1883, when Warren Johnson received a patent for the first electric room thermostat.
To this day, JCI is a leader in environmental controls — fire, HVAC, power solutions, security — for buildings and homes around the world. It has been very influential in the "smart building" concept for many years and has been a force in helping retrofit older buildings with more energy efficient solutions.
Like GNRC, it straddles manufacturing stocks and green stocks because it is a key player in reducing energy waste as well as creating new systems for new construction.
The stock is up 43% year to date with a 1.6% dividend, and trades at a premium due to its dual role as a green stock and manufacturing stock.
Portfolio Grader grade: A
On the date of publication, Louis Navellier has positions in AGCO, GNRC, and JCI in this article. Louis Navellier did not have (either directly or indirectly) any other positions in the securities mentioned in this article.
The InvestorPlace Research Staff member primarily responsible for this article did not hold (either directly or indirectly) any positions in the securities mentioned in this article.
Louis Navellier, who has been called "one of the most important money managers of our time," has broken the silence in this shocking "tell all" video… exposing one of the most shocking events in our country's history… and the one move every American needs to make today.