I, for one, love Harley Davidson (NYSE:HOG) and didn't want to write a bearish article on it, but I've discovered flaws that lead me to believe HOG stock might be set for a poor run.
Harley Davidson stock has experienced substantial gains over the past year as a consumer product stock buying frenzy has bolstered the sector's performance. Investors need to understand that the past year's performance isn't anything to go by regarding Harley Davidson implied stock performance; momentum will most likely slow down, and the struggling business model will reflect in the stock price.
Branding Problems at Hand
Harley Davidson is currently battling with branding headwinds. The newer generation doesn't seem as interested in its products as the previous generation. An aging consumer base has forced the company to introduce another dynamic. Enter LiveWire, the electronic motorcycle.
But slow sales have forced an alternative strategy where Harley spun off the segment to help its branding. LiveWire is expensive, and sales haven't been successful in reaching scale.
Inefficiency
HOG stock earnings have been in a significant decline even before Covid-19. I believe the key drivers are competitive advantage and a lack of efficiency.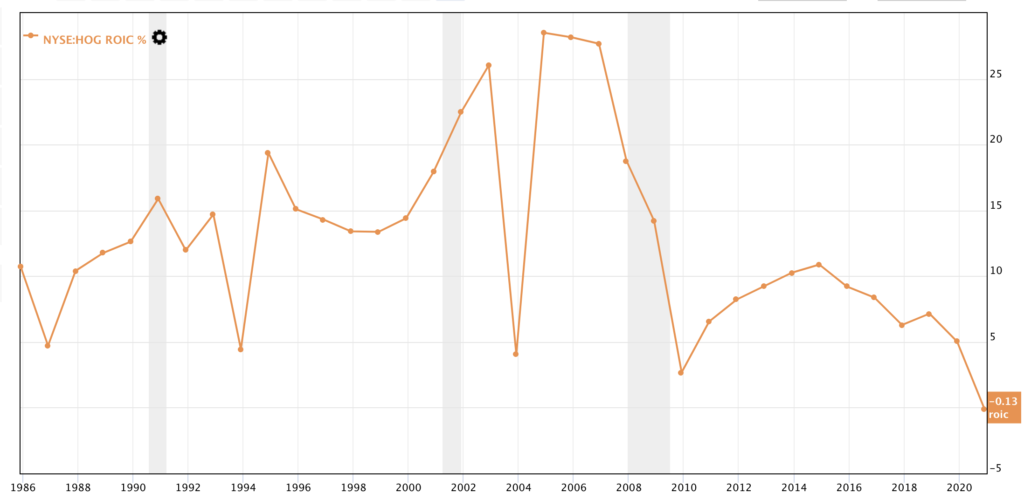 Source: Gurufocus
The return on invested capital chart can can be used as an indicator of competitive advantage. Harley Davidson has sold its products at a premium for many years due to its strong market position. However, it is also reflected in the ROIC chart that the company's competitive advantage might be diminishing. My belief re-emphasizes the branding issues, which have also not been counteracted with price leadership as they should've.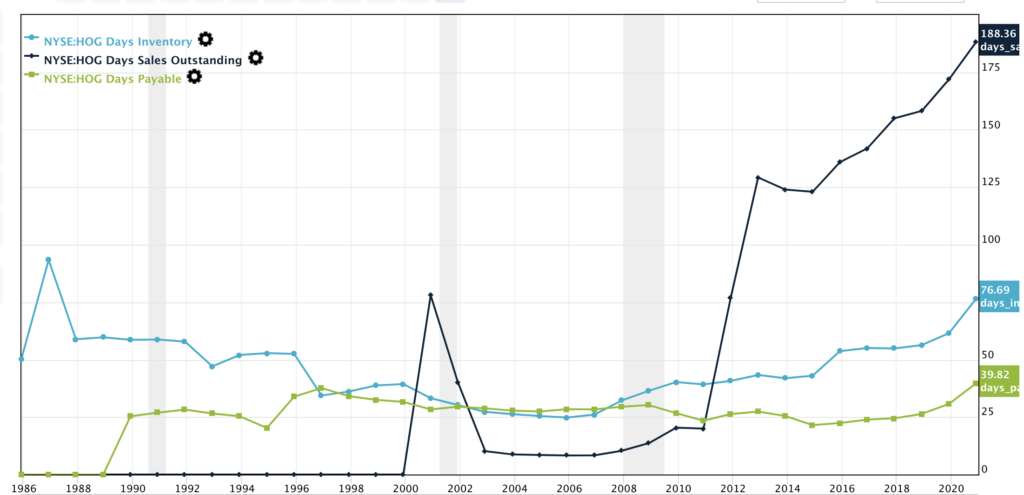 Source: Gurufocus
The chart above paints a chaotic picture. Harley Davidson has seen a gradual increase in days of inventory on hand for the past 15 years. Substantially increasing the days of inventory on hand causes decay in the value and possibilities of inventory liquidation, both bad for the income statement.
Furthermore, the payment conversion cycle is in tatters. Harley's days before cash is corrected has increased immensely, while the improvement in days payable provides a far less than linear comparison. The conversion cycle's inefficiency has created a draw on liquidity that's witnessable in the interest coverage chart below.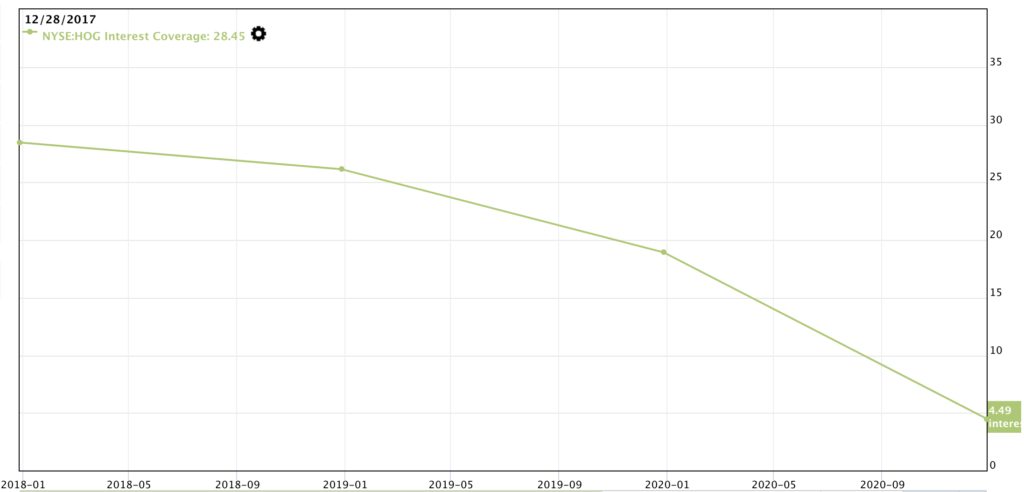 Source: Gurufocus
Valuation Metrics Are All Over the Place
Valuing the company based on its assets shows a value of $44 per share. The number reflects a similar figure to the stock's currently trading in the market due to the low number of shares outstanding.
I think Harley will issue additional shares as the company requires additional funding for its rebranding stage and the impact the pandemic has caused on sales figures. Other valuation methods, such as dividend models and cash flow models, will also be ineffective as the numbers are either negative or inconsistent.
I also think that market multiples such as price and expected earnings per share are irrelevant at the moment, as the market has acted irrationally over the past 18 months, subsequently distorting P/E ratios. I thus conclude that any valuation on the stock will be highly subjective. That means it would be a gamble investing in Harley at the moment.
Final Word on HOG Stock
Harley Davidson has been on a solid run as optimism regarding a retail-sector rebound has provided support. The company is in the middle of a shift in the demographics of its consumer base, and there's no clear evidence that it's going to succeed.
Adding to the woes are inefficient operations that have been a problem for more than a decade, leading to poor performance before the irrational pandemic stock rebound. Valuation metrics aren't applicable at this stage. I think the stock is a sell. Please get in touch with me directly if there are any questions!
On the date of publication, Steve Booyens did not hold any long or short positions in HOG. The opinions expressed in this article are those of the writer, subject to the InvestorPlace.com Publishing Guidelines.
Steve Booyens co-founded Pearl Gray Equity and Research in 2020 and has been responsible for equity research and PR ever since. Before founding the firm, Steve spent time working in various finance roles in London and South Africa, and his articles are published on various reputable web pages such as Seeking Alpha, Benzinga, Gurufocus, and Yahoo Finance. Steve's content for InvestorPlace includes stock recommendations, with occasional articles on crowdfunding, cryptocurrency, and ESG.