It has proven to be a terrific few weeks for the crypto market. And it doesn't appear to be finished just yet either. But to separate the wheat from the chaff and harvest more secure profits, investors need to look no further than leading digital asset Ethereum (CCC:ETH-USD).
In the following let's look at what's happening off and on the ETH price chart and why exposure today remains a smarter choice for investors' portfolios within this emerging asset class.
Ethereum is off to a good start Monday with the digital asset up nearly 3% since the day began and improving what's been a very solid run for the crypto's investors.
Today's ETH driver appears to be a sympathy reaction within the cryptocurrency market as Bitcoin (CCC:BTC-USD) clears $50,000.
Bitcoin, the crypto market's largest coin is up around 2% and clearing the psychological barrier for the first time since May when digital assets of all sizes and credos plunged into a pronounced bear market cycle.
More importantly, Ethereum has been its own champion of late.
Since bottoming just over a month ago the market's second largest coin by valuation and today's decentralized finance (DeFi) reigning champion is up 30% in August. What's more, since reaching a technical low of $1,722 on July 19, Ethereum reached as high as a staggering 95.8% growth!
Don't be fooled though by the eye candy totals. The returns captured by Ethereum investors have been earned. Punishing counter price swings in Ethereum remain a feature of investing in Ethereum.
Plentiful bearish news drivers directed at the crypto market by unapproving global regulators or up-and-coming competition from Solana (CCC:SOL-USD) or Cardano (CCC:ADA-USD), have kept risk a part of the conversation when it comes to both the asset class and Ethereum in particular.
Right here and now, though, when it comes to cryptocurrencies with proven utility value, Ethereum is the market's heavyweight crypto and one that continues to make the right moves to maintain that title.
The latest assurance Ethereum is poised to continue its dominance is a key transformation towards environmental sustainability.
Part of this effort was released earlier this month as Ethereum creators launched the London hard fork. The new protocol discourages energy intensive mining, which was a significant weight on Ethereum during this past spring and summer's crypto bear market.
The game changer for Ethereum will be digital network's transition from a PoW (Proof-of-Work) protocol to PoS (Proof-of-Stake) by the end of next year, as it could shrink the network's carbon footprint by as much as 99% and put sustainability "fear, uncertainty, and doubt" (FUD) concerns to rest.
Ethereum Weekly Price Chart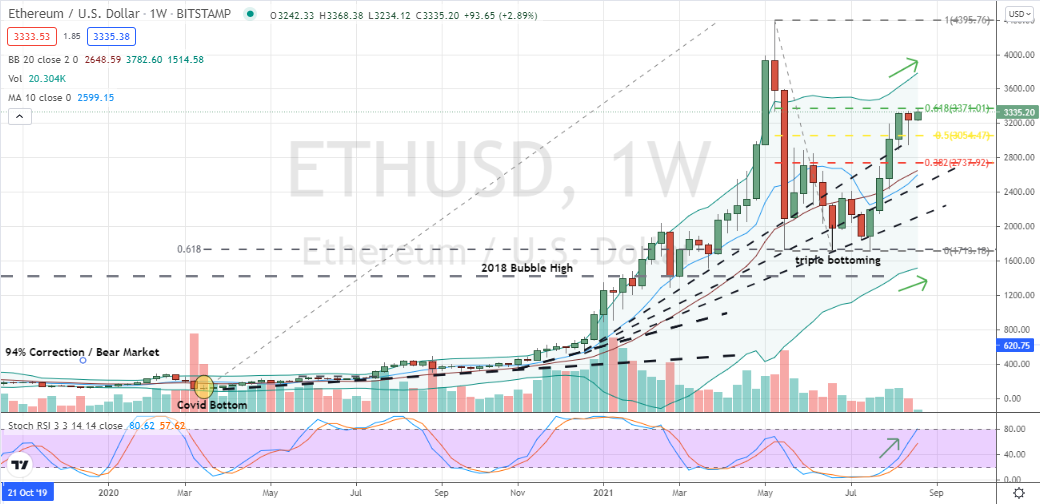 Source: Charts by TradingView
FUD will always be part of the equation when it comes to investing. And understandably, Ethereum is no exception.
Yet as others worry about Ethereum's existential threats and concern themselves with crypto's purported value beyond simply being a popular trading vehicle for 99% of us, right now Ethereum is set up nicely for buyers on its price chart.
Technically, Ethereum's rally out of this summer's triple bottoming pattern has stalled over the past couple weeks. Notwithstanding Monday's handsome-sounding gains the coin remains stationed beneath the 61.8% retracement level, which has acted as resistance since August 13.
Today though, resistance in ETH appears ready to be overcome. As the weekly chart reveals, the coin has narrowly confirmed last week's bullish hammer candlestick.
Additionally, with Ethereum's Bollinger Bands and stochastics both trending bullishly, a resumption of the rally appears increasingly favorable.
Will Ethereum prove to be the Amazon (NASDAQ:AMZN) of the digital asset market in a decade or two? I don't claim to have an answer. But as much as any speculative investment during an early adoption phase can be embraced, on and off the chart ETH has a lot working in its favor.
On the date of publication, Chris Tyler holds (either directly or indirectly) positions Grayscale Bitcoin Trust (GBTC), Grayscale Ethereum Trust (ETHE) and Grayscale Ethereum Classic Trust (ETCG). The opinions expressed in this article are those of the writer, subject to the InvestorPlace.com Publishing Guidelines.
Chris Tyler is a former floor-based, derivatives market maker on the American and Pacific exchanges. For additional market insights and related musings, follow Chris on Twitter @Options_CAT and StockTwits.