Ad-tech stock Marin Software (NASDAQ:MRIN) is having an excellent year in the markets, with MRIN stock up 318.3% in the past three months alone, mostly on the strength of several big deals. But But is it the best allocation of your ad-tech-focused investment dollars? I don't think so. Here's why.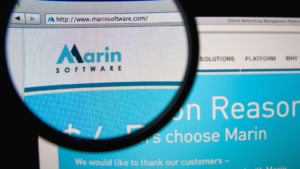 I recently covered The Trade Desk (NASDAQ:TTD) for InvestorPlace. Despite being expensive, I argued that patient investors should still invest in the company, whose technology platform helps ad buyers create, manage and optimize digital advertising campaigns.
First looking at TTD in January 2020, I argued that the trends were moving in The Trade Desk's favor and that investors were getting a good buy at $287 a share. But, I also suggested keeping a little dry powder if it corrects at some point during the year.
First of all, let's remember that the $287 price I referenced was pre-split. TTD split 10-for-1 on June 17. So, $287 became $28.70. From mid-February 2020 through early April 2020, the company's stock halved from over $30 to below $16. By the end of the year, it had jumped up close to $100 before being cut in half again in the first six months of 2021.
Overall, it's up 198% over the past 18 months. Over the same period, Marin is up 341%, albeit from a much lower starting point. However, in terms of market capitalization, they don't compare. TTD is closing in on $40 billion, while MRIN is approximately $77 million.
Personally, I would buy TTD 10 times out of 10, but Reddit investors are a lot more adventurous.
Other Possibilities Beyond MRIN Stock
There are other ad-tech candidates out there, to be sure. StockMarket.com contributor Brett David suggested three earlier this year: Magnite (NASDAQ:MGNI), PubMatic (NASDAQ:PUBM), and AcuityAds (NASDAQ:ATY). All three top MRIN's market caps, from MGNI's 3.9 billion to ATY's $493 million.
So, if small-cap is your thing, which is why you're after Marin in the first place, AcuityAds would probably be a better comparison.
In mid-July, AcuityAds was named to the 2021 AdExchanger Programmatic Power List for the second consecutive year. The company's illumin advertising automation technology is getting noticed by many in the industry. As a result, plenty of brands use it to properly plan their ad buying.
"We believe illumin will be the tool of choice for marketers because it provides creative insights, greater efficiency, better targeting, improved audience reach, and automation of the consumer journey," CEO and co-founder Tal Hayek stated in its press release announcing it made the list.
"We have seen tremendous success since we launched the platform in October 2020. illumin is changing the world of advertising one brand at a time and is poised to revolutionize the programmatic advertising landscape."
A July 15 update about illumin said that it ended the second quarter with 40 clients, 135% higher than the first quarter. In addition, Q2 2021 revenue was $5.2 million, 60% higher than Q1 2020. So, traction is there.
In 2020, AcuityAds had revenues of 104.9 million CAD ($83.8 million). Although that was down 12% from 2019 due to Covid-19, Hayek estimates most of the future growth in the advertising industry will be from programmatic initiatives like his company's.
In Q1 2021, AcuityAds had adjusted EBITDA (earnings before interest, taxes, depreciation and amortization) of 4.5 million CAD ($3.6 million), 152% higher than Q1 2020.
AcuityAds went public in June at $10.15. It's currently trading around $8.17 as I write this.
In 2020, Marin had revenues of $30.0 million, down 39% from 2019. As a result, it lost $10.5 million on an adjusted EBITDA basis, up from $9.2 million a year earlier. In Q1 2021, it had $6.3 million in revenue, down from $8.7 million, with an adjusted EBITDA loss of $2.3 million.
The Bottom Line
I don't think there's any question investors' first pick from all five of these ad-tech stocks should be The Trade Desk.
As for Marin, it's got to show it can increase sales while also making money. Since 2018, its sales have dropped in half, while it continues to lose millions. That's not the picture of a healthy business.
I'd consider any of the other four stocks mentioned here before I'd buy MRIN stock.
On the date of publication, Will Ashworth did not have (either directly or indirectly) any positions in the securities mentioned in this article. The opinions expressed in this article are those of the writer, subject to the InvestorPlace.com Publishing Guidelines.
Will Ashworth has written about investments full-time since 2008. Publications where he's appeared include InvestorPlace, The Motley Fool Canada, Investopedia, Kiplinger, and several others in both the U.S. and Canada. He particularly enjoys creating model portfolios that stand the test of time. He lives in Halifax, Nova Scotia. At the time of this writing Will Ashworth did not hold a position in any of the aforementioned securities.