The broader averages continue to motor higher. These days though, and in a market also made up of high-profile stocks and flops of all varieties, QuantumScape (NYSE:QS) stock continues to rank right up there with the best of them.
Today, the million dollar or rather $8.8 billion question is whether can investors expect a resurrection of sorts in QS stock? Let's check in with what's happening off and on the price chart, then offer a risk-adjusted determination aligned with those findings.
For a brief time, it was as though investors had truly found Jesus. Late last year and in less than two months next-gen battery outfit QS stock saw its shares soar 1,025% and reach a peak valuation of $33 billion. And it wasn't entirely without cause either.
QS Stock and Hype
QuantumScape's next-generation multilayer, solid state technology holds the promise of being the holy grail of batteries.
And due to its mission of radically improving cost, driving range, charging capabilities and while serving the environment in a much greener way than fossil fuels ever could, QS' technology has even been called the Jesus battery.
But hype is hype, right? And as with the majority of Wall Street's well-promoted next big things, that over-the-top optimism turned equally nihilistic.
Today, QS is sitting nearly 85% beneath those overzealous gains.
Further and if we're allowed the liberty of connecting Wall Street's often perverse dots, with shares of the Jesus Battery crucifixion beginning, almost picture perfect, immediately in front of Christmas Eve, it begs the question.
So does Jesus love you? I can't answer that. But you may have a real leader to guide you in Microsoft's (NASDAQ:MSFT) Bill Gates or the world's largest automaker Volkswagen (OTCMKTS:VWAGY). Both are long-term investors in QuantumScape with hundreds of millions committed toward its success.
But for other investors with less deep pockets, shares of QS have been both a victim and guilty-as-charged in this year's dramatic turnaround.
From a broader risk-off trade for higher and no-multiple stocks like QS, to capital raising, increased R&D spending in a less-receptive market or meaningful but painstakingly slow progress nowhere near ready for your driveway, "it is what it is" in QS stock.
QuantumScape's Weekly Price Chart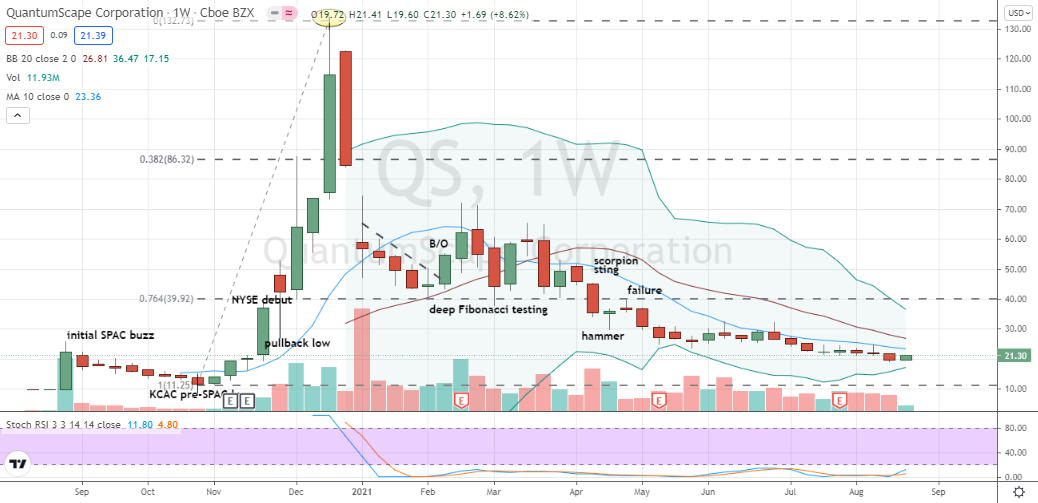 Source:
Charts by TradingView
Whether QuantumScape turns into a multi-bagger for bulls or continues to provide hefty returns for bears over time is still two-plus years out if you're waiting for solid and tangible evidence of a Jesus Battery or otherwise.
Why's that you ask? That's when QS's brass believes a pilot program for its battery technology could begin. Yeah, some time in 2024.
Today, bullish investors have a weekly price chart that could lay the groundwork for a rally of a couple to few months. But years? That's a stretch, even if we're to trust stocks are forward-looking pricing mechanisms.
So, do you still believe in QS stock?
If investors are predisposed to believing before seeing a more complete picture for QuantumScape's technology, I'm not going to fault that optimism. Maybe QS has what it takes. Again though, that's well down the road without any real added value for a straight up stock purchase today.
Bottom line, if you're going to be in it to win it for the long-haul, I'd continue to suggest an actively-traded, longer-term collar position in QS stock rather than leaving it to a wing and a prayer.
On the date of publication, Chris Tyler did not have (either directly or indirectly) any positions in the securities mentioned in this article. The opinions expressed in this article are those of the writer, subject to the InvestorPlace.com Publishing Guidelines.
Chris Tyler is a former floor-based, derivatives market maker on the American and Pacific exchanges. For additional market insights and related musings, follow Chris on Twitter @Options_CAT and StockTwits.