Is Senseonics (NYSE:SENS) set to transform the diabetes monitoring industry? Or is SENS stock just going to be another flash in the pan?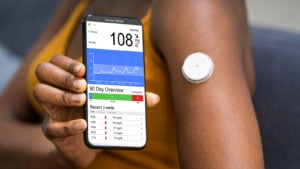 Senseonics is the creator of the Eversense continuous glucose monitor (GCM) which helps patients manage their diabetes. Unfortunately, diabetes is a rapidly-growing problem in the United States and other developed countries. This ensures that there will be a larger market for diabetes management products such as GCMs.
However, it's far from a sure thing that SENS stock investors will be able to cash in from this trend. Senseonics has yet to demonstrate commercial success for its products. It also faces heavy competition from larger and more established rivals such as Abbott (NYSE:ABT) and DexCom (NASDAQ:DXCM). Meanwhile, it's already achieved a rather sizable valuation from the market. This combination of factors makes SENS stock a risky bet at this juncture.
Valuation: The Major Sticking Point
It may seem like SENS stock is cheap, given its $4 share price. However, it's actually rather expensive when you consider just how many shares exist. Given that the company has more than 400 million shares of itself outstanding, it weighs in at a $1.8 billion market capitalization.
That's a gigantic sum for a company that has generated only $11 million in revenues over the past year. The current price/sales ratio is around 150x, which would be expensive even for a leading software or high growth technology company.
Bulls can point to an imminent pick-up in revenues as its distributor gets things rolling. That's certainly true to an extent. But even if revenues jump to, say, $100 million annually, the stock still wouldn't necessarily be a bargain at today's valuation. A $1.8 billion valuation bakes a lot of future success into the cake already.
Bullish Arguments For Senseonics
The clear counterpoint on the revenues argument is that Senseonics' distributor is still ramping things up. Ascensia Diabetes Care is handling the sales of the company's GCM product. Ascensia is active worldwide and generates approximately $1 billion annually in global sales. Thus, Senseonics has plugged itself into a fairly robust already-operational sales system.
Ascenia has still been hiring marketing employees and getting folks ready to pitch Eversense to clients. As such, the slow launch of Eversense isn't necessarily a problem yet. Senseonics is targeting $12-$15 million of full-year 2021 sales, which implies Ascensia won't fully ramp up marketing within 2021. As long as there is a positive trajectory to commercial activity for Eversense, however, SENS stock may hold up alright.
SENS Stock Verdict
It's simply too early to know if Senseonics' technology will gain widespread adoption or not. If things don't work out, Senseonics would hardly be the first medical device company with an approved product that failed to gain traction. Zomedica (NYSEAMERICAN:ZOM) has reminded meme traders of that fact this year as its veterinary technology hasn't taken off.
While Zomedica is obviously a different situation than Senseonics', both are tiny medical equipment companies that got adopted by the meme trading community. And both, as of now, have earned valuations that far outstrip their commercial successes to date.
It's appealing to trade this sort of stock in hopes of a short squeeze or further social media buzz. At the end of the day, however, actual customers have to buy the product sooner or later. Otherwise, the share price will decline. For SENS stock, the recent rally doesn't have much fundamental underpinning, and thus this is a good time to take some profits.
On the date of publication, Ian Bezek did not have (either directly or indirectly) any positions in the securities mentioned in this article. The opinions expressed in this article are those of the writer, subject to the InvestorPlace.com Publishing Guidelines.
Ian Bezek has written more than 1,000 articles for InvestorPlace.com and Seeking Alpha. He also worked as a Junior Analyst for Kerrisdale Capital, a $300 million New York City-based hedge fund. You can reach him on Twitter at @irbezek.