SoFi Technologies (SOFI) continues to smartly build its ecosystem.
Bears in SOFI stock have macro, price action and company specific challenges to counter.
Shares of SoFi offer growth at a compelling discount for long-term buyers.
Stadium rights have made SoFi Technologies (NASDAQ:SOFI) a fixture in Los Angeles. But today, regardless of whether or not you're a sports fan, SOFI stock is a compelling buy for growth stock bulls looking for a long-term win.
In the midst of bearish inflationary data, spiking treasury yields and a mixed start to earnings season, stiffer, broad-based losses on Wall Street haven't been lost on SOFI stock. Geopolitical tensions and a Covid-19 resurgence have contributed as well.
Shares of the fintech firm lost more than 27% over the past two weeks. Even worse, the price action has also taken out its March bear-market low of $7.74 per share. Today saw more of the same with SOFI stock off another 3%.
Today though, let's review what's going well and what's not in SoFi stock, and why a bearish sacking still offers a buying opportunity.
| | | |
| --- | --- | --- |
| SOFI | SoFi Technologies | $7.11 |
SoFi Technologies Has the Goods
There are SOFI bulls, and then there's InvestorPlace's Luke Lango. He has been bullish on SoFi's future, going so far as to call SOFI stock "the Amazon of Finance." That would be huge given the reach of the tech giant as well as today's mid-cap $6.6 billion valuation versus Amazon's (NASDAQ:AMZN) $1.5 trillion value.
The thesis is that much like Amazon's original book business, SoFi Technologies is so much more than its initial student loan business, which has been challenged by a prolonged student loan moratorium put in place at the onset of Covid-19. And there's definitely something to SOFI stock being more than a one-product pony.
SoFi has turned itself into a digital-first ecosystem of services and products that has continued to grow smartly. In fact, in 2021, SOFI stock saw revenue climb nearly 73% year-over-year.
It doesn't stop there either. SoFi is further building on that reach this year with its long-awaited banking charter approved in January. There's also its more recent Technisys acquisition, which will allow SoFi to offer multiple standardized and fully-customizable fintech products.
Toss in a recent seal of approval for CEO Anthony Noto from CNBC's Jim Cramer as shares fetched roughly $8 a share, and today's $7 SOFI stock looks like a growth-at-a-discount opportunity.
SOFI Stock Less-Than-Perfect Other Truths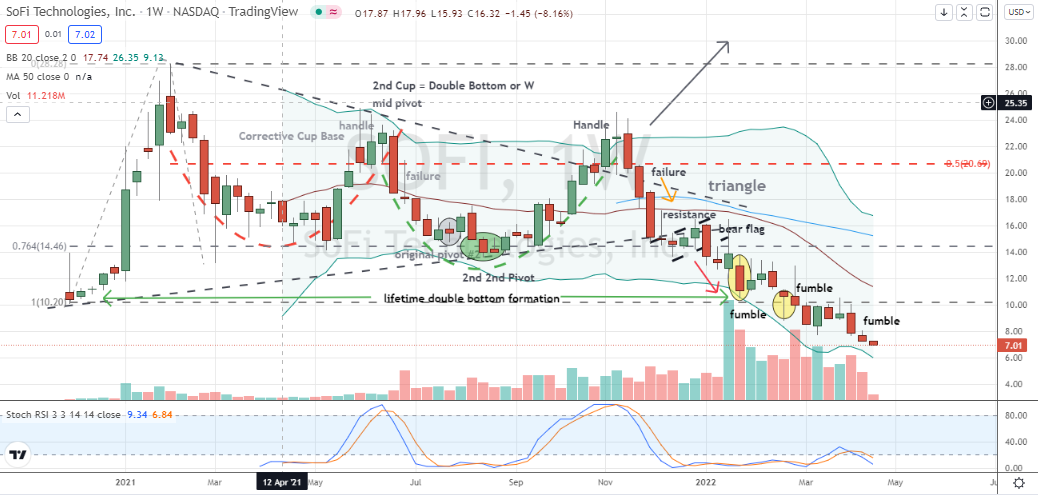 Source: Charts by TradingView
It's not just the student loan moratorium that bearish or less enthusiastic SOFI stock investors have been betting against. But on the back of the student loan payment pause extension this past week, management did have to acknowledge its impact. The company reduced its fiscal 2022 revenue outlook from $1.57 billion to $1.47 billion, narrowly below Street estimates of $1.5 billion.
SOFI's bears can point out other challenges too. From competition and rising customer acquisition costs to a shakier home loan business amid ramping up mortgage rates, SOFI stock remains a growth play with other less-than-perfect truths. That includes a lack of profitability and negative cash flow.
Then there's the SoFi price chart. In the near-term, it may be too soon to expect the fintech's cheer section to beat back bearish short-interest of 14% and the stock's days-to-cover ratio of 2.
Today, shares of SOFI sport a weak-looking Bollinger band structure and bearish stochastics crossover. Coupled with a questionable market environment and a weekly candlestick hinting of a reversal pattern, bullish buyers should expect more pain before seeing long-term gains in SOFI stock.
The SOFI Stock Takeaway
Not only has the fallout been tough for SoFi the past couple weeks, but it's also been challenging for all of the company's long-term stockholders.
An investor that bought SoFi shares at their all-time-high of $28.26 back in February 2021 is sitting on an open loss of 75%. The good news is that AMZN stock lost upwards of 90% back in the dot-com era before becoming something slightly more important globally.
Net, I'm a buyer of SOFI in an obviously uncertain market. But I'm more pragmatic about the stock's trillion-dollar potential — as well as its ability to make a more vomit-inducing decline — if Amazon's storied past and SOFI's price chart are any indicators.
Bottom-line, should today's starter purchase somehow make bottom-picking appear easy, don't be quick to take profits. Refer back to SOFI's price chart and the market for reasons to add strength rather than rely too heavily on much trickier Amazon parallels.
On the date of publication, Chris Tyler holds long positions in SoFi Technologies (SOFI) (either directly or indirectly), but no other positions in securities mentioned in this article. The opinions expressed in this article are those of the writer, subject to the InvestorPlace.com Publishing Guidelines.