The broader market rally has helped Palantir Technologies (PLTR) stock gain 50% from its lows.
PLTR's growth story extends beyond today's headline relief.
Buy Palantir in front of the slow-to-act, sell-side.
A broader market bid led by technology stocks helped with an outsized performance in shares of big data analytics specialist Palantir Technologies (NASDAQ:PLTR) in Monday's session. PLTR stock closed up nearly 6% compared to the Nasdaq's gain of around 2%.
European Union sanctions aimed at Russia, as well as easing inflation and economic concerns tied to the conflict in Ukraine and Covid-19 drove the price action to begin the workweek. And to be fair, the more aggressive buying in PLTR stock "still" appears justified.
The relative and absolute strength in Palantir shares follows a steep and prolonged bear market tied to Wall Street's higher-multiple, risk-off trade over the past year. Many growth stories of course have also benefited from similar selloffs. C3.ai (NYSE:AI), Block Inc (NYSE:SQ) and others are sure evidence of this bullish shift in investor sentiment.
Still, with Monday's price gain, shares have now rallied 50% off its bear market low. It begs the question, are greedy Palantir investors getting ahead of themselves? Hardly.
As detailed below, expect that supportive conditions on the PLTR stock chart will help take the Street by surprise and deliver a double or greater to today's investors within the next 12 months.
| | | |
| --- | --- | --- |
| Ticker | Company | Current Price |
| PLTR | Palantir Technologies | $14.73 |
Not So Covert Growth in PLTR Stock
It might be easy to write off PLTR's rally of late as a fierce, but deserved dead cat bounce. Shares were down nearly 80% from January 2021's all-time-high as the stock hit an all-time-low of $9.74 in late February.
But Palantir's growth prospects and multiple compression warn otherwise. They give notice of a larger bull market just getting underway in PLTR.
To be fair, PLTR shares still trade at a steeper market multiple of roughly 14 times sales. More importantly, the valuation is attractively priced at a premium just removed from historic lows and supported by annual revenue growth of 30% or greater through 2025.
Palantir's valuation is also less risky than a cursory read indicates given long-term earnings growth of nearly 44%, levered free cash flow growth approaching 80% and solid operating margins.
Another positive? A year ago PLTR bears cried the company needed more private exposure to diversify against its much larger government business. And Palantir has delivered.
Today, 42% of sales are from commercial customers. But with governments also lining up to use Palantir's analytics products on the back of Russia invading Ukraine, PLTR's "spycraft" beginnings remain a fertile cash cow.
Wall Street Is Behind the Price Action in Palantir Technologies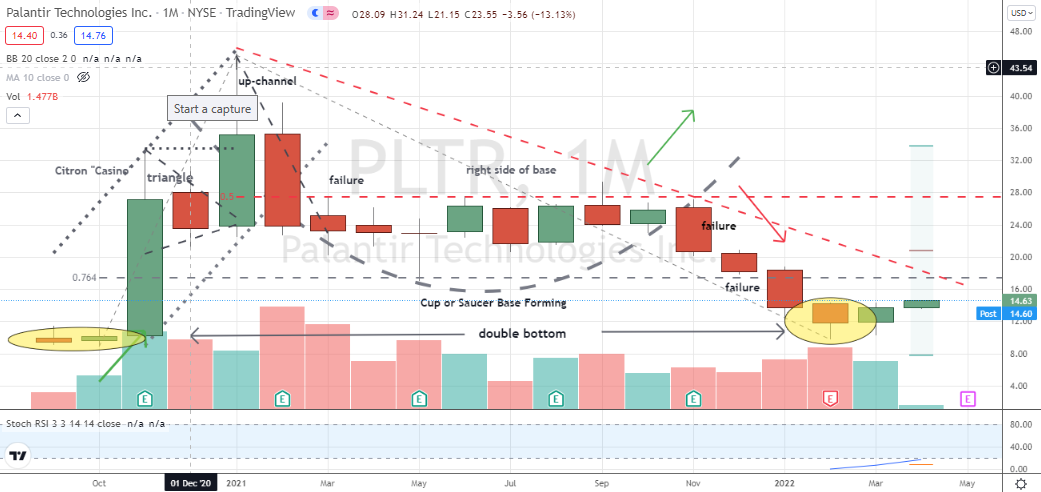 Source: Charts by TradingView
Also warning of a larger bullish move in PLTR stock are consensus views which are overtly bearish. Of 11 recommendations on shares, five analysts maintain a hold recommendation. What's more, three of the Street's sell-side have a sell rating on Palantir.
Further, a mostly market-matching median price target of $15 and bearishly skewed forecasted range of $9.00 to $16.00 hint at a situation ripe for analyst upgrades and price hikes if PLTR stock continues to rally.
Today, based on Palantir Technologies' monthly price chart, that's a quickly growing reality.
Since hitting a bear market low in late February, PLTR shares have rapidly improved into a bullish longer-term situation. Today, and just two trading sessions into April, buyers have confirmed March's inside bottoming hammer candlestick.
The bullish trade-through has also confirmed February's engulfing hammer and what we can describe as a lifetime double bottom pattern in PLTR stock.
So while shares are up 50% and could cause some trepidation, it's much easier to realize positive catalysts for rapidly improving PLTR stock are finally on their way.
Positioning in PLTR Stock
There's every reason to believe Palantir has bottomed and is now in the very beginnings of a new bullish phase for investors.
Reasonably, but also well-removed from Wall Street's targeted range for shares, a rally toward PLTR stock's 50% retracement level near $27.50 to as much as $30 looks possible inside the next 12-months.
Based on my forecast (and respecting Palantir Technologies pattern bottom), an intermediate- to longer-term, out-of-the-money bull call spread is one way to gain long leveraged upside exposure in PLTR stock while greatly reducing downside risk.
One combination of this type, which attractively checks those boxes is the Jan $17.50/$25 bull call vertical for about 8% PLTR stock risk priced at $1.35 and a max profit of $6.15 per spread.
On the date of publication, Chris Tyler holds long positions in Palantir Technologies (PLTR) (either directly or indirectly) but no other securities mentioned in this article. The opinions expressed in this article are those of the writer, subject to the InvestorPlace.com Publishing Guidelines.