Penny stocks. Possibly more than ever, avoiding lower priced, smaller capitalization and under-followed companies makes sense.
But as with any market, some penny stocks do curry strong favor with Wall Street, not just meme trading apes. And today, a couple of those names may even be right to buy for your portfolio.
Dizzying inflation. Aggressive interest rate hikes. Supply chain snarls that seemingly won't go away. Welcome to 2022. And in a market environment where many large-caps have shrunk into mid and even smaller valuations, the reputation of penny stocks isn't about to be reimagined into anything more substantive. Some do stand out above the rest though.
Despite the longstanding bad rap and one made worse by this past year's rise of meme traders gaming the group, let's explore three penny stocks that are well-regarded by analysts, rather than "mentions" by Chatty Chuckies on Reddit's r/WallStreetBets and sport promising profit potential for buyers right now.
| | | |
| --- | --- | --- |
| Ticker | Company | Current Price |
| AGFY | Agrify Corporation | $2.74 |
| RNLX | Renalytix Plc | $4.70 |
| CURI | CuriosityStream Inc. | $1.88 |
Agrify Corp (AGFY)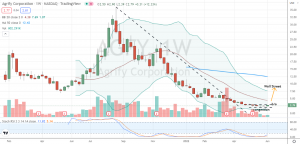 Click to EnlargeAgrify Corp (NASDAQ:AGFY) is the first of our penny stocks that Wall Street is bullish on and ready to buy today.
AGFY stock is a $67 million cannabis play whose technology solutions aims to help producers cultivate marijuana and hemp. And business has been booming with revenues ballooning more than 270% year-over-year to nearly $79 million.
Three out of four surveyed on Wall Street maintain a "buy" rating on AGFY stock with an average price target of $9.25.
As with most penny stocks, AGFY isn't profitable. But given its growing revenues and puny trailing sales ratio of 0.72, as well as a share price of less than $3.00 that's less than half of book value and offers more than 200% upside based on street forecasts, there's a lot to like.
Right now growing profits in this penny stock looks even more attractive too. Technically, AGFY shares are trading in a narrow multi-week consolidation off all-time-lows and poised for a bullish trend change on a breakout above $3.00.
Renalytix (RNLX)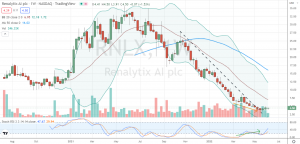 Click to EnlargeRenalytix (NASDAQ:RNLX) is the next of our penny stocks which has caught the attention of Wall Street in a favorable sort of way and whose shares look primed to deliver profits to investors.
RNLX stock is another buy based on four analyst recommendations. If we're to trust the advice and a low price target of $8 a share, a return of almost 200% is possible. At the same time and if captured, an average share price target of $20.20 would yield upward of 500%!
So what's behind the upbeat forecasts? RNLX stock is a $150 million healthcare play whose AI-enabled diagnostic products center of finding kidney disease solutions. What's more, quarterly sales have grown smartly by more than 110% over the past year.
This penny stock certainly sounds promising, but Renalytix does have its work cut out for it. Red ink and very modest revenues of less than $2.5 million this past year are sure evidence of that. Agreeably though, you have to start somewhere, right?
Furthermore and with downtrend resistance broken this past month, a supportive stochastics setup and shares 87% removed from last May's all-time-high, "some" of what Wall Street likes in this penny stock, may finally be worth buying into.
CuriosityStream (CURI)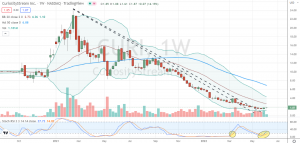 Click to EnlargeCuriosityStream (NASDAQ:CURI) is our final penny stock that's found Wall Street lending its seal of approval and now worthy of buy decisions in investors' portfolios.
The $85 million educational streaming media service company enjoys sell side coverage by seven analysts. Four buys and one strong buy, an average price target of $5.19 and range high of $10.00 indicate investors would be wise to tune in to CURI stock with shares at $1.86.
Sporting a trailing sales multiple near 1.0x and quarterly, year-over-year revenue growth of 77% and price-to-book ratio of just 0.58, listening to what Wall Street has to say about this penny stock has more background support as well.
The price chart also finally agrees with investors being in position to buy CURI shares with less risk of being schooled. Today, shares of this briefly hyped-up SPAC are 92% removed from last February's all-time-high of $24 and just 40 cents removed from this penny stock's all-time-low.
And technically, with investors using a stochastics signal and trendline breakout to their advantage for a second time since March, it's a much more agreeable time to be positive on CURI stock alongside Wall Street.
On Penny Stocks and Low-Volume Stocks: With only the rarest exceptions, InvestorPlace does not publish commentary about companies that have a market cap of less than $100 million or trade less than 100,000 shares each day. That's because these "penny stocks" are frequently the playground for scam artists and market manipulators. If we ever do publish commentary on a low-volume stock that may be affected by our commentary, we demand that InvestorPlace.com's writers disclose this fact and warn readers of the risks.
Read More: Penny Stocks — How to Profit Without Getting Scammed
https://investorplace.com/2014/05/fraud-penny-stocks-scams/
On the date of publication, Chris Tyler did not have (either directly or indirectly) any positions in the securities mentioned in this article. The opinions expressed in this article are those of the writer, subject to the InvestorPlace.com Publishing Guidelines.