In late January, Canadian investment firm CI Financial published its 2023 outlook for small-cap equities. It was extremely bullish about small-company stock opportunities this year and beyond.
"It is our belief that small cap equities present a generational opportunity as we enter 2023," the report said. "Small caps significantly lagged large caps in 2022 due to a perceived flight to safety. The sector now trades at a large discount to the market."
While small caps got off to a strong start in 2023, the regional bank crisis put a damper on their bullish momentum. Yet, as the report notes: "The stock market is forward looking and if the view becomes 'the worst is behind us' this will quickly become a very attractive asset class once again."
I'm not a soothsayer, so I can't tell you if this in fact has happened. However, regardless of what comes next, I don't think it's a bad idea to have some promising small-company stocks to buy on your watch list.
After all, the last time small-cap stocks led Ben Carlson's periodic table of asset classes was in 2016. They're bound to break out at some point.
Here are three potential small-company stock winners.
| | | |
| --- | --- | --- |
| XPEL | XPEL | $75.86 |
| VVI | Viad | $21.47 |
| ELF | e.l.f. Beauty | $89.57 |
XPEL (XPEL)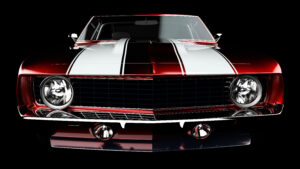 XPEL (NASDAQ:XPEL) is a provider of paint protection film and automotive window tints with a market cap of $2.1 billion. With cars getting more expensive by the minute, the company's products are invaluable to car owners looking to maintain the resale value of their vehicles.
The company reported Q1 results on May 9. Earnings per share of 41 cents beat the consensus estimate by 4 cents. More importantly, earnings were 46.5% higher than a year ago. On the top line, revenue grew nearly 20% year over year to $85.8 million.
"We're off to a great start in 2023 with solid first quarter results," Chief Executive Officer (CEO) Ryan Pape said. "We continue to see good momentum in our business and remain focused on driving growth as we move through 2023."
From 2018 through 2022, XPEL's compound annual growth rate for revenue was 31%. If it continues on this trajectory, it should generate more than $400 million in 2023. At the same time, its gross margins have improved by 894 basis points since 2018. That ought to count for something with investors.
While there are only three analysts covering XPEL stock, according to MarketWatch, they all rate it a "buy." And their average target price of $96.33 is 27% above where shares currently trade.
Viad (VVI)
I was a bit surprised when Viad (NYSE:VVI) showed up on my list of small-cap possibilities. With a market cap of $452.9 million, it verges on microcap status. I had completely lost track of the provider of hospitality and leisure activities, experiential marketing and live events after its business got crushed by the pandemic.
In Q1 2019, it had revenue of $285.6 million and a loss from continuing operations of $17.8 million. In Q1 2021, revenue had fallen to $28.9 million with a $45.4 million loss from continuing operations. Frankly, it's amazing the company still exists.
On May 4, Viad reported Q1 2023 results. Revenue of $260.8 million was 83.4% higher than a year earlier, with a $21.3 million loss from continuing operations.
"We're off to a great start in 2023 and I am excited about the rest of the year as we expect the momentum to continue," said CEO Steve Moster. "Our actions to scale Pursuit, transform GES Exhibitions' cost structure, and strengthen Spiro's capabilities are positioning us for strong growth in revenue and profitability."

I'm not going to sugarcoat it: VVI is not for risk-averse investors. However, with shares down 12% year to date, the risk-reward proposition for aggressive investors is excellent. In August, shares traded as high as $44.25, more than double today's price.
e.l.f. Beauty (ELF)
If you're a hockey fan, you know that the NHL playoffs are underway. You also would know that several teams are currently on a "heater," which is sports talk for a winning streak. If e.l.f. Beauty (NYSE:ELF) was a sports team, its shareholders would say it's on a heater.
After a massive run, the maker of reasonably priced beauty products has a market cap of $4.8 billion, which makes it a large small cap or a small midcap, depending on who you ask. Shares are up 62% year to date, 300% over the past year, and 365% over the past five years.
In mid-February, I recommended the small-cap growth stock because it was giving Estee Lauder (NYSE:EL) — a company that I really like — a run for its money. It wasn't cheap then, and up 20% since my article was published, it's not cheap now, valued at 9.7 times sales. By comparison, Estee Lauder trades at 4.6 times sales. But it still may have room to run.
In March, the company partnered with American Eagle Outfitters (NYSE:AEO) to produce a denim-inspired makeup and skincare collection. It's a perfect collaboration given both firms focus on reasonably priced products. It will be interesting to see how it does.
The company is scheduled to report fiscal Q4 and full-year 2023 results on May 24. It expects full-year revenue of at least $541 million with adjusted net income of at least $75.5 million.
Now that it's profitable and expected to grow sales by nearly 40% annually, the sky's the limit.
On the date of publication, Will Ashworth did not have (either directly or indirectly) any positions in the securities mentioned in this article. The opinions expressed in this article are those of the writer, subject to the InvestorPlace.com Publishing Guidelines.