Desperate times call for desperate measures. Indeed, yesterday, rumors broke that Netflix (NASDAQ:NFLX) may make a bid to acquire Roku (NASDAQ:ROKU). Ostensibly, a deal between the two makes no sense. Netflix is a streaming service provider. Roku is an aggregator platform of multiple streaming services. That's not a synergistic match. But nonetheless, Roku stock popped big on the news.

But I sat on the idea for a while. And even though the deal ostensibly makes no sense, it could actually happen, mostly because Netflix is desperate!
That's important. If the acquisition happens, it'll likely happen at prices well above where Roku stock currently trades. I think a 100% premium is totally reasonable. As such, there's a realistic pathway for Roku stock to double over the next few months alone.
That's why we're pounding the table on Roku stock in our flagship Innovation Investor research service. It's time to get super bullish on this beaten-up yet still very high-quality growth stock!
The Basis for the Rumors
The story behind the acquisition rumors is one that implies that these rumors have some significant substance. And it supports the bull thesis on Roku stock.
Apparently, Roku employees have been hearing murmurs about a potential acquisition of the company for several weeks now. A few have heard that Netflix is the potential suitor. Those whispers have grown so much that executives started to hear that their employees were talking about this potential acquisition.
And then came the surprising move.
Yesterday, Roku closed the trading window for all employees, barring them from selling vested stock to act on "insider information."
That's a big move. Usually, companies only abruptly close trading windows when they believe their employees have some information that would give them an advantage in stock trading. Normally — though not always — such information is advance knowledge of an acquisition.
It's also very interesting timing that Roku closed this trading window at a time when more and more employees are hearing rumors of a potential acquisition.
In other words, Roku's recent actions strongly imply that it's at least in talks to sell to a larger company.
That's huge because if such a sale does materialize, Roku stock could double in a hurry!
Why a Deal With Netflix Might Actually Happen
Let's double back to Netflix.
These are desperate times for the company. The once high-flying super-growth company has come crumbling to its knees. Users are leaving the platform. Subscriber growth is drying up, and profit margins are flatlining.
The stock has fallen 75% off its recent highs.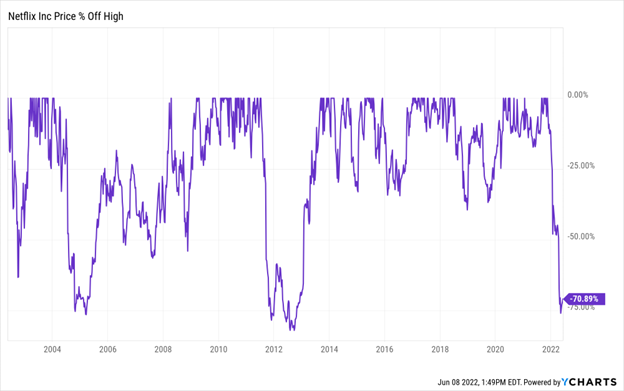 You might've noticed from the graph, but this isn't the first time Netflix has been in a situation like this.
Netflix stock dropped more than 75% in 2011-12. What did management do back then to fix it? It took desperate measures — and they paid off in a big way!
To halt the company's slowing growth, Netflix's CEO Reed Hastings decided to split the DVD rental and streaming businesses. He believed the company should focus on scaling the streaming business.
At the time, the idea was considered crazy. It was hated by subscribers, who quit the platform in droves.
But in hindsight, it was prescient. That "desperate" move didn't just fix the company. It laid the foundation for Netflix to be embedded into every household in the United States.
Why does this matter?
Hastings is still CEO of Netflix, and the C-Suite is largely the same as it was back in 2012. That means this is a management team with a history of successfully employing desperate measures to fix huge problems.
Netflix may do something crazy, bold, even ostensibly desperate in 2022 to fix its slowing growth problem. In fact, I'd argue it should be the base case.
That's why it's totally possible that Netflix buys Roku this summer and consequently sends Roku stock up more than 100%!
Could Roku Stock Double?
From an investment perspective, the acquisition rumors are very interesting. They come on the heels of a huge selloff in Roku stock. The company is still growing very quickly, and its shareholders and employees presumably still strongly believe in Roku's potential.
That's a potent cocktail.
It means that a buyout would only be accepted if the deal premium were significantly above the current share price. Roku shareholders aren't going to "sell out" for a small number. They believe in this company and the stock. So, they'll only "sell out" for huge amount.
How big does that number have to be?
We think double the current stock price.
Roku stock is currently trading at 4.9X trailing sales. Its three-year median sales multiple is 14.7X.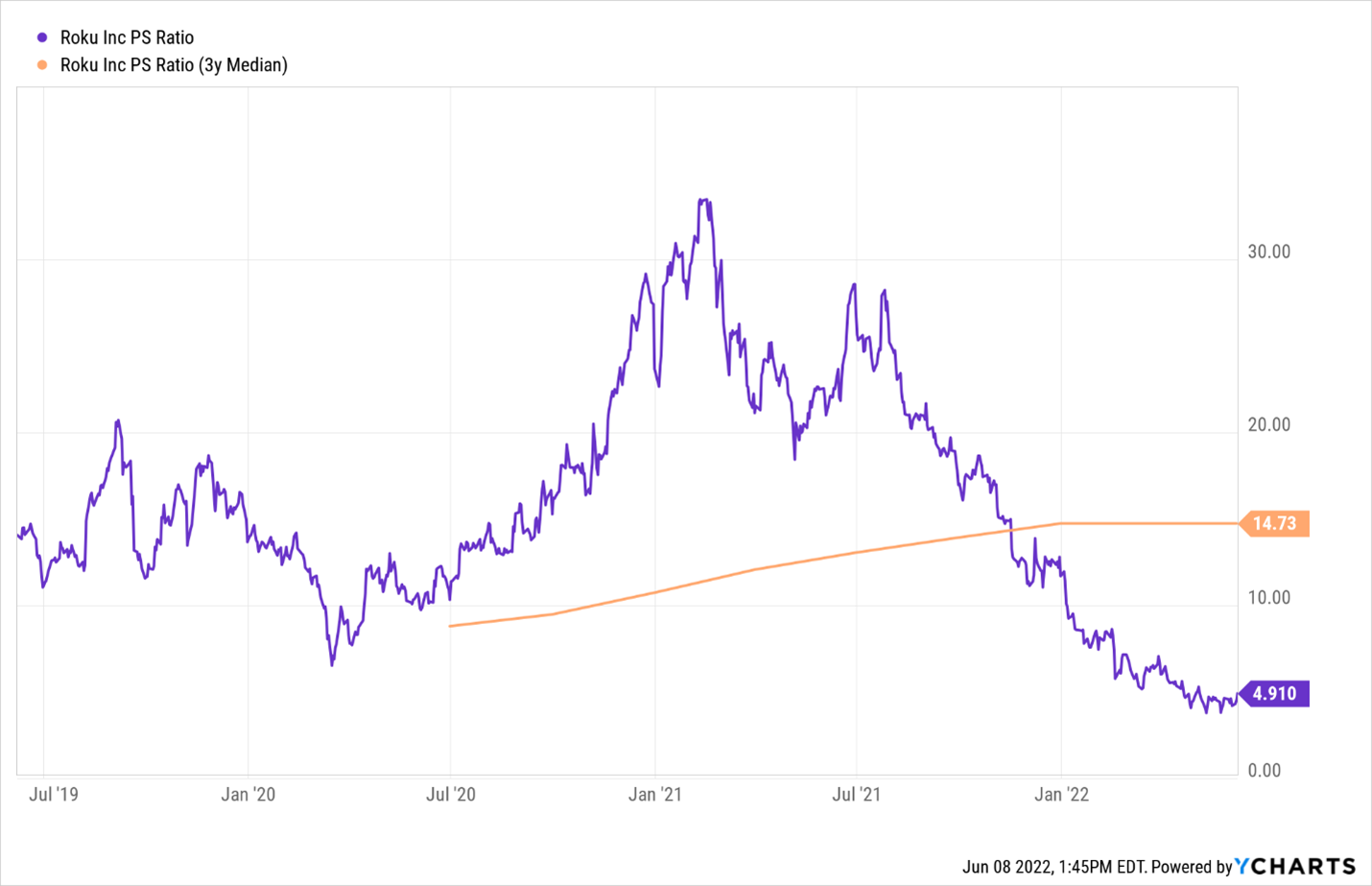 In other words, the stock is currently trading at a 67% discount to its historically normal valuation multiple.
We concede that a deal at 15X trailing sales is unlikely. But we also think Roku shareholders wouldn't accept anything less than 10X. Therefore, if Roku is bought out by Netflix or some other media company, we think the acquisition will have to happen at more than double the current stock price.
Basically, there's a very reasonable chance that Roku stock doubles over the next two to three months.
The Final Word
At the end of the day, we think Roku will be acquired this summer.
Will Netflix be the buyer? We're unsure. We're more inclined to think that some major media company like AT&T (T) or Comcast (CMCSA) will make the move instead.
Regardless, we think that someone will buy Roku. And that someone is going to pay a 100%-plus premium.
Of course, the investment implication is that Roku stock is set to double in a hurry.
But it won't be the only stock that shoots higher this summer.
We're starting to see a big swing in the markets, where certain stocks are starting to soar big. And we think a lot of those stocks could join Roku and double very soon.
Plug into those rallies and score multiple 100% winners this summer.