Did you miss it? Yesterday, amid more global forecast cuts, EV stocks soared!
The whole market was in rally mode. The Dow Jones, S&P 500, and Nasdaq all rose between 2% and 2.5%. Electric car stocks were especially big outperformers. The EV stocks in our Innovation Investor model portfolio rose an average of 7% yesterday alone!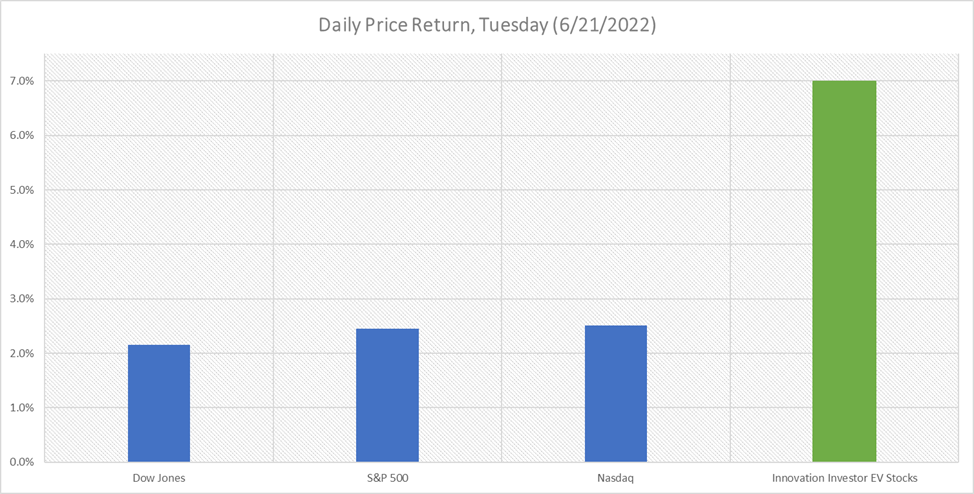 Why did they pop so much yesterday? And can it last?
In short, EV stocks soared on prospects of a potential new policy from the Chinese government. It could rapidly accelerate the production and sales of electric cars in 2022 and '23. If that policy is enacted, yesterday's rally in EV stocks could be just the beginning. We may see a much longer, much bigger surge across the whole sector. Some EV stocks may double, triple, or even quadruple over the next 12 months.
And we have the perfect stock to play this potential breakout in EV stocks.
The New Policy Boost for EV Stocks
The potential new policy I'm referring to is something that went underreported yesterday. But it has the potential to fundamentally alter the 12-month outlook for electric car stocks.
And the discrepancy between how many people know about this potential new policy and its importance is your opportunity. It means you have the chance to buy EV stocks now before everyone else floods into them.
Here's the story.
Last Friday, China's Ministry of Industry and Information Technology (MIIT) held an expert symposium. It discussed policy recommendations to boost manufacturing growth in the country. No specific policies have been announced yet. But Chinese media is reporting that the ministry is considering taking "extraordinary measures" to improve production output. That includes supply chains' structural reform and accelerated investment in technological transformation.
You see, China is the world's manufacturing superpower. About 30% of all the products and goods in the world are made there. As goes Chinese manufacturing, so goes the world's supply of goods.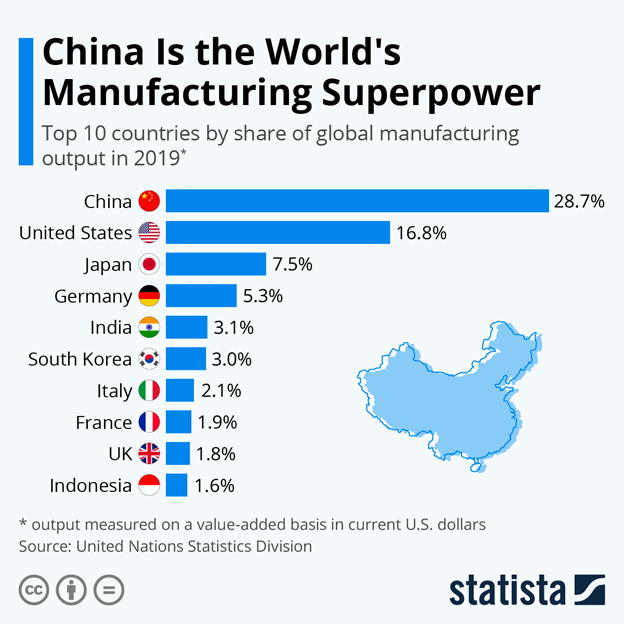 Thanks to sporadic COVID-19 lockdowns, among other things, Chinese manufacturing has taken a big hit over the past two years. And government officials have finally taken notice. Instead of sitting idly by, which is what they've done for years, they're working to improve the country's manufacturing output.
Now, the nature of that "something" is still unknown. But it will likely be enacted within the next few months. And subsequently, it'll kickstart a rapid acceleration of Chinese manufacturing activity in 2023.
That acceleration lays the groundwork for a huge boost to EV stocks.
Why It Matters
China isn't just the world's manufacturing superpower. It's also specifically the world's electric vehicle manufacturing superpower.
About 60% of all electric car battery manufacturing is done in China. The bulk of this is factory-related manufacturing — not mining. Only about 23% of the world's battery metal mining happens in the country. By comparison, China is home to 80% of the world's chemical refining capacity, 66% of cathode and anode manufacturing, and 73% of battery cell manufacturing.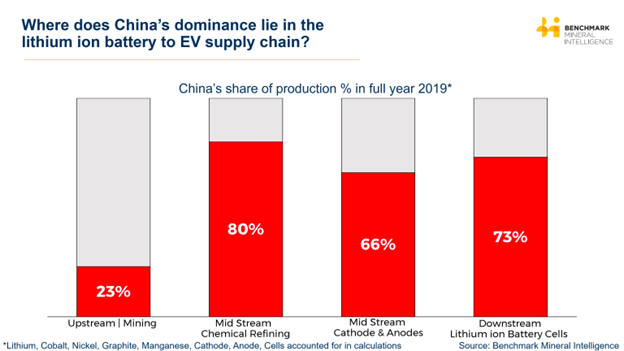 In other words, China is where EV batteries are made. It's where the world transforms raw metals into fuel cells.
Obviously, you can't make an electric car without a battery. So, the fact that China controls 60% of the world's battery manufacturing capacity means that global EV production and sales is reliant upon its manufacturing.
And in China, it's been terrible lately. Manufacturing has been on a steady downtrend ever since November 2020. Uncoincidentally, EV stocks, which had been on a solid upswing throughout most of 2020, topped out when manufacturing activity did. Ever since, as China's manufacturing activity has declined, so have EV stocks.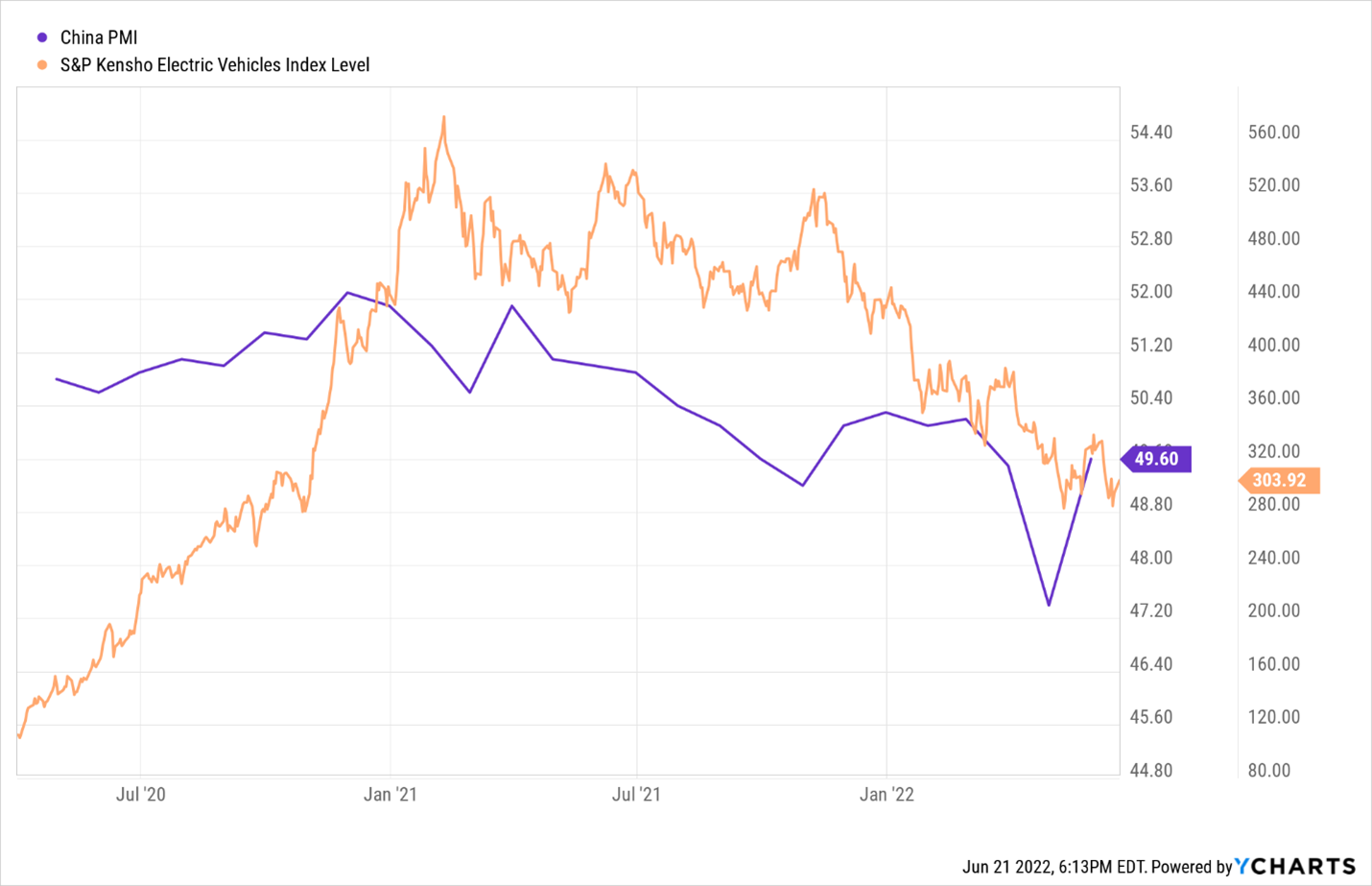 The new policy measures discussed last Friday could sharply reverse the trend in China's manufacturing activity. And by extension, they could sharply reverse the trend in EV stocks.
We have confidence that China will pass drastic measures to boost manufacturing growth. Therefore, we have confidence that its manufacturing activity will substantially improve in the coming quarters. As it does, we're looking for EV stocks to surge like it's 2020 all over again.
The Final Word on EV Stocks
The EV Revolution has always had a very bright future. Today, less than 10% of new car sales are electric. By 2030, we're expecting that number to climb above 40%. By 2040, we think it'll be close to 100%.
The concern with EV stocks has never been the long-term outlook. It's always been near-term supply issues. But those near-term struggles are finally starting to improve. And thanks to new policy discussions in China, it appears supply issues will diminish over the next 12 months.
As they do, electric car stocks will shake out of their current slump and enter a new bull market!
To play this breakout in EV stocks, you could buy Tesla (Nasdaq:TSLA). But how boring…
Tesla already had its day in the sun. Why not buy the next Tesla — a stock that no one has heard of? How about one that could soar 10X — even 40X — in a hurry?
But this isn't just some random, small car stock. Rather, the $3 stock we're talking about has an inside connection with the world's largest tech company: Apple (Nasdaq:AAPL).
Yep — Apple.
You see, Apple may make iPhones today. But within 12 months, it's going to make electric vehicles. And this $3 stock could be the supplier of the most important part of the rumored "Apple car."
This is easily the most interesting story in the markets today. And at its center is a stock that could soar 40X.
On the date of publication, Luke Lango did not have (either directly or indirectly) any positions in the securities mentioned in this article.