The stock market is in major rebound mode, and we think there are some even bigger gains on the horizon. Since mid-June, the S&P 500 is up 11% – an impressive gain for a market that's been crushed all year long. And our favorite growth stocks are faring even better, up a jaw-dropping 30% in just six weeks alone!
Indeed, we think this could be the emergence of an exciting new bull market for growth stocks. And last night, our thesis got a shot in the arm. Tech behemoths Apple (AAPL) and Amazon (AMZN) both reported excellent earnings.
The former said cloud spending remains robust. The latter said the consumer remains healthy. Both said business operations should improve going forward.
That was enough to juice a big after-hours rally in the stocks. It's also enough to validate that we're in the early innings of a fortune-making transition from bear to bull market.
Here's why.
Amazon Says the Cloud Remains Strong
Amazon's numbers were great from head to toe.
Nearly much everything beat expectations. Physical store, seller services, advertising, cloud — all segments topped revenue expectations. Operating margins topped expectations, too, as did the company's guidance for next quarter.
It was a very clean beat from Amazon at a time when everyone was anticipating at least a few misses.
And indeed, the strong numbers underscore two things.
One, the consumer is in a very healthy position. And while they are slowing, they aren't slowing down all that much. Two, enterprises continue to embrace digital transformations and are spending big on cloud infrastructure.
That's good news for Amazon stock. It's also great news for all cloud stocks. They appear to be on the cusp of a big breakout, as we showed you a few days ago.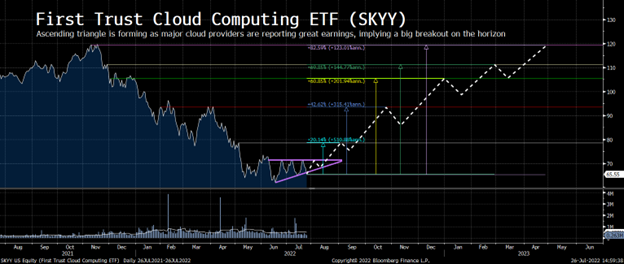 Amazon's numbers will only accelerate this breakout. That's why we believe now is a great time to buy cloud stocks. And we have the best cloud stocks to buy today.
Apple Says Sales Trends Should Accelerate
Amazon's numbers were great. Apple's numbers, on their face, weren't so great.
iPhone and iPad revenue topped expectations. But Mac and Wearables revenue missed expectations, as did the important Services revenue number. Margins did top estimates. But across the board, the quarter pointed to a meaningful slowdown in sales momentum.
This isn't expected to last.
On the post-earnings conference call, management told analysts that they expect sales momentum to accelerate in the current quarter. That's a surprisingly bullish call on the consumer — at a time when everyone else is betting against them.
The implication? The consumer isn't done shopping. They are just focusing their shopping on stuff they want.
That's why, right now, we aren't blanket-buying consumer discretionary stocks. Instead, we're only buying the best of the best consumer discretionary stocks. They're ones that will likely follow Apple and experience accelerating sales momentum this quarter.
Those growth stocks could pop big over the next few months.
The Final Word on Growth Stocks
Don't fight the market.
That's one of the important lessons all good investors have learned over the years. When the market is telling you something, listen.
Right now, the market is telling us that growth stocks could be on the cusp of a generational turning point from bear to bull market. That's why the S&P 500 is up 11% in six weeks. It's also why our top growth stocks are up more than 30% in that same time.
This is powerful price action. You'd be smart to follow it. The headwinds that killed stocks in the first half of 2022 — rising inflation, a hawkish Fed, and escalating Russia-Ukraine tensions — are all reversing course.
Inflation has peaked. The Fed is turning dovish. And there has been some serious thawing of Russia-Ukraine relations over the past month.
When headwinds become tailwinds, falling stocks turning into soaring stocks.
We're at that point right now: Plug into the rally and some big rebound returns.
On the date of publication, Luke Lango did not have (either directly or indirectly) any positions in the securities mentioned in this article.