It's Black Friday, and that means the holiday shopping season has officially started. According to the National Retail Federation, Americans will spend a whopping $950 billion in November and December on holiday gifts. That means some companies will walk away filthy rich by Christmas time.
We think we've found the stocks that could win big.
Our picks? E-commerce stocks.
We've noticed a significant reacceleration in online retail sales growth ahead of the holiday season. And we think that cold weather, high oil prices, and a historically bad flu season will only amplify this trend as we get deeper into winter.
Plus, online retail stocks are trading at dirt-cheap valuations today. And based on our technical analysis, it looks like they want to run.
Overall, we think this could be a big holiday season for e-commerce stocks. The best of them could rally 50% or more by the end of the year. And the time to buy them is right now.
The Right Combination of Factors
E-commerce firms will benefit from what we believe will be the right combination of bullish factors this holiday season.
We're already seeing the pandemic-driven pent-up demand to go out and shop in person start to wane. E-commerce growth rates across the U.S. peaked during the pandemic and decelerated throughout 2021 and into '22. But over the past two quarters, those growth rates have reaccelerated.
Meanwhile, oil prices are surging, which means gas prices are, too. And for most of us, that means every physical shopping trip is accompanied by a costly trip to the gas pump. Who wants to pay that, especially when you can have items shipped to your house for free? High gas prices are a huge positive for e-commerce firms this holiday season.
And so is this year's historically bad flu season. According to experts, we're in the early innings of the worst flu season in a decade. While the pandemic is in the rearview mirror, many pandemic-driven behaviors – like avoiding crowds when sickness is spreading – have stuck around. We think this year's awful flu season could keep people away from malls and push them onto websites.
Overall, then, we feel the stage is set for e-commerce firms to have a really strong holiday showing. That's meaningful because Americans are going to spend $950 billion on holiday gifts this year. Every percentage point e-commerce firms can win in market share is an additional ~$10 billion in sales.
We're talking big numbers here – and consequently, potentially big gains for e-commerce stocks…
The Technical Outlook Is Bullish
In addition to strong fundamentals, e-commerce stocks are also supported by strong technicals.
The Amplify Online Retail ETF (IBUY) has been around for over five years. In that time, the ETF has established two significant multi-year bottoms. The first happened in December 2018, the second in March 2020. Both happened at levels within a few percentage points of each other.
And about a month ago, the Online Retail ETF collapsed to those levels after a multi-quarter crash. It bottomed around those levels, and it has been showing signs of life ever since.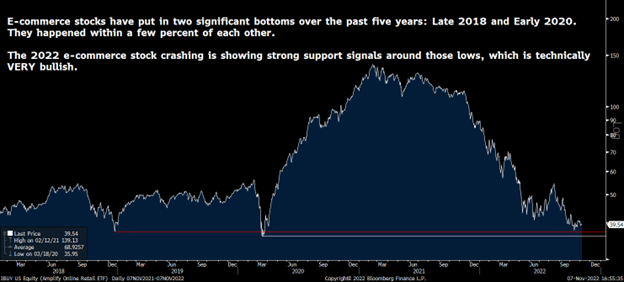 In other words, e-commerce stocks have come "full circle" from a technical perspective. They're back to levels at which they've historically bottomed following crashes. Moreover, it looks like e-commerce stocks want to bottom around these levels once again.
Therefore, we consider the technical outlook on these stocks quite bullish at current levels.
E-Commerce Stocks Are Too Cheap
The fundamentals and technicals imply e-commerce stocks should rally from here. But it is their steeply discounted valuations that imply those rallies could be enormous!
That is, e-commerce stocks are too cheap for their own good. This is still a secular growth industry that will continue to grow at a healthy clip over the next several years. Yet today, e-commerce stocks are trading at pretty much all-time-low valuation levels.
For example, Amazon (AMZN) stock is trading at 1.9X trailing sales, more than 40% below its 10-year-average trailing sales multiple and one of its lowest sales multiples of the past decade.
Meanwhile, Etsy (ETSY) is trading nearly 40% below its all-time-average sales multiple. Chewy (CHWY) stock is about 50% below its all-time-average sales multiple, and Wayfair (W) is more than 80% below that multiple. All three are trading either at or near all-time-low sales multiples today.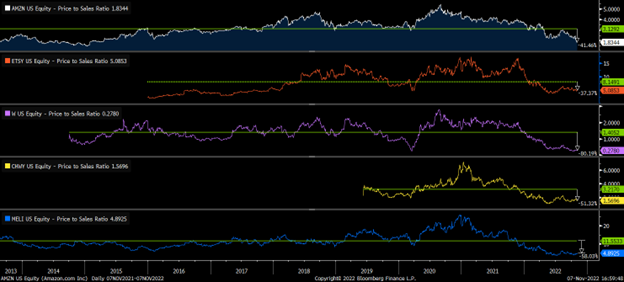 Indeed, they're trading like e-commerce is going out of fashion. But if anything, the revenue growth reacceleration we're seeing across the industry today is telling us that e-commerce is making a comeback.
That means e-commerce stocks are ready to run way higher this holiday season.
The Final Word on E-Commerce Stocks
Nearly $1 trillion will be spent on holiday gifts over the next six weeks. That's a lot of money. And it means that whichever firms win the lion's share of the holiday sales pie will see their stock prices explode higher into the end of the year.
'Tis the season to be buying retail stocks – especially e-commerce stocks.
We earnestly believe a handful will soar by more than 50% before the year is out.
But they won't be alone.
Our fundamental and technical analysis also suggests the entire stock market is due for a massive rally in December.
Find out the best stocks to buy for this big incoming rally before it arrives!
On the date of publication, Luke Lango did not have (either directly or indirectly) any positions in the securities mentioned in this article.