For years, engineers and venture capitalists have said that the science-fiction concept of self-driving cars was close to becoming a reality. Yet, here we are in 2022, and autonomous vehicles still feel more science-fiction than they do reality.
But that's all going to change next year.
Yes, to date, the Self-Driving Revolution has been nothing but broken promises. But in 2023, all those promises will actually become a reality. For the first time ever, self-driving cars will appear on roads and highways near you.
It will be a very exciting year. It will also be a very profitable year for prescient investors.
As the highly anticipated and long-overdue concept of autonomous vehicles finally becomes a widespread reality, autonomous vehicle stocks will soar. Not by a little – but by a lot. We think some AV stocks could rise 200%-plus next year alone!
So, buckle up, and get ready for the (self-driving) ride of a lifetime.
Self-Driving Vehicles Are Here
For the first time ever, self-driving vehicles are making their way to Main Street America. In Houston, Domino's (DPZ) is using small autonomous vehicles to deliver pizzas. Uber Eats is using its own autonomous vehicles to deliver food in Houston and Mountain View. Meanwhile, 7-Eleven is also using self-driving cars to deliver food orders in Silicon Valley.
Kroger (KR) – America's largest grocer – uses a fleet of autonomous cars to deliver groceries in Phoenix and Houston. FedEx (FDX) is testing out autonomous trucks in Houston, too. So is IKEA.
Meanwhile, the first non-Tesla self-driving cars with full-stack sensor suites are already being produced in China. And in 2023, they'll start production in the U.S., too.
Autonomous vehicles have arrived.
To be sure, most of the applications mentioned above deal with the autonomous transportation of goods – not people. But that's how this all begins.
From Goods to People
That is, the AV Revolution starts by testing self-driving technology with the transportation of goods. That's because the cost of a mistake is only the cost of the goods (not a human life). Then, once proven safe with goods, companies will apply that same technology to human transport.
That will happen in 2023. Mark my words. Autonomous vehicles transporting people around major U.S. cities will increasingly become the standard in 2023.
Case in point: Google's Waymo unit announced a few months ago that it's launching a fully autonomous robo-taxi service in San Francisco.
So, forget what all those naysayers are saying about self-driving cars not booming until the 2030s. With every major food and logistics company set to test autonomous delivery and trucking in 2022 – and some major AV players already launching full robo-taxi services – the AV Revolution will go parabolic in 2023.
Within years, self-driving trucks and vans will constitute the bulk of the world's logistics network. And by 2030, self-driving cars will be a ubiquity, transporting not just our goods everywhere – but you and me, too.
Of course, the economic implications are huge. We're talking about a paradigm shift in not just the multi-trillion-dollar transportation market, but a fundamental reshaping of the insurance, healthcare, oil & gas, and tourism industries.
In total, the AV Revolution is projected to inject $7 trillion into the global economy each year!
The investment opportunity here is enormous.
But at this point, the intelligent investor has to be asking: What changed? I mean… autonomous vehicles have, for years, been a mere sci-fi concept with very rare on-road testing. Now they're ready to take over the world? What happened!?
The Millionaire-Maker Tech Behind AVs
I'll tell you what changed: the cost of LiDAR technology.
You see; the key to unlocking full autonomy is by enabling cars to have complete "vision." Specifically, we have to give them a human-like ability to see and respond to their surroundings.
Ideally, you want to do this with built-in cameras since they're space- and cost-efficient on the hardware front.
But computer vision (what you get from cameras) has significant limitations that have proven difficult to overcome. Long story short, if the human eye were a camera, it would have more than 100X the resolution of a standard on-car cameras. So for cars to gain a comparable ability to see and respond to their surroundings, you'd need hundreds of cameras on the car.
That just isn't possible. It'd cost thousands of dollars — and result in ugly and bulky cars.
The fix? A different type of sensor called LiDAR.
LiDAR — short for Light Detection and Ranging — are laser sensors. They beam out lasers to their surroundings. Those beams hit objects around the car and then bounce back to the sensors. And the sensors then carefully measure either the travel time of those laser pulses (time-of-flight or ToF) or a change in frequency of the returning light wave (Frequency Modulated Continuous Wave or FMCW) to create a proxy for distance.
Do this thousands of times in a 360-degree frame-of-view, and voila. You have a complete and dynamic "picture" of the surrounding environment.
The science is crystal clear here. LiDAR fixes the shortcomings of computer vision and cameras. And therefore, LiDAR is the key enabling technology behind the $7 trillion Autonomous Vehicle Revolution.
Costly No More
But for years, there has been one problem with LiDAR. It has been prohibitively expensive.
Less than 10 years ago, your typical LiDAR sensor cost about $75,000. That's more than double the average sales price of an entire car. At that price, automakers couldn't integrate the tech into their cars. It would result in a car that no one could buy.
But LiDAR costs have collapsed over the past few years.
Thanks to improvements in manufacturing capabilities, economies of scale and innovative technological breakthroughs, the cost of LiDAR sensors has plummeted to a point where there are some LiDAR makers out there today that are integrating the technology into vehicles for less than $1,000 per sensor.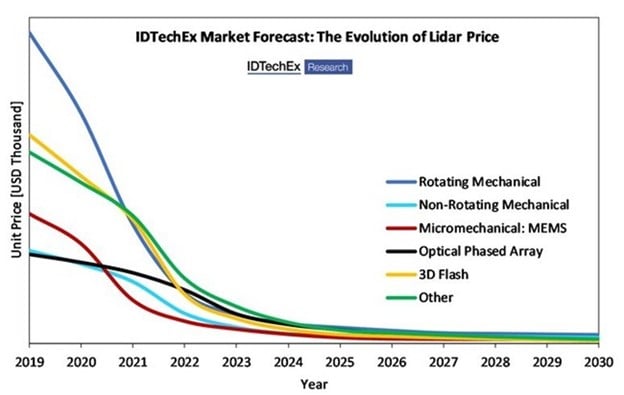 That's right. LiDAR costs have plunged from $75,000 to less than $1,000.
And at less than $1,000, today's LiDAR sensors are no longer prohibitively expensive. In fact, they're quite reasonable. And as a result, they can now be integrated into cars to enable self-driving.
No wonder self-driving cars are starting to pop up everywhere…
And with the costs of car ownership only rising rapidly — thanks to the Russia-Ukraine war — the economic value proposition of self-driving cars is becoming exponentially more attractive by the day.
That's why we're pounding on the table about autonomous vehicle stocks. It's their time to shine — and take over the world. We firmly believe that people who buy the right autonomous vehicle stocks today will make much more than 10X their money over the next few years.
The Final Word on Self-Driving Cars
Mark my words. Thanks to soaring gas and metal prices converging on rapid technological improvements in the field of self-driving, 2022 will go down as the year the AV Revolution really got started.
That means it is time to buy autonomous vehicle stocks for huge long-term gains.
And what better way to play this $7 trillion revolution than by buying the companies creating the ground-breaking LiDAR technology making it all possible?
There is no better way. The best way to play the AV Revolution is to buy LiDAR stocks.
Specifically, there is one LiDAR stock out there… trading for less than $5. And it could end up being the stock market's biggest winner in the 2020s.
Seriously. This stock could easily rise 10X, 15X, or 20X within the next few years alone, mostly because its LiDAR could power the world's most popular electric vehicle by 2030.
Find out its name, ticker symbol, and key business details.
On the date of publication, Luke Lango did not have (either directly or indirectly) any positions in the securities mentioned in this article.