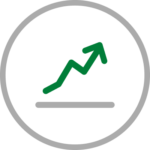 Growth Stocks
Looking for 10x, 20x, even 50x gains? Growth stocks are the perfect place to start. These are shares of innovative companies that outpace the market, and they've created billionaires virtually overnight. Don't expect dividends, slow-and-steady growth or cheap price tags (you can head on over to read about undervalued stocks if that's what you're looking for). Instead, you'll pay a premium price for the potential of multi-bagger gains. Read on to learn how you can profit from investing in growth stocks.
Recent Growth Stocks Articles
JOBY stock is trending on Friday as Joby rallies more than 10% following positive analyst commentary. Is more upside ahead?
Chinese EV producer Nio just reported Q1 earnings, including a narrower-than-expected loss. Here's what this means for NIO stock.
Mega cap tech has led the market higher, but lately there's been a bid elsewhere. Is it time to look at these long-term growth stocks again?
These high-potential EV stocks may be among the most overlooked in the sector and have plenty of room to rally from here.
With sky-high demand for EVs, and all-things green, lithium will remain hot, creating opportunity for some of the best lithium stocks to buy.
These growth stocks are trading at attractive valuations and have substantial growth potential going forward.
Many well-known companies have catalysts that could drive their share price to new heights in the second half of 2023 through to the midpoint of 2024. Some of these stocks have seen their share prices make tentative advances in recent months and seem poised for a big run.
As the AI hype starts reaching its zenith, it is a wise decision to start looking for overrated AI stocks to sell before they decline further.
These cheap stocks are among the favorite of Wall Street analysts due to their positive risk/reward upside potential moving forward.
The metaverse is still offering massive opportunities, especially for some of the best metaverse stocks to buy now.
Discover the most promising quantum computing stocks with some of the best potential in this emerging high-growth industry.
Shares of Chinese EV company Nio are sinking today, with investors betting on relatively muted price action for NIO stock.
MicroVision is a meme in the making and certainly not the most solid lidar bet. Short sellers should remain cautious with MVIS stock, however.
Shares of LCID stock opened in the green today after Lucid's Head of Chinese Operations confirmed plans to expand into China.
For investors looking to play the artificial intelligence trade with exchange traded funds, here are three great options to consider.
These most promising EV stocks have held up remarkably well against a myriad of headwinds offering healthy upside ahead for long-term success in the niche
QuantumScape (QS) stock is feeling the heat on Thursday after the battery company's shares were hit with a weak price target.
Fisker (FSR) stock is falling on Thursday after getting a negative rating and price target from Wolfe Research analyst Shreyas Patil.
Here are three of the best AI stocks for poised for growth which are likely to skyrocket in the next 12 months.