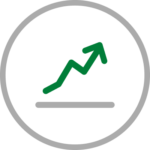 Growth Stocks
Looking for 10x, 20x, even 50x gains? Growth stocks are the perfect place to start. These are shares of innovative companies that outpace the market, and they've created billionaires virtually overnight. Don't expect dividends, slow-and-steady growth or cheap price tags (you can head on over to read about undervalued stocks if that's what you're looking for). Instead, you'll pay a premium price for the potential of multi-bagger gains. Read on to learn how you can profit from investing in growth stocks.
Recent Growth Stocks Articles
These forever battery stocks are needle-movers for what is expected to be a multi-billion dollar global industry in the future.
These are the dividend growth stock picks for 2023 that trade at a valuation gap and provide scope for dividend and capital gains.
The Dow has been the best-performing US index so far in 2022, so we're diving into this index for our top Dow stock picks for 2023.
The expanding use cases for 5G gives investors many ways to invest in 5G stocks - here are seven of the top 5G stock picks for 2023.
Today, investors in cloud database company MongoDB and MDB stock are cheering a very positive news report and analyst commentary.
For those looking for a top fintech stock, this group of three high-growth companies could be the best buys of 2023.
Even after a horrendous year of trading, investors want to know what the best growth stock picks are for 2023. Let's look at three of them.
These growth stocks to sell have had a rough showing in this post-pandemic environment, and offer little upside for long-term investors.
These growth-focused ETFs to buy capture a diverse basket of stocks, perfect for passive investors of any type looking for long-term returns.
If you are looking for Chinese stock picks for 2023, you have come to the right place. These five companies have the potential to outperform.
These growth stocks to buy represent companies with strong fundamentals and look undervalued considering potential long-term catalysts.
Hedge funds are buying tech stocks, and investors need to sit up and take notice. These picks can provide you with the key to success in 2023.
As a result of the bear market, there are many fewer overvalued stocks than there once was. But there are still many overvalued names. 
SoFi stock has been absolutely crushed this year. But with 29X upside potential, it remains among the best stocks to buy today.
Growth stocks took a big hit in 2022. As a result, you're likely to see many of them looking to a new CEO for change. 
QuantumScape's batteries will enable EVs to drive thousands of miles on a single charge. And its tech will power QS stock.
Hedge funds are buying growth stocks, and as a keen investor, you need to keep an eye on their favorite picks if you want to succeed in 2023.
These stocks to sell have taken a beating of late, but still remain lackluster bets in this very challenging economic environment.