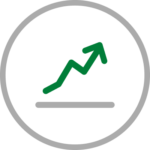 Growth Stocks
Looking for 10x, 20x, even 50x gains? Growth stocks are the perfect place to start. These are shares of innovative companies that outpace the market, and they've created billionaires virtually overnight. Don't expect dividends, slow-and-steady growth or cheap price tags (you can head on over to read about undervalued stocks if that's what you're looking for). Instead, you'll pay a premium price for the potential of multi-bagger gains. Read on to learn how you can profit from investing in growth stocks.
Recent Growth Stocks Articles
Thanks to the Inflation Reduction Act, investors are once again looking for renewable energy stocks to buy. Here are three of the best.
Many companies talk about capturing carbon, here are three carbon capture stocks that actually do it. Fuel Cell Energy, Fluor and NRG Energy.
Here are some of the best clean energy stocks to buy spanning the spectrum of large-cap behemoths and inexpensive small-cap names.
It has been a tough stretch for growth stocks, but in 2023, there are a few top options long-term investors should consider right now.
With the U.S. and Chinese gambling sectors growing rapidly, now is a good time for investors to look for hot gaming stocks to buy.
These companies all utilize multiple technologies that are part of the Fourth Industrial Revolution, making them great tech stocks to buy.
If you believe electric vehicles will change the world, here are the three EV stocks to keep an eye on, while they trade at a discount.
Growing demand for renewable energy, supported by global governments, is creating a multi-trillion-dollar opportunity for hydrogen stocks.
These three energy stocks to buy are riding the green energy wave, and are set to thrive in a $650 billion industry by 2030.
Despite the grueling bear market, cybersecurity stocks remain hot, and these three companies are among the best to consider.
An analyst issued a warning about XPEV stock as fierce competition in the EV industry could put pressure on XPeng's margins this year.
With emerging markets expected to do well in the long-term and tech names outperforming, look for tech stocks to buy in emerging markets.
The youngest of these stocks that are poised for growth in 2023 was founded in 1993. In other words, they are all established names.
Although energy stocks are in the news due to myriad factors, a select few happen to be sitting on a compelling "sweet spot."
It is worth studying stocks democratic congressmen are buying as they can potentially give you the inside track of stocks that will do well.
Luminar (LAZR) stock is taking a beating on Wednesday as a new rating and price prediction weigh on the company's shares.
These are the EV stocks to buy at undervalued levels for 100% returns in quick time.
While recession fears are running high, here are three stocks to buy if a big downturn doesn't materialize.