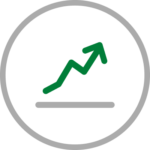 Growth Stocks
Looking for 10x, 20x, even 50x gains? Growth stocks are the perfect place to start. These are shares of innovative companies that outpace the market, and they've created billionaires virtually overnight. Don't expect dividends, slow-and-steady growth or cheap price tags (you can head on over to read about undervalued stocks if that's what you're looking for). Instead, you'll pay a premium price for the potential of multi-bagger gains. Read on to learn how you can profit from investing in growth stocks.
Recent Growth Stocks Articles
Out of thousands of over-the-counter equities, here are seven OTC stocks with high potential. A mix of value and growth plays, each one offers a favorable risk/return proposition.
With market and economic concerns rising, investors may find comfort targeting these ideas for the best defensive stocks to buy.
For those that want to live dangerously in exchange for robust upside potential, these high-risk stocks to buy could be enticing.
Should you believe that an economic downturn is on the horizon, you may consider these best stocks for looming recession.
Investors wanting to give their portfolio a boost should consider taking positions in several well-known names that have a track record of delivering outsized gains. Some exceptional stocks have seen their share price decline this year, presenting an opportunity to buy the dip and ride a bull market.
Investors appear to be betting on a potential short squeeze when it comes to MicroVision. MVIS stock is rocketing higher today.
These are the overbought stocks for correction of at least 10% to 20% before they look good for fresh buying.
Looking for affordable semiconductor stocks? Discover affordable investment options in the industry for potential growth and profitability.
AI continues to fuel the markets, investors looking for the best AI stocks to buy can find long-term value in some familiar names.
Tesla (TSLA) stock is on the rise Wednesday as investors react to the EV company updating its website with new tax credit information.
These are the hidden-gem stocks that can deliver multibagger returns in the next five years.
As the EV revolution continues and with many EV stocks having tumbled last year, there are many well-positioned EV stocks to buy.
MicroVision (MVIS) stock is up more than 30% today as the number of short shares available at Fintel's sample brokerage runs to zero.
Self-driving car company Mobileye announced on Monday that Intel will sell about $1.4 billion worth of MBLY stock in a secondary offering.
Discover the best robotics stocks with the potential to generate life-changing returns. Explore the opportunities in this growing industry.
Rivian has hired former Tesla executive Mustapha El Akkari as its Senior Director of structures and raw materials.
As nations rush to meet their climate goals, solar power is becoming the energy of choice. And that means big gains for solar stocks.
Here are three AI stocks that have gone on incredible runs, and could continue to surge higher, but investors should be cautious with.