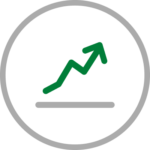 Growth Stocks
Looking for 10x, 20x, even 50x gains? Growth stocks are the perfect place to start. These are shares of innovative companies that outpace the market, and they've created billionaires virtually overnight. Don't expect dividends, slow-and-steady growth or cheap price tags (you can head on over to read about undervalued stocks if that's what you're looking for). Instead, you'll pay a premium price for the potential of multi-bagger gains. Read on to learn how you can profit from investing in growth stocks.
Recent Growth Stocks Articles
These hydrogen stocks could be major needle-movers in what is poised to become a $11 trillion clean energy market by 2050.
These undervalued growth stocks have witnessed deep corrections and look oversold. They should be good buys for long-term investors.
Yesterday, Novavax announced it has terminated a key agreement, sending shares of NVAX stock plunging in today's session.
Deeply undervalued growth stocks to buy of companies that have strong fundamentals and seem positioned to increase free cash flows.
These stocks to buy are trading at a significant discount and are bound to rebound quickly when the economy eventually recovers.
The catalyst for 75X growth has arrived. And the market's best energy storage stocks are already off to the races on Wall Street!
Helbiz is the latest company to announce workforce reductions. But the Helbiz layoffs have done little to result in an HLBZ stock rally.
Shipping is essential to the world's supply chain. Here are seven of the best shipping stocks for investors to consider.
Hydrogen stocks could be some of the most explosive stories of 2023. So, here are seven such companies investors may want to own now.
These are the best growth stocks to buy for 2023 with the business that they represent having potential catalysts.
For traders looking to put some capital to work in potential multibagger high-growth stocks, start with these three names.
These three high-growth stocks continue to provide investors with a medium-term investing time horizon with solid potential upside.
An incredible momentum rally is being seen in shares of Satixfy Communications, with SATX stock surging 90% in today's session.
These three top EV stocks provide long-term investors with compelling upside potential at their current levels.
This is no time to be sentimental. This article gives you seven growth stocks to sell and one to buy before the end of the year
Data shows that it's time for investors to abandon the largest Big Tech names and find attractive value stocks to buy.
These undervalued crypto stocks have strong fundamentals and can deliver multi-bagger returns in the next cryptocurrency bull market.
Today's big move in Cassava Sciences and SAVA stock has many investors watching this company's trials closer than ever.
Don't let the recent bull market rally fool you into thinking these seven penny stocks to avoid are worthwhile moonshots.