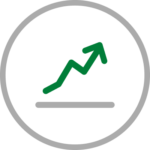 Growth Stocks
Looking for 10x, 20x, even 50x gains? Growth stocks are the perfect place to start. These are shares of innovative companies that outpace the market, and they've created billionaires virtually overnight. Don't expect dividends, slow-and-steady growth or cheap price tags (you can head on over to read about undervalued stocks if that's what you're looking for). Instead, you'll pay a premium price for the potential of multi-bagger gains. Read on to learn how you can profit from investing in growth stocks.
Recent Growth Stocks Articles
All eyes are on LCID stock following speculation that Saudi Arabia's Public Investment Fund may acquire the remainder of the company.
These three high-growth stocks are worth holding onto, despite this relatively uncertain market facing all investors this year.
Following Tesla management's commentary, we expect 2023 to be a banner year for the EV industry. That means it's time to buy EV stocks.
A shareholder presentation given yesterday by Plug Power's management team has investors in PLUG stock worried today.
TSLA stock is rising following the release of its fourth-quarter earnings report. CEO Elon Musk remains the largest shareholder of Tesla.
TSLA stock is surging this morning after the electric vehicle (EV) maker reported stronger-than-expected fourth-quarter results.
Here's what investors in cloud computing company Snowflake and SNOW stock should consider following Microsoft's earnings.
Earnings will offer TSLA stock investors a reading on how far Tesla remains ahead of rivals in producing electric vehicles and batteries.