[Editor's note: "Meta Got Crushed, But a New Tech Stock Has Been Soaring!" was previously published in October 2022. It has since been updated to include the most relevant information available.]
Out with the old, in with the new. It's a saying that we've all heard before. And it's happening right now in the stock market in a way that's creating some huge opportunities.
The "old tech" stocks are struggling. Just look at Meta (META). The parent company of Facebook, Instagram, Messenger, and WhatsApp reported quarterly numbers last night. And they were an absolute mess. In response, Meta stock crashed about 20% to its lowest levels since 2015. The stock is now down nearly 70% this year alone!
Meanwhile, a "new tech" by the name of ServiceNow (NOW) is soaring. The enterprise software provider reported excellent third-quarter numbers. They proved that this company is growing right through the broader macroeconomic noise. Now that stock is up more than 200% over the past five years!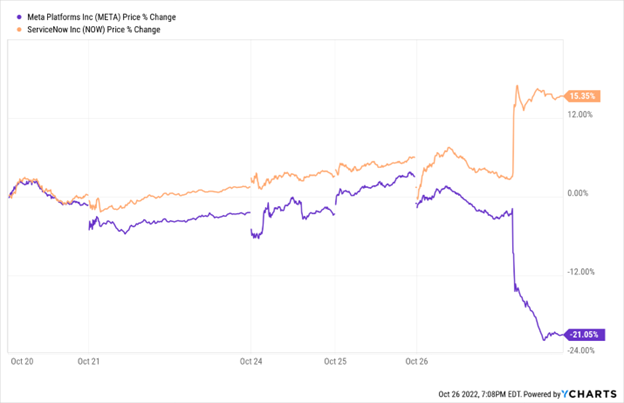 The trend is clear as day. Old tech stocks are struggling. New tech stocks are soaring.
So, while the smart money is looking to buy the dip in tech stocks today , the best investors are only looking to buy the dip in new tech stocks. They're going to start soaring soon, while the old tech stocks will likely keep struggling.
Here's a deeper look.
Past Its Prime?
If Meta's third-quarter numbers confirmed anything, it's that the company is struggling.
The company's user base across Facebook, Instagram, Messenger, and WhatsApp is plateauing around 2 billion daily active users and 3 billion monthly active users. Over the past 10 years, you could count on those user bases to grow by 5% to10% per year. Not anymore. Everyone who wants a Facebook account already has one. And some users are even leaving those platforms for up-and-comers like TikTok, Snap (SNAP), BeReal, and more.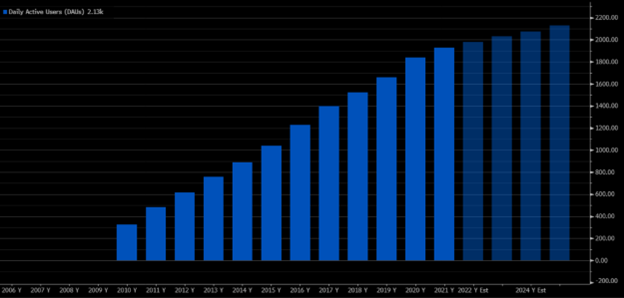 Meanwhile, average-revenue-per-user rates are actually dropping, partly because engagement is falling. Plus, areas users are still spending time are quick-format videos like Reels. Meta hasn't quite found the perfect ad mechanism yet for this format. Sure, it'll figure that out. There are advertising geniuses at the company. But it will take some time for them to reaccelerate that revenue growth. And that's bearish for the short term.
And then there's the company's whole metaverse "shtick." This past quarter, Mark Zuckerberg and company poured $3.7 billion into building out Reality Labs – the firm's VR division. That division produced less than $300 million in revenues. That's a huge financial investment in a project that simply isn't showing much real-world traction. It's weighing on operating profit margins, which tanked to 20% in the quarter. (And this used to be a 45%-plus-operating-margin firm.)
Now, it's true; we're no fans of what Zuckerberg is building with the metaverse. But we do understand that in building out his vision, the company is developing industry-leading VR/AR hardware that could one day prove very valuable. Not to mention, Meta has more than $40 billion in cash on the balance sheet. We find it highly unlikely the company finds a way to spend $40 billion without developing something of immense value. But as with the company's revenue growth, the payoff here certainly won't be immediate.
Right now, Meta is busy working to keep from going the way of HP (HPQ) or GE (GE). I'm willing to bet these efforts will work. But not just yet – and that means Meta stock likely goes lower before it goes higher.
ServiceNow Is Just Entering its "Golden Era"
On the other hand, you have ServiceNow.
The enterprise software provider reported quarterly numbers last night, too. And they couldn't be more different than what Meta reported.
Meta's report showed a plateauing user base. ServiceNow continues to grow its customer base at a 20%-plus annual clip.
Meta's revenue growth rates have gone negative. ServiceNow is still growing revenues at a 20%-plus rate – and 25%-plus on a constant-currency basis.
Meta's profit margins are getting destroyed right now. ServiceNow's operating profit margins expanded 40 basis points last quarter to multi-quarter highs.
Meta stock has been crushed this year. ServiceNow stock is soaring.
It's a tale of two cities. Meta is an "old tech" firm struggling to reaccelerate its business. ServiceNow is a "new tech firm" sustaining robust growth rates that imply a huge runway ahead.
Our advice? Buy the new tech stocks. It's time for a changing of the guard in the technology landscape. FANG is so 2010s. It's time to embrace a new generation of tech giants.
The Final Word on New Tech Stocks
The stock market looks like it's ready to kill this bear market and embrace a new bull market. That means stocks will soar in 2023. And investors who buy the dip today stand to make a lot of money over the next year.
But what stocks you buy today will determine how much money you make in that time.
Some stocks will rise 10% or 20% in 2023. Some will rise 50% or 70%. Others will double or triple.
I've been looking for the stocks that will double or triple in 2023 – and I think I've found them.
See; there's this rare market phenomenon that emerges every time a crisis appears in the economy. And it has a historically proven track record of creating some of the best buying opportunities in stock market history. I'm talking about the opportunity to turn thousand-dollar investments into million-dollar paydays.
This phenomenon just emerged for the first time since the 2008 financial crisis. And I've identified the stocks at the epicenter of the phenomenon – stocks that are poised to soar more than any other stock in 2023.
Find out which ones I'm talking about.

On the date of publication, Luke Lango did not have (either directly or indirectly) any positions in the securities mentioned in this article.